Agence / Ethik Trip to Tanzania
Ethik Trip to Tanzania
2022-07-05T14:41:39.519Z
This tailor-made small-group tour will show you some of the natural and cultural wonders of northern Tanzania. You will discover the world famous Ngorongoro Crater and Serengeti, and you will have the opportunity, among other things, to hike in the magnificent landscapes of the Ngorongoro highlands and Lake Natron, and to meet the little-known tribe of Sonjo.
For us, to be ethical is also to be transparent, so for each trip booked with our partners, a participation will be paid to Ethik Hotels when you indicate that you come from us. The objective is to be able to keep the site alive (adding new accommodation/travel, translation, communication…).
Soaring Flamingo
Our partner agency is Soaring Flamingo.Frédérique fell in love with Tanzania almost 15 years ago. She quickly joined forces with Soaring Flamingo to promote respectful tourism in Tanzania in France.Spoken languages: French, EnglishContact :@ : https://tanzaniesafari.wordpress.com/Email : fred@soaringflamingo.com
10 days : 3 960 $ per person (on the basis of 4 people in the group) / 3 600 $ per person (on the basis of 6 people in the group)
Zanzibar Extension 5 days : From $ 1,140 per person (based on 4 people)This is a proposal, Soaring Flamingo offers tailor-made trips and will adapt to your desires.
PROGRAMME
Day 1 / Arrival day
You are picked up by our driver guide at Kilimanjaro International Airport and take you to your hotel in Arusha.Night : Kiboko Lodge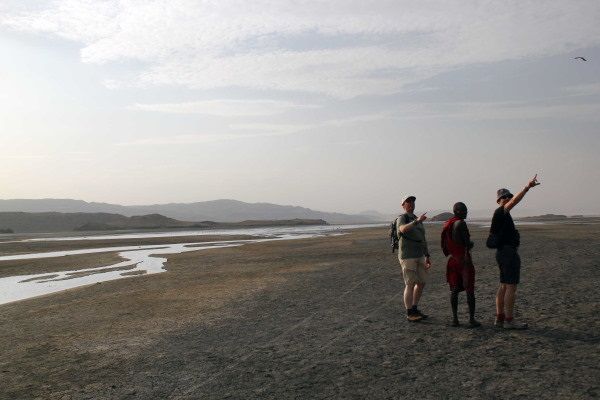 Day 2 / Engaruka – Lake Natron
Much of the day will be spent on the road to Lake Natron, which is famous for harboring large populations of flamingos, in a wonderful desert landscape. En route you will stop at Engaruka to visit the ruins of what was in the 15th century a prosperous village with a complex irrigation system. After settling in at the lodge where you will spend the night, you will go to Ngaresero River waterfalls for a walk and for swimming.
Night : Maasai Giraffe Eco LodgeInformation : approximately 5 hours drive
Day 3 / Sonjo (Batemi)
In the morning, you walk around lake Natron to see the flamingos. On a bump road, you drive up the slope of the Great Rift Valley and enjoy stunning views. In the hills of Loliondo, you visit a village of the Sonjo tribe and are introduced to their culture. In the later afternoon, you continue your journey to Waso, the rural centre of the Ngorongoro district.
Night : Domel Guesthouse or equivalent * to WasoInformation : approximately 4 hours drive
* For accommodation in Waso, it is sometimes not possible to book in advance (telephone network / internet random); We must therefore accept the principle of finding a guesthouse when arriving on site, with basic comfort.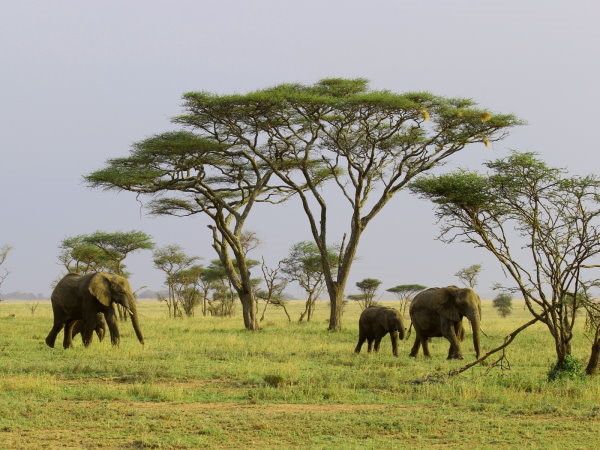 Day 4 / Serengeti National Park
In the morning you drive to Serengeti National Park and enter through the North gate. You start on observing wildlife and enjoy the vast plains of the Serengeti.
Night : Serengeti Katikati CampInformation : approximately 2 hours drive excluding safari
Day 5 / Serengeti National Park
You continue on game drives in the savannah of the Serengeti plains. You explore the endless plains and observe animals like zebras, wildebeests, antelopes and maybe some lions enjoying the view from a kopje.
Nuit : Serengeti Katikati Camp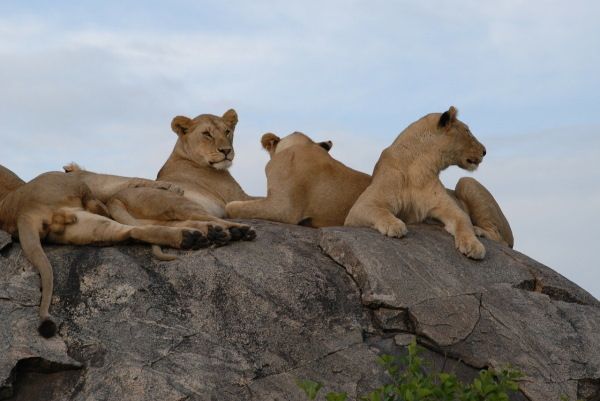 Day 6 / From the Serengeti to the Ngorongoro Crater
You continue to explore the Serengeti and observe its fascinating wildlife. You may be lucky enough to see a well-hidden predator like a cheetah or a leopard …
At the time determined by your driver-guide, you set off back to the Ngorongoro Conservation Area.
Night : Ngorongoro Serena LodgeInformation : approximately 4 hours drive excluding safari
Day 7 / Trekking on Ngorongoro Highlands
After breakfast you take off for a full day's hike through the plains of the Ngorongoro Highlands. On your hike, you get a good look at the traditional Maasai way of life, their bomas and their cattle herds. If you look close enough, you may see some cattle herds that are actually mixed with wild zebras.
At an agreed location, your drive meets you and drives you to Empakaai Crater, where you have a wonderful view of the forests that line its flanks and the flocks of flamingos on its lake.
Night : Ngorongoro Serena Lodge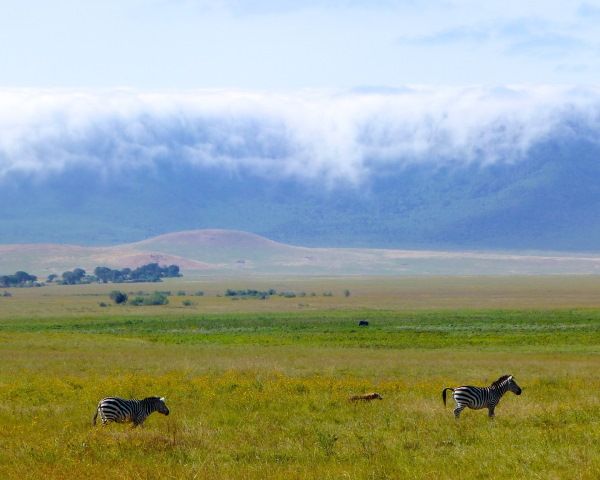 Day 8 / Ngorongoro Crater
In the morning, you drive to the floor of the Ngorongoro Crater. You enjoy the abundance and variety of wildlife in the crater – among them all Big Five. Expect to see zebras and wildebeests, meet some lions and with some luck glimpse at the rare rhinos.
Night : Bougainvillea Safari LodgeInformation : approximately 2 hours drive excluding safari
Day 9 / From Mto wa Mbu to Moshi
After breakfast you make a guided walk to explore the village and see some of the activities like their local brew, their traditional ways of living and handicraft.
Then you head to Moshi (lunch on a local restaurant on the road).
Night : Honey Badger LodgeInformation : approximately 3-4 hours drive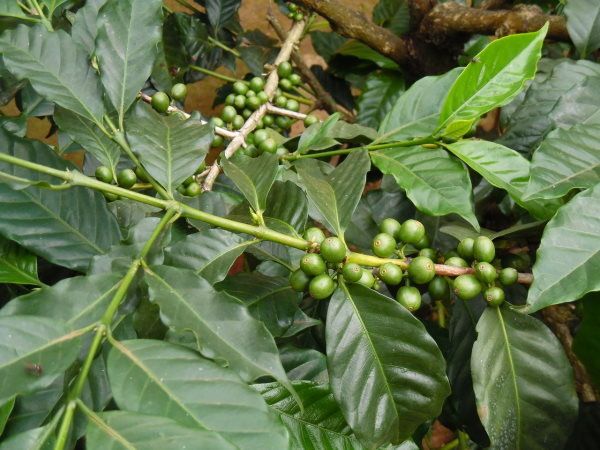 Day 10 / From Moshi to Arusha/Kili Airport
Half-day activity organised by Honey Badger Lodge (to choose and to organise directly with them, and to pay directly to the lodge – not included in our quotation). At the end of afternoon, transfer to Kili airport for international flight back home or domestic flight to Zanzibar.
Day 10 (optional extension) / Arrival in Zanzibar
Pick up the customers at Zanzibar Airport and transfer to hotel.
Free end of day and night at Milele Villas in the north of the island, between Mkokotoni and Nungwi,on bed & breakfast basis.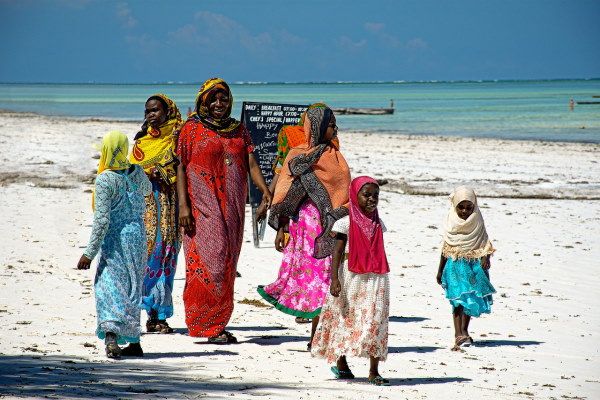 Days 11-12-13 (optional extension) / Relaxing on Zanzibar
You have the days to yourself to relax on the wonderful beaches of Zanzibar. During your stay on Zanzibar you can do the following, though they should be booked separately as they are not included in the cost of you trip:
Spice tour
Visiting Stone Town
Relax on the beach
Snorkel lining
Night : Milele Villas on Bed & Breakfast Basis.
Day 14 (optional extension) / Day of departure
You are picked up from your hotel and transferred to Zanzibar airport on time for your flight (or to the port for your onward journey).
IMPORTANT INFORMATION
INCLUDED
Tanzania
Transport (excluding international flights)
Entrance fees to the parks
Accommodation, meals
and, where appropriate, cultural programs
Zanzibar (optional extension)
Transfers from / to the airport or the port of Zanzibar
Accommodation on a B&B basis
NOT INCLUDED
Tanzania
International flights
Drinks
Tips
The visa (around 50 USD per person)
Personal expenses
Zanzibar (optional extension)
Domestic or international flights
Lunches and dinners
Drinks
Tips
Excursions
Personal expenses