Spending your holidays in the countryside in the Creuse at grandma's house, that's for sure: it's ecological. On the other hand, in terms of change of scenery, it's far from being a dream… But do you have to give up all your desires for a getaway to go on an eco-friendly trip? Is it really possible to reconcile eco-responsible tourism and adventure? We have good news for you: adopting sustainable tourism without depriving yourself is possible! In this article, discover 8 tips to organize an eco friendly travel with a low carbon impact. So you can continue to have exciting adventures while polluting less.
Definition of ecoresponsible tourism
Eco-responsible tourism is a form of travel that focuses on respect for the environment and the preservation of the planet's resources. Global warming and the protection of biodiversity are its main challenges. On this subject, the ADEME has published a very comprehensive report on the carbon footprint of tourism in France. This study reveals that transport accounts for 77% of greenhouse gas emissions in the tourism sector. It is therefore the main impact of our travel on global warming.
When it comes to protecting biodiversity, safeguarding resources and respecting people, we have already shared with you the 10 commandments of responsible travel. This article is full of valuable advice on how to become a responsible explorer: limiting waste, adopting the local culture and choosing responsible accommodation, for example.
To take another step in the right direction, we want to invite you to rethink your travels to reduce the impact of your future holidays on global warming. We promise we won't tell you to stop flying!
#1 Adopt slow tourism for an eco friendly travel
For your more distant escapades, how do you go about it? The key to not feeling like you're depriving yourself by flying less is to change your perspective on your travels. Think of it as an adventure rather than a checklist of places to visit around the world. When you want to go far away, always ask yourself:
What am I looking for with this trip: an escape from everyday life, a change of scenery, the discovery of a new culture?
Can I have the same kind of experience if I don't travel so far?
If you have always dreamed of immersing yourself in the rich culture of Costa Rica or are an absolute fanatic of Japanese folklore, then by all means do so! If a trip is really your dream and the country is only accessible by plane in a reasonable time, then go for it.
But in this case, think of it as an incredible opportunity, a great adventure and not just a routine trip. Here are some tips:
Go for a long time: 3, 4, 5 weeks or more! Try to keep your days off for a while, take unpaid holidays if you can, and make the most of your trip;
Organise your trip as a real project. Plan your itinerary, your activities and your stay in advance. This is a great way to experience your trip before you get there and make you want to go even more. However, don't forget to leave room for the unknown.
When it comes to slow tourism, we can only advise you to travel by cargo ship.
In short, travel less but better!
#2 Ban domestic flights to France
For travel within France, turn to more sustainable alternatives: train, bus and possibly carpooling. This way you can enjoy the scenery and the travel experience even more!
For those who think the train is too slow, remember that before boarding a plane, you have to take transport to the airport, which is often far from the city centre. Then there is the hour's notice required to get through security and board the plane. Finally, on arrival, you have to wait to get off the plane and collect your checked baggage. Don't forget to take all this into account when calculating your journey time: a Paris-Toulouse train journey will seem much quicker!
#3 Try the experience of travelling in Europe without a plane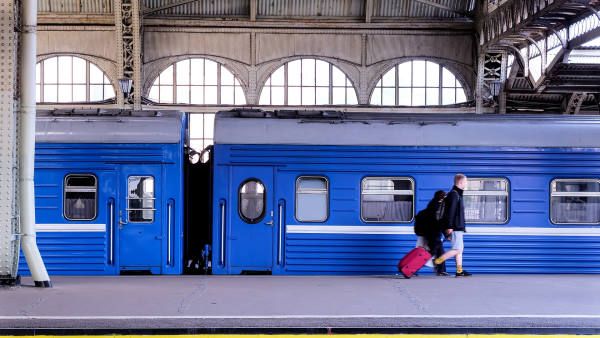 Go on an adventure by train or bus across Europe: why not try it? You can even imagine an ecological journey from city to city to discover the sights of the Old Continent! The Interrail website is full of ideas for escaping by rail. For inspiration, check out 2 explor'actors' tour of Europe by train.
We already hear you say that the train is too expensive compared to the plane or the car. Unfortunately, this is often true. However, when comparing prices, don't forget to take all factors into account:
the night train can save you a night in a hotel, for example;
a train arrives in the city centre and therefore saves you the cost of the transfer to the airport or parking for your car.
And don't forget that bus travel can be an interesting and lower-budget alternative for exploring Europe without flying. The companies Flixbus and BlablaCar Bus offer numerous destinations in France and Europe.
For inspiration, find out where to travel by train in Europe and plenty of ideas for your next sleeper train journey in Europe.
#4 Limit the impact of your car journeys
Although the plane is often singled out, the car accounts for 34% of transport emissions linked to tourism. In France, it remains the most popular means of transport: 74% of journeys between home and holiday destination are made by car (source: ADEME). Indeed, although the train serves the major cities well, it is sometimes difficult to reach more remote places by rail. Moreover, the train remains a more expensive means of transport than the car. To help you discover our 10 ideas for car-free weekends.
But even if you take your car, there are a few things you can do to limit the carbon footprint of your journey:
Reduce your speed on the motorway from 130 to 110 km/h: for every 100 km you drive, you will lose only 8 minutes of travel time and save 1.5 litres of fuel. Even better, if you have a little more time: take the smaller roads! You'll use less fuel, don't have to pay tolls and you may even discover small villages along the way.
Limit the use of air conditioning: set it to between 5 and 7°C below the outside temperature in the shade. Beyond that, you risk getting cold and increasing your fuel consumption by almost 1 litre per 100 km. Also remember to activate the air recycling function from time to time to avoid constantly cooling the air outside.
Try carpooling so you don't leave with a half-empty car or to avoid taking your own car. If you're travelling between two major cities on holiday or at the weekend, you'll probably find someone who is making a similar journey to you on a car-sharing website like Blablacar.
Finally, opt for eco-driving by accelerating gently and using your engine brake as much as possible. Check out some other eco-driving tips in the video below.
#5 Limit the impact of your flights
To limit the impact of your flights, prefer direct non-stop flights. A plane consumes more energy during take-off and landing than in flight.
Also try to choose the airlines that pollute the least. Yes, not all airlines are equal in this respect. Some operators, such as Transavia, are investing in reducing the environmental impact of their flights by using pilot behaviour and weather forecasts to reduce fuel consumption. Visit the Atmosfair ranking for a list of the most environmentally friendly airlines.
Other things to keep in mind to limit the impact of your flight:
limit the weight of your luggage. According to Ademe, reducing the weight of your luggage by 15 kg can save between 100 and 200 kg of CO2 equivalent on a flight from London to Tenerife.
Choose economy class. The carbon footprint of an aircraft is calculated according to the occupancy rate of the aircraft. It is well known that there are more of us in economy class! This allows the impact to be spread over a larger number of people.
To find out more, read our full report on the ecological impact of air travel.
#6 Rethinking short trips in a more local way
No, you don't always have to go far away to have a great adventure! For your long weekends or short stays, why not choose a local destination to limit the number of kilometres travelled and therefore the carbon impact of your trips?
Don't forget that in France alone, there are already some great opportunities for a change of scenery (and over 100 eco-friendly accommodations to discover!). Here are some ideas to get you started:
a road-trip in the Alps to enjoy the breathtaking views from the rugged peaks;
a sailing adventure along the Atlantic coast;
kayaking along the Loire River;
a cycling trip in the Rhone Valley;
a winter tour with snowshoes and pulka in the Vercors.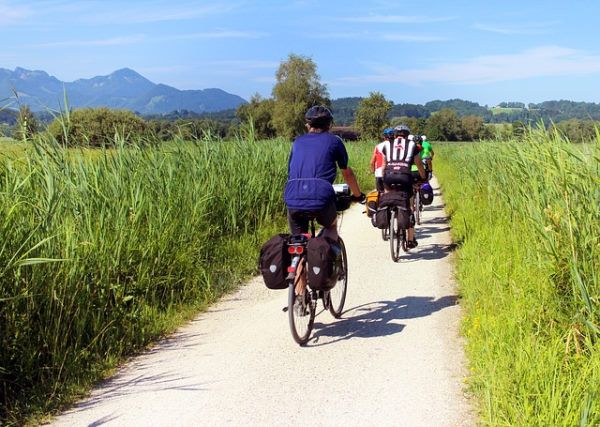 All of these trips have the potential to be great adventures, without the need to travel halfway around the world! For some, you even adopt an environmentally friendly means of transport with active mobility, such as cycling, walking or kayaking.
#7 Avoiding Instagram trips
Social networks are a great source of inspiration for planning and organising holidays. However, for an eco friendly travel, try as much as possible not to choose your destinations for their "instagram-ability". In other words, don't go just because you saw a pretty picture on social media. This is the best way to end up in a place that is a victim of mass tourism and not fully enjoy your trip, while damaging the local biodiversity.
Are you inspired by a photo? Find out more about the destination before you buy your plane ticket:
What activities can you do there?
What will you see?
What experiences can you best immerse yourself in the local culture?
To illustrate with an example, don't go to Japan because you saw a picture of a cherry blossom tree and you like sushi. We are caricaturing a bit but the idea is there: try as much as possible to choose your far away trips with full awareness and in places that really make you dream. Your experience will be all the more enriching!
Finally, in order not to encourage this race for the best photo on Instagram, geotag your social media photos responsibly. In other words, ask yourself if the place might suffer from a sudden influx of tourists before posting your photo on the internet with your location.
#8 Offset the carbon footprint of your trip
Finally, here is a last tip for those who want to put the icing on the cake of their eco friendly travel! Consider offsetting the carbon footprint of your travels that use polluting transport such as planes or cars. This way, you can help support tree planting or emission reduction programmes in other sectors. To find out more, read our article on carbon offsetting your holiday.
Now you have all our tips on how to organise eco friendly travel without depriving yourself! What will you try to do on your next adventure?