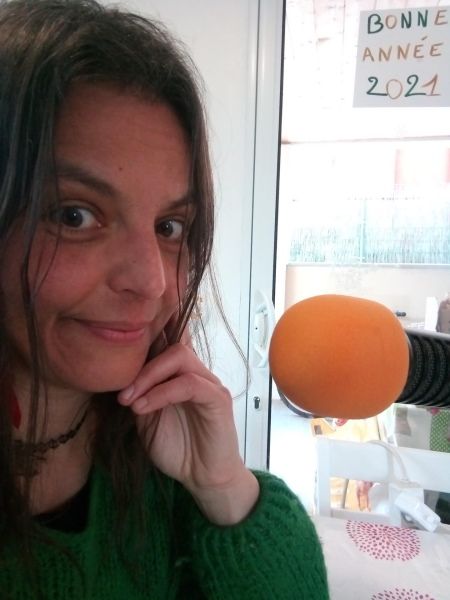 Florence is one of the two voices of the show "Au délà des murs" on the webradio Allo La Planète. I had the chance to work with her on an episode dedicated to responsible accommodation. We also had the opportunity to hear :
Can you introduce yourself and tell us what travel means to you?
Hello, I'm Florence, known as Flo' on the Allo la planète webradio, host and responsible for communication of travel festival events among other things. I am also a Spanish teacher in high school. I had the opportunity to travel in Europe, Spain, Germany, Portugal, Turkey, Italy by hitchhiking and travelling on foot with bivouac. I went to the south of Brazil, to Argentina where I slept in a youth hostel, I went sometimes to the USA where I had the joy to take the bus and live the adventure by getting off at a random stop, I went to Tunisia, Algeria, Senegal, Mauritania and France, hitchhiking and walking with my donkeys.Travelling is about discovering other people, cultures, meeting differences, transforming your vision of the world. It is the way to discover who we are and to improve the human being by bringing him more humility.
What is the trip that has marked you the most? Why did you choose it?
The choice is difficult, each trip was different depending on the continent and very enriching. One because I was alone on an adventure in the US, others for the extraordinary encounters (Spain, Senegal, Argentina), others for the extraordinary nature full of life (Brazil). A beautiful exchange, beautiful sensations, emotions, self-discovery and confidence.
How do you see post-Covid tourism?
My idealistic side would say that we can imagine leaving more room for proximity tourism, more ecological and closer to authentic encounters to disfavour mass tourism but my more realistic side wonders how to deal with the lobbyists who will always encourage this attractive advertising 'forcing' with 'cheap' sales proposals…?We'll see…I think we need to encourage more ethical travel for sure!
What is your next holiday destination?
Europe.A trip nearby? with my donkey on foot, France/Spain, Portugal..or a trip through the travels of my radio listeners…travelling through others is also a great way to travel.
What book would you recommend that we could put in our suitcase this summer?
A book to clear your head and not to think, a paperback by Sophie kinsella :)