Another beautiful meeting thanks to social networks! You will say that it's starting to be a lot, I will answer that it's also the magic of social networks. Anyway I had the chance to meet Valentine through her Instagram account Leno_explore and since then we exchange regularly. When I saw that she had spent a weekend with her family at Coucoo cabanes Grands Lacs, I couldn't resist asking her for her travel diary!
Once upon a time, a stay "Out of Time
It is hardly 8 am when I wake up, I leave discreetly our floating hut, the morning mist invades me, the silence reigns. In the distance I see two ducks that move together in my direction to get into the water, a singular moment, as one can live so many at Coucoo cabanes Grands Lacs. You follow me and I tell you about our stay ?
I discovered this nugget on the Ethik Hotel website while looking to organize an original 3-day stay not too far from home, with an eco responsible approach. Coucoo cabane offers 5 sites in France. The concept is to live a timeless experience in harmony with nature (the location of the cabins is thoughtful, the use of water is limited in the cabin, ecological products are favored, local products are valued ...)
We left with our family for our oldest son's 3rd birthday. We left Metz early in the morning and headed for Vésoul, a 2.5 hour drive. I planned a pic nic stop in zero waste mode with our BG (Bento Gourde) we stop at the edge of a lake. We then booked the velorail, a zero carbon activity that allows the rails of yesteryear to live, they are maintained by enthusiasts. Children and adults loved to pedal & race, although there was no possibility to overtake each other ;-) We arrived at Les Grands Lacs in the late afternoon. The welcome is warm, we make our choices for the breakfasts and reserve our meals. We are given backpacks, we are equipped with headlamps, water bottles & bags for the dry toilets. We are ready to live the experience "Out of time".
Presentation of Coucoo cabanes Les Grands Lacs
The site is large, it is asked to privilege the displacements on foot but the car is authorized there. We park and walk about a hundred meters. We discover our cabin "la Caravelle", the children have fun crossing the pontoon, at the arrival two pretty cabins, wooden armchairs, a dining area and a Nordic bath. The whole of our accommodation is secured by fences which allows you to live the experience in complete peace with young children. The first cabin is equipped with a double bed and a single bed, a dry toilet and a hand wash thanks to the water reserve. The second one is equipped with 3 single beds and a dining area. The traditional shower rooms and toilets are located in a common area a few hundred meters from our accommodation. This space also has a large room where we can share a convivial moment around a coffee and board games.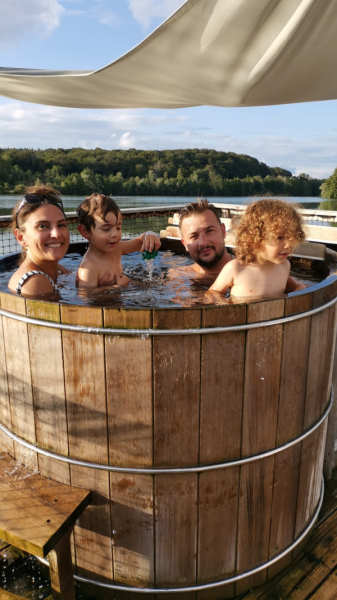 After this first full day, we enjoy the serenity of our cabin and the Nordic bath, a moment of relaxation while watching nature and life on the lake. For dinner we booked a barbecue basket, the coucoo cabane team is at our service to prepare us a country table with local and quality products. At nightfall we put on our headlamps to go back to our cabins, we rest on the terrace, the sky is clear and we observe the stars with our family. We spend a pleasant night, the bedding is very comfortable and the dry toilet is a real luxury with the children.
When we wake up, we get our breakfast in a wicker basket placed in a wooden box installed in front of the pontoon of our hut. What a joy to have everything close by and to settle down on the terrace or in the cabin to have breakfast with the family while enjoying the serenity of a cabin on the water.
You will not lack proposals to occupy your days!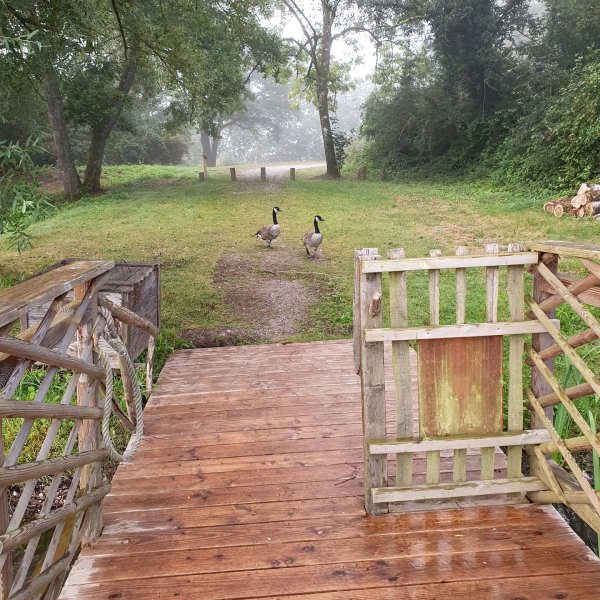 The days at Coucoo Cabane go by too fast and are never the same. A gentle wake up call with a Nordic bath, family games, a walk by the lake to observe the animals, fishing* with the kids from our terrace, swimming on the campsite to which we have access, it is directly connected to Coucoo cabane and is ideal for children with its many pools and water games**. There are many other activities: cycling, canoeing, kayaking, swimming in the lake, accro branche ... we do not have time to enjoy more we must leave, tomorrow is back to school for children! We will come back to perch, it's sure! Make beautiful explor'actions
* fishing: we have requested authorization** open in July and August only