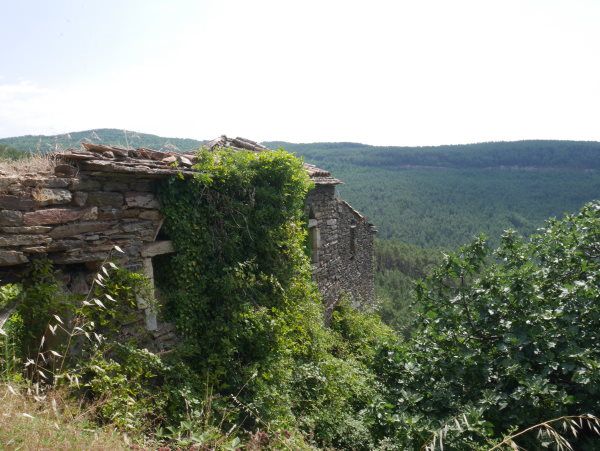 Fanny has been faithful to Ethik Hotels since the beginning and has already shared with us some eco-friendly addresses to enrich our database. Like me, she has a passion for travelling. She launched her activity as a Travel Planner at the end of the year and will be happy to accompany you in the organization of your stays. In the meantime, she has offered to relive one of her weekend in the Cevennes and I am delighted that she has agreed to share her travel story with us!
For Ethik Hotels and Anne, I go back to my travel memories before Covid and I take you with me for a weekend in the Cevennes. We leave together for a stay in a yurt between hiking and relaxing by the river. This stay goes back to the summer of 2017, already and yet, it was such a beautiful weekend that I remember it as if it was yesterday!
Let me tell you a little about the Cévennes. This mountain range is part of the Massif Central and stretches over 5 departments: Aveyron, Gard, Hérault, Ardèche and Lozère. But it is mainly concentrated in the Gard and Lozère. The highest point in the area is Mont Lozère, at the peak of Finiels (1699m) and the second most popular mountain in the Cévennes is Mont Aigoual (1567m), on the border between the Gard and Lozère. The inhabitants of this region of France are called the Cévenol.e.s and they are known to have quite a temperament!
For the stay I am proposing here, we are going to Sainte-Cécile-d'Andorge. This small town, still preserved from urbanization, is located north of the old mining town of La Grand-Combe. We will stay together at Mas Pinet.
Before getting to the heart of the matter, I suggest you take a look at the culinary specialities that you absolutely must know and taste once there. Chestnuts to start with, if you come in autumn, bring a small (big) basket to go and pick this little Cevennes wonder. You are bound to have an excellent time in the woods, under the chestnut trees with your partner, friends or family. These are always unforgettable moments of sharing. And it's not like the mushrooms, you'll never come back empty-handed! Then there is the honey, the pélardons (goat cheese) and the charcuterie. No doubt, in the Cévennes you will awaken your taste buds and your senses.
Come with me to discover this territory perfect for sustainable tourism, eco-tourism and the green attitude!
Presentation of the accommodation for your weekend in the Cevennes
For this little weekend, in sustainable tourism mode, Yann had surprised me with a stay in a yurt at the gates of the Cevennes. He was not mistaken. This establishment ticks all the boxes for unusual and ecological accommodation. If you are interested, I will take you to discover this unusual place and its owners.
When you arrive at Mas Pinet, you park on a sloping road and wonder if you are in the right place. This magnificent Mas is in fact a small former monastery, over 300 years old, set alone in the world in the hollow of a small Cévennes valley. The owners will welcome you with warmth and kindness, before guiding you to your yurt.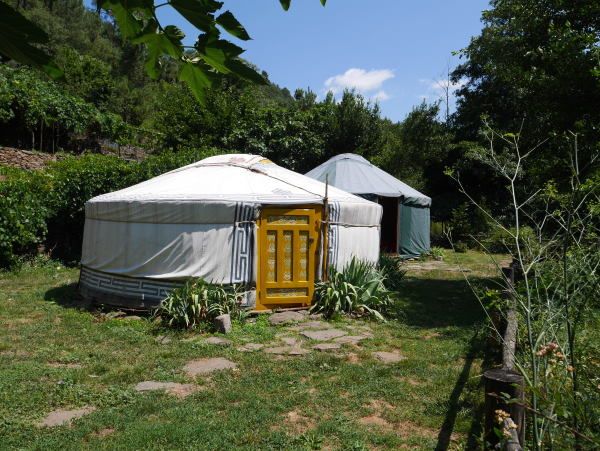 It is located a little lower down, on one of the terraces of the land. You can cross the small river below (little water in summer) thanks to a small bridge which offers you a magnificent view of the farmhouse and the yurts.
Inside the yurt? A bed (or beds), decoration and small bedside tables, carpets, small windows. And that's it, you don't need anything else because you're heading straight to the Mongolian steps, you can take your time to dream and relax in this relaxing setting.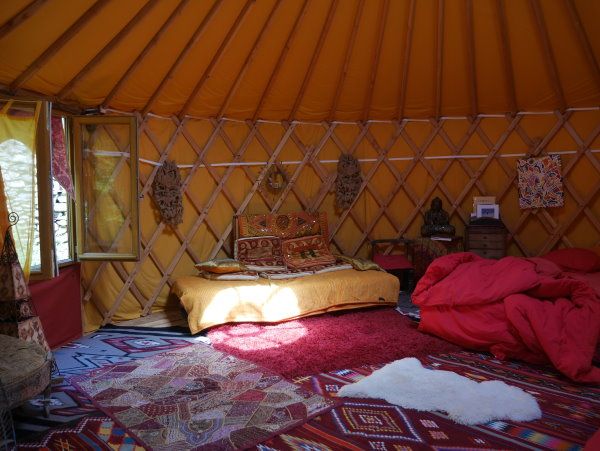 Mas Pinet is the ideal place to relax, learn, discover and meet. Karine and Jade are the happy owners of this little paradise. I absolutely have to tell you about them, as they are as amazing as their accommodation. Karine is a Hollywood stuntwoman and Jade is an internationally renowned tightrope walker. We'll talk about that later, but you might be tempted by the experience!
Mas Pinet is also a table d'hôte. Karine and Jade are great lovers of nature, and their organic garden allows them to garnish many of the dishes that you will be able to taste at their table d'hôte. In addition to their products, they will be happy to introduce you to local produce, fresh from the market in La Grand-Combe, honey from the Mas' bees and in the morning you can enjoy fresh eggs from the hens, who live a happy life in the Mas' garden.
Practical information: the Mas Pinet is open from Easter to the end of September. It welcomes you for an unusual night, an artistic residence, a family reunion, a training course, a seminar or a wedding!
Discover our selection of 9 glamping adresses in Europe
Activities to do in and from Mas Pinet, for your weekend in the Cevennes
The most zany and unusual activity at Mas Pinet is the tightrope walkers!So, what do you say? For an unusual weekend in the Cevennes, we're in, aren't we? This activity, which is totally respectful of the environment, will offer you an incredible view of the valley, above the river. The wire is 70m long and goes up to 15m high, so you don't need to be afraid of heights.
For those who want to enjoy this incredible place and not go on a daily getaway, then the hosts of Mas Pinet offer a range of green attitude activities. Karine offers a 30 minute or 1 hour relaxation massage.
For those with an artistic soul, Karine invites you to discover painting or bead making workshops over a cup of tea.
For those who are sporty, she will accompany you in a stretching/yoga session for an hour of physical well-being.
If, like me, you are a hiking enthusiast, Jade will be happy to show you the way to the abandoned mining village of Les Luminieres. It takes about 2 hours of walking and frankly I loved visiting this abandoned village. Well, maybe I'm not very objective because I have a real attraction for all abandoned places… So of course we stayed there for a good hour, visiting the houses, taking pictures and rediscovering our childish soul. Note that if you wish, Mas Pinet can prepare a picnic for you for 10€.
And if the weather is too hot, you can go for a dip in the lake of Camboux which is a 20 minute walk from the Mas. There you can enjoy a nautical base with some activities, like canoeing or climbing. Don't hesitate to ask your hosts for the best river spots in the area, as there are plenty of them and they will surely be less crowded than the lake.
Finally, if you are an artist and would like to be inspired by an atmosphere other than that of your studio or workshop, Mas Pinet is also an artist's residence!
Activities to do around the accommodation
For all those who are restless or thinking of staying longer than two days at Mas Pinet, a wide range of activities awaits you around this eco-responsible accommodation.
The Château de Portes is a major tourist attraction in the Cévennes. At the foot of Mont Lozère, it offers an incredible view of the surrounding valley and the Alesian countryside; when the weather is clear, you can even see Mont Ventoux. In the summer, Cévennes artists exhibit their works of art in the various rooms of the castle and in the courtyard you can observe the work of volunteers in the restoration of the castle. This monumental project has been going on for 30 years and is starting to pay off.
The Bamboo grove of Anduze is one of the most famous attractions in the area. For me it is the ideal place to go on a trip without leaving France. The time of the visit you immerse yourself in the middle of bamboos and plants as rare as the others, then you will escape on a trip to the other side of the world without any effort. You will never want to leave this magical and beautiful place. In addition to this, the Bamboo Garden is totally in line with sustainable development and pays real attention to respecting the environment, as it is managed using integrated biological protection, i.e. without any phytosanitary products.
The Simonet tower, which is over 160 years old, is a small, free local attraction. You can go for a walk, read the historical inscriptions and have a picnic in peace.
At the nautical base of the Camboux lake you can go canoeing, pedal boating and/or stand up paddling.
In the Cevennes it is also possible to do canyoning and even go on a little caving session. In short, you will have a lot of fun in the water, on land, underground or in the air!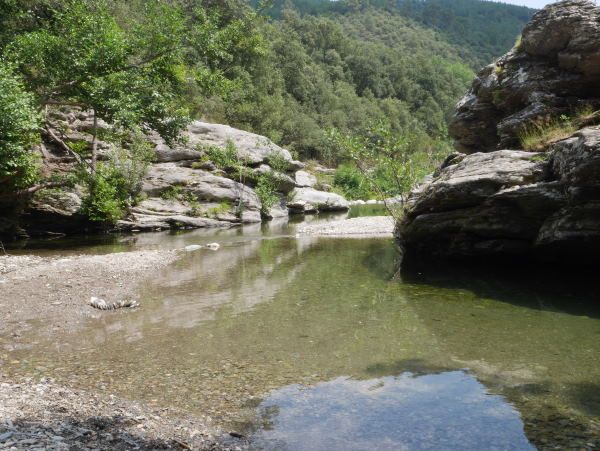 Finally, many producers market local products: honey, pelardons…A whole quality of life that the Cévennes are preparing to share.
As you will have understood from this article, if you are looking for an environmentally friendly and exciting weekend, I invite you to discover the Cévennes. This national park has been listed as a World Heritage Site since 2011, in the category of "living, evolving cultural landscapes". Agropastoralism and transhumance are an integral part of this territory. Its biodiversity and varied landscapes invite you to discover eco-tourism in order to better understand this territory and thus participate in its preservation. Don't hesitate to visit the tourist offices for more information on the fauna and flora to be observed during your various walks.
Of course the list of activities and things to do is not exhaustive, so if you have any questions or want to go and conquer this territory, I invite you to discover my Travel Planner offers.I will be happy to create with you a tailor-made trip that suits you.