I met Alexandra on Instagram thanks to their account On Holidays Again. She tells about the escapades and trips they do, with Pierre, her husband. Their account is a taste of what you can find on their chic & cozy travel blog which is also called On Holidays Again. Since our first exchanges during the summer of 2020, it's always a pleasure to exchange regularly. So I naturally thought of them when I set up the new section: Carnet de Voyage. They decided to tell us about their vacations in the Maldives!
For years, going to the Maldives was more than just a sunny vacation and a warm oasis in the middle of winter. We might as well admit it, these vacations were as welcome as they were therapeutic. Between a stressful professional life and a private life that was exhausting from one activity to another, the Maldives was a refuge where we could put everything on hold for 2 weeks. Thanks to our jobs, we were able to travel to the Maldives about 15 times in good quality hotels. If we liked most of them, our favorite is certainly Veligandu.
Veligandu, one of our favorite islands
We had the opportunity to go twice on Veligandu. A first time in 2008 then in 2017. It is a beautiful small island where we feel good, thanks to elegant wooden infrastructures, a beautiful turquoise lagoon, the atmosphere it gives off and the kindness of the staff. The exceptional quality of the food in the form of buffet finished seducing us. It is also possible that the passage of a school of dolphins off the lagoon at 1pm and 7pm made us love this island forever...
For the past few years, we have preferred to stay in bungalows on stilts. It is really a unique sensation to "live" above the water. We love it. It allows us to attend permanently the underwater show. The water is so transparent, that we can easily see if a parrot fish, a turtle or an eagle ray is basking at the foot of the bungalow. This also offers the huge advantage of being able to go swimming in the water in an instant, and start snorkeling directly from your room.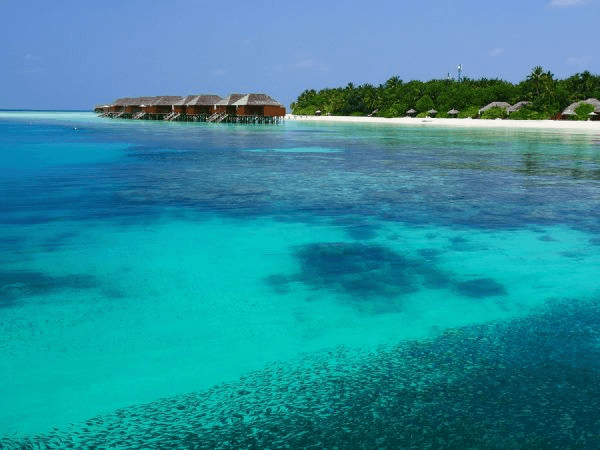 Veligandu lagoon is like most Maldivian lagoons: beautiful! Each of the many shades of blue is a real pleasure for the eyes. In the reef, the show continues with a multitude of colorful fish. Under the apparent quietness of the lagoon, an incredibly rich world is stirring. The only drawback: during our second trip, the Maldivian reef has (again) suffered from a warming of the waters. It only took 2 degrees too much during 1 month, to kill the corals of the reef. The coral is dead, therefore bleached and it does not feed the nice little fish anymore. So there were less colored fish, but more big fish, like groupers, titan triggerfish and even octopuses (that was so cool!).
During this last trip to Veligandu, we had the opportunity to discuss with the General Manager. By listening to his philosophy, we understood better why we feel so well on this island. He reads all the comments of the customers and tries to erase every weak point. We asked him about fresh water management, food, etc. This led us to a "backstage" tour of the island. We were impressed by all that requires as resources the management of an island. In 4 words: nothing is lost! Organic waste = compost; waste water = watering; etc.
What to do on a Maldives island ?
According to the resorts, the activities can be very varied. On our side, we have always looked for quiet islands and a qualitative reef.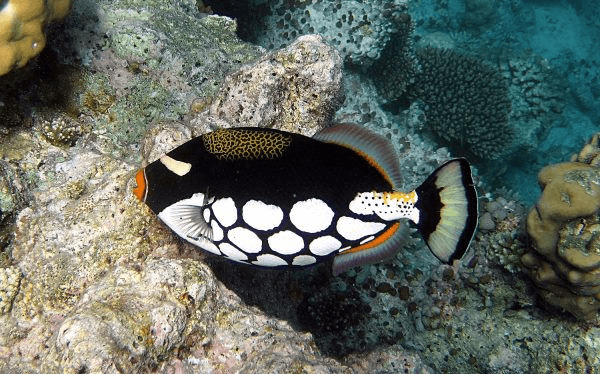 On all islands, there will be water activities available. Some offer parasailing in addition to kayaking, others offer paddle boarding, etc.
Here is a sample of the activities that make for a great day under the sun:
Snorkeling (in the reef or on an excursion)
Diving
Swimming in a heavenly lagoon
Stroll under the coconut trees on the island
Watching fish and/or dolphins from the pontoon
Reading on your terrace
Take a nap
Get a massage at the spa
Take a canoe tour of the island
Watching the island's heron catch small fish
Be fascinated to see the black tip sharks hunting in the reef
Drink a cocktail while watching the sunset
Etc.
In our eyes, a trip to the Maldives is a real vacation where everything is put on "off" during a break from the world. Even if more and more islands are equipped with wifi, we prefer the digital disconnection for more connection to nature, to others and to ourselves. All this while living for 2 weeks with our feet in the air. As much to say that the return to Europe is often a shock...
To go further, discover our articles on ecological activities to practice during your vacations and on disconnected vacations.
A fragile ecosystem
Seeing tourists land with their fins (and irreparably break) on fragile lace-like living corals, centuries old, just to take a picture of themselves; or watching them break off regrowths before our eyes by walking on them without paying attention, it's the kind of thing that makes our guts twinge.
In our life and our travels, we give a lot of importance to the respect of the Man towards the nature. In the Maldives, this is even more obvious. The actions/reactions take place before our eyes. During our next trips, we were very careful about what we took in our suitcases: a shower product, a shampoo and a sun cream that are organic and respectful of the coral. Here, there is no way to do without sun cream, the sun does not make any gift. However, choosing a product that has a minimal impact on nature only requires a little preparation.