Welcome to Madeira ! This island of 53 km long and 23 km wide in the Atlantic Ocean promises you unforgettable landscapes between mountains, cliffs, tropical vegetation and ocean views. The island that is called the Island of Flowers offers you a palette of colors and incredible scents in its towns and primary forests. Find out how to organize your road trip to Madeira : when to go, where to find eco-friendly accommodation and what to do on the island. Follow the guide!
What to do in Madeira?
If you're looking for heavenly sandy beaches, Madeira might disappoint you. The volcanic island, with its rugged terrain, is best known for being a hiking paradise. Steep peaks, deep valleys (called ribeiras) and a pleasant climate have allowed vegetation to develop. A large part of the island is therefore covered by primary forest, which is beautiful to discover during your walking tours.
1) Visit Funchal
The capital of Madeira is a pleasant and dynamic city. Don't miss to discover its beautiful historical center, especially the Santa Maria district.
Here are some other ideas for excursions to discover Funchal:
Stroll through the pleasant flower market, which glows with 1,000 colors;
Visit the São Tiago Fortress, which houses a contemporary art museum;
Explore the Botanical Garden on the city's heights, accessible by cable car. With no less than 2000 plant species gathered in a magnificent green space, you will certainly be charmed. Continue your discovery with the Monte Palace tropical garden, located above.
2) Take a dip in the ocean at Seixal
The black sand beach of Seixal is a unique place that is worth a visit for its iconic and exotic landscape.
Take the time to admire the ocean waves and the green Madeira cliffs that fall into the sea. Perhaps you'll take the opportunity to take a dip in the waves?
3) Discover Porto Moniz
Located on the northwest coast, the town of Porto Moniz is known for its natural pools made of rock and lava. It is the perfect place for a swim in salt water but without the waves of the ocean!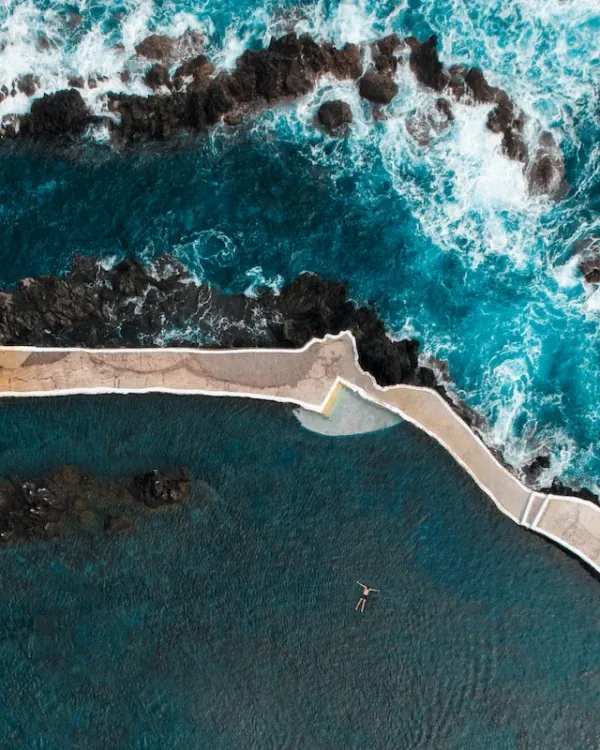 Take advantage of your passage to settle down in a restaurant and taste freshly caught seafood.
Finally, don't miss a walk to the Miradouro da Santinha for an exceptional view of the bay and the village.
4) Meet whales and dolphins with a catamaran
Embark on a catamaran for a marine excursion to meet whales and dolphins, which can be seen all year round in Madeira. However, the ideal period is from spring to autumn.
Departures are mainly from the Marina de Calheta in the west of the island.
5) Discover Cape Girão
Cape Girão is a cliff almost 600 meters high in the south of Madeira Island. It is one of the highest cliffs on the European continent, which offers an incomparable view!
A glass platform overlooking the void has even been built on the site for a guaranteed adrenaline rush for those who want to venture there.
6) Madeira's iconic hikes
The hiking possibilities are endless on Madeira Island! We give you some ideas among the most famous itineraries of the island. Don't hesitate to ask locals for advice on other off-the-beaten-path ideas.
Don't forget to bring a headlamp for your hikes in Madeira: some routes go through quite dark rock tunnels.
Here are some suggestions for your Madeira road trip:
Pico do Ariero - Pico Ruivo hike. This trail for experienced hikers takes you to the top of the island, at 1862 meters above sea level, and offers you a fantastic view at the finish line;
São Lourenço Point Hike. This amazing peninsula on the east side of the island promises a superb view of the ocean. Plan it at the end of the day to enjoy the shimmering colors of the setting sun ;
Levado do Alecrim Hike. This short and easily accessible hike takes you through a pleasant undergrowth with a beautiful waterfall at the end ;
Levada 25 Fontes e Risco Hike. This beautiful hike takes you through tunnels, waterfalls and along levadas (Madeira's irrigation channels). Very popular, leave early in the morning to fully enjoy it ;
Pico Grande hike. Steep valleys, splendid landscapes, jagged rocks and lush vegetation: treat yourself to a concentrate of Madeira while climbing to an altitude of 1650 meters.
Also read: Want a change from hiking? Discover our other ideas for an active and relaxing vacation.
How to get around Madeira Island?
Rent a car
The easiest way to explore Madeira is to rent a car. The north of the island is not served by public transport and is difficult to reach without a car.
However, be aware before embarking on a road trip to Madeira that the roads there are quite narrow and steep. Be careful when driving!
Moreover, parking in the cities is not easy in Madeira. Parking spaces open to everyone have blue markings: they have to be paid for and parking is often limited to 2 hours. Some private parking lots allow for longer-term parking.
To limit both your carbon footprint and the number of kilometers traveled during your stay, make hiking your main activity on Madeira and think of the car as a way to reach the starting points of the walking trails!
Also read: discover 6 steps to prepare an eco-responsible road trip.
Madeira without a car
It is however possible to visit Madeira without a car, with a little organization and some compromises.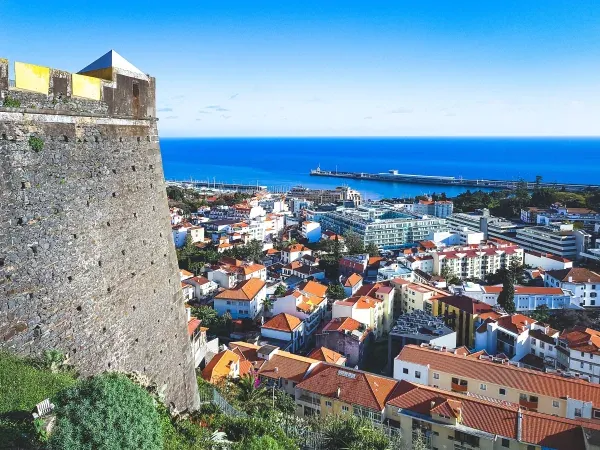 For this, we recommend staying in the center of Funchal to be as close as possible to the excursion departures. Then ask at the tourist office about organized trips.
This is not the best way to get off the beaten track, but it does give you access to several of the island's iconic hikes, including
The Levada 25 Fontes hike;
The ascent of Pico Ruivo, the island's peak.
Buses exist and serve mainly the south and east of the island. They allow you to reach the Point of São Lourenço from Funchal. Find out more about traveling by bus in Madeira.
How to get to Madeira?
Madeira is accessible by plane from France with direct flights from Paris and Marseille.
It takes about 3.5 hours to fly from Paris to Funchal airport in Madeira.
Unfortunately, regular ferry connections with the mainland do not yet exist. If you want to go to Madeira without flying, you will have to find a sailboat to take you there.
Read also: discover our complete guide to sailing vacations.
When to go to Madeira?
Madeira is a pleasant island all year round, known for its eternal spring.
Indeed, like the Canary Islands, it benefits from a mild oceanic climate and its proximity to the Equator which gives it a temperature between 15 and 25°C all year round.
Note, however, that humidity is higher during the winter months.
Where to sleep in Madeira?
Would you like to sleep in accommodations fully committed to sustainable tourism during your road trip in Madeira?
Discover 2 Ethik'Hotels, ideally located to explore the island.
Quinta da Serra, a 5-star hotel in Madeira
Stay in a building built by a British consul in the 18th century, set in a beautiful lush garden, full of Madeira's endemic species.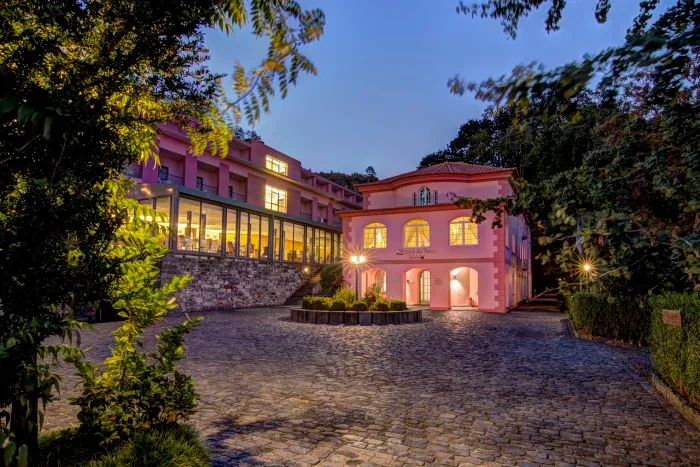 Quinta da Serra promises you an exceptional stay. Enjoy a tasty organic cuisine with a view of the valley and the sea in the background. Book a comfortable and refined room. Enjoy the heated indoor pool, the jacuzzi, the sauna or a pleasant massage. What more could you want for an unforgettable stay in Madeira?
La Maison ZiaZen, a quiet and authentic lodging
ZiaZen House welcomes you in a rural environment, far from the tourist areas of Madeira.
It's a simple, slow-paced getaway in harmony with nature that awaits you, facing the Atlantic Ocean.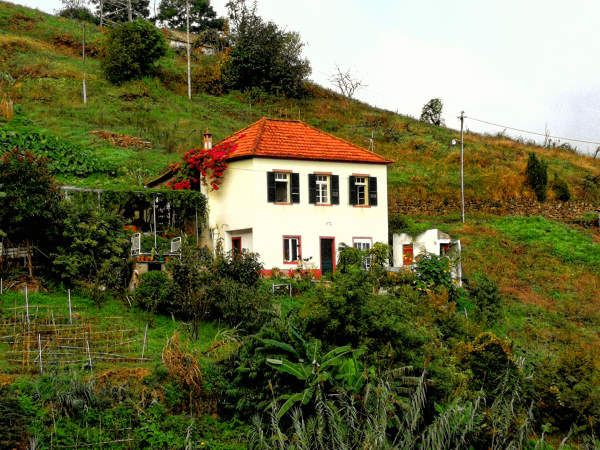 Enjoy tasty cuisine prepared from the garden's produce, yoga classes, massage and hiking in the area. Find the joy of simple pleasures during your stay in Madeira.
How long should I plan to visit Madeira?
We advise you to plan at least one week to visit the Flower Island and enjoy the diversity of landscapes it has to offer.
Here is an example of a road trip in Madeira, to be adapted according to your desires:
Day 2: Hiking between Pico de Arieiro and Pico Ruivo;
Day 3: Hiking of Pico Grande;
Day 4: Hiking of São Lourenço point and Levada do Castelejo trail (near ZiaZen House accommodation);
Day 5: Exploration of Seixal beach and swimming in the natural pools of Porto Moniz;
Day 6: Boat trip from Calheta Marina and Levada 25 Fontes hike or Levado do Alecrim hike
Day 7: Visit the Madeira Ethnographic Museum and discover the cliffs of Cape Girão before returning to Funchal.
You can easily extend your stay and make a road trip to Madeira of 15 days or more. The hiking possibilities are endless, especially if you like to get off the beaten track and discover places not often visited by other travelers.
You can also imagine a day trip to the neighboring island of Porto Santo which is part of the Madeira archipelago. Regular ferries (shipping company: Porto Santo Line) run from Madeira Island. Unlike its neighbor, Porto Santo offers a beautiful beach with fine golden sand, which extends over a large part of its southern coast.
Read on and discover our tips for an eco-friendly vacation by the sea.
Are you tempted by a road trip to Madeira? Start planning your trip to discover the lush landscapes and vegetation of the Flower Island.
Photo rights : Photo by Dimitry B on Unsplash-
Photo by Tim Roosjen on Unsplash-
Image by Frank Nürnberger from Pixabay