Skiing at full speed down the slopes, enjoying the warm atmosphere of a chalet in the evening, rediscovering your childlike spirit in the snow, a ski holiday is an adventure in itself. But when ecological awareness gets involved, questions arise. Is it really possible to be a responsible traveller and still enjoy winter sports? Good news: the answer is yes! By adopting good practices and choosing an ecological ski resort thanks to labels with strict criteria such as "Flocon Vert", you can have an ecological holiday in the mountains! Follow the guide and find out how to choose your eco-friendly ski resort for your next winter getaway.
Winter sports: a significant ecological impact
Loss of biodiversity
Unfortunately, our beloved groomed slopes and ski lifts are not without consequences for mountain biodiversity. In order to build new ski runs, it is necessary to clear the land. As a result, the natural habitat of animals is threatened: the fauna and flora of mountain areas are becoming scarce in the vicinity of ski resorts.
Cable cars are also dangerous for large birds, such as the Black Grouse in the Alps and the Capercaillie in the Pyrenees. To counteract this harmful effect on birds, some resorts have installed cable signs.
Bilan carbone
57% of CO2 emissions from ski resorts are caused by transport (source: ADEME). Indeed, most holidaymakers still use their private cars to get to the mountains. Ecological ski resorts are therefore trying to develop public transport to offer travellers an alternative.
The grooming of slopes also represents a small part of the carbon impact of resorts. In this respect, ski resorts are trying to take action by training their drivers in eco-driving of grooming equipment and by supporting projects to develop hydrogen-powered groomers.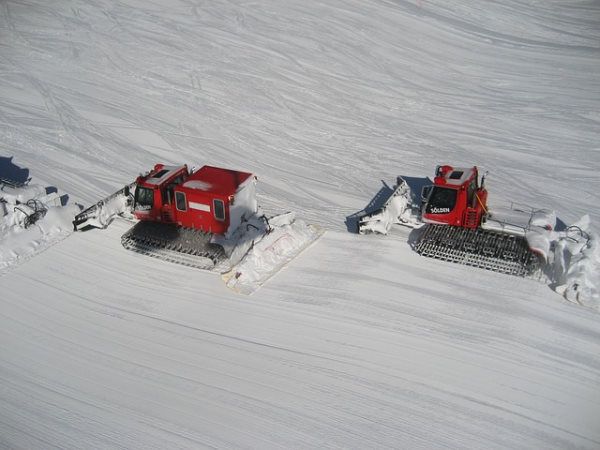 Waste management
Again, the subject of litter is a real problem for ski resorts, especially in spring when the snow starts to melt. For example, some chairlifts have as many as 30,000 cigarette butts found abandoned under the course. When you know that a cigarette butt can pollute up to 1 cubic metre of snow, the situation is frightening!
Water management
Another important phenomenon is the increasing use of artificial snow by the resorts. The surface area of artificial snow has thus increased from 600 hectares in 1995 to 2300 hectares in 2017. With global warming accelerating, this upward trend is unfortunately likely to continue.
In addition, the water used for snowmaking comes from rivers, high altitude reservoirs and the drinking water network. Even if the water eventually melts, this excessive and abnormal consumption disrupts the water cycle and threatens local aquatic life.
Choosing an ecological ski resort for your next holiday
Fortunately, several winter sports resorts are taking action to combat these harmful effects! We give you some elements to help you choose.
Labels to look out for
Flocon Vert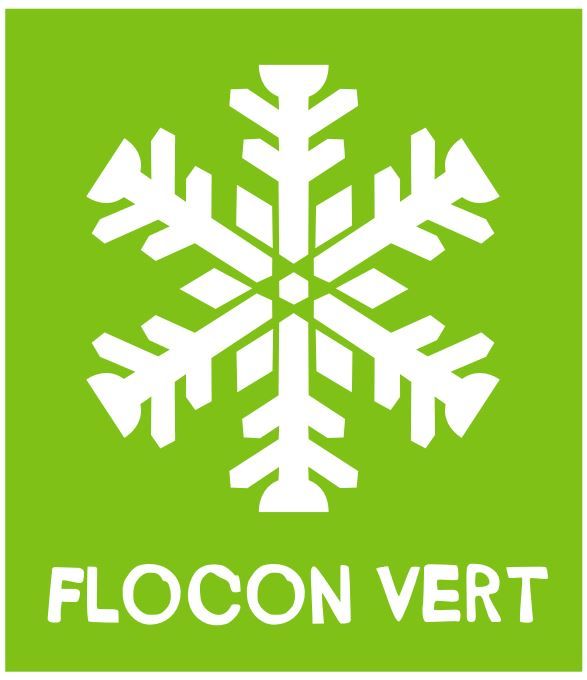 Flocon Vert is the reference label for ski resorts. Initially created in 2012, it was updated and simplified by the Mountain Riders association in 2016. To date, 9 resorts have been awarded the precious sesame, the latest being Morzine-Avoriaz.
Flocon Vert evaluates resorts according to 20 criteria divided into 4 main themes:
governance and destination,
local economy,
social and cultural aspects,
natural resources and ecology
Ski resorts are reassessed every 3 years and must not relax their efforts to keep their certification.
Green Globe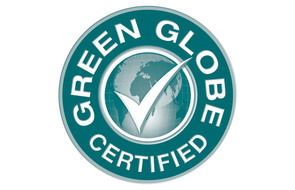 Although Green Globe is not specific to mountain resorts, it is the international label for sustainable tourism par excellence. This certification rewards all tourism actors who act on 25 criteria around sustainable management, social and economic aspects, cultural heritage and the environment.
The Grand Massif ski area, for example, received this certification in 2016.
Visit our dedicated article to learn more about all the sustainable tourism labels.
Other initiatives underway
The Cimes Durables trophy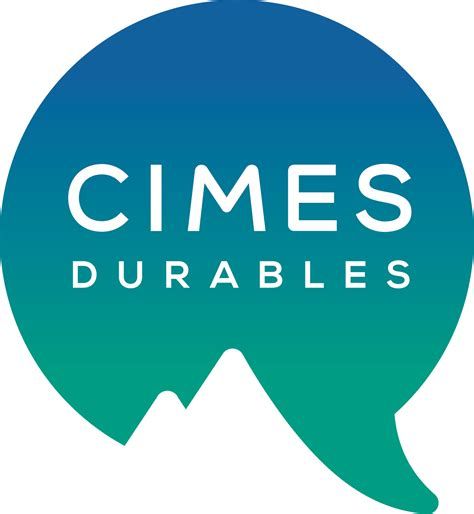 The ANMSM (National Association of Mayors of Mountain Resorts) launched this initiative in 2016. Since then, every two years, the Cimes Durables trophy rewards ski resorts for their measures and commitment to sustainable development.
For example, Font-Romeu, a small resort in the Pyrenees, received an award in 2020 for its Musée Sans Murs: an open-air contemporary art museum, the highest in Europe, in which art and nature are one.
If you are looking for eco-responsible accommodation near Font-Romeu, we recommend the Orri de Planès, a warm and welcoming ecological gîte-auberge.
The ecological commitments of Domaines Skiables de France (DSF)
Domaines Skiables de France, the professional chamber of ski resort operators, is also committed to the environment. Thus, the entity supports ski areas in their management so that their development does not jeopardise the local natural heritage. Several axes with different objectives have been set: a climate axis to achieve carbon neutrality by 2037 as well as axes for water, agriculture, biodiversity, landscapes and waste.
3 examples of ecological ski resorts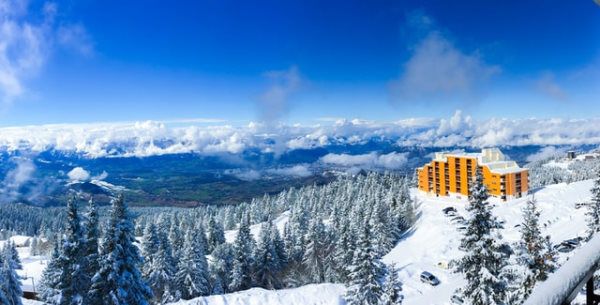 Here is a small selection of 3 resorts with the "Flocon Vert" label that are implementing actions to preserve their heritage.
La Pierre Saint Martin (Pyrénées)
This resort in the Pyrénées-Atlantiques is developing infrastructures to facilitate car-free access to the resort. With a "Skibus" initiative in place, it is possible to reach the village from St Sebastien in Spain or Bayonne in France by public transport.
Chamrousse (Isère)
Chamrousse, a small ski resort in Isère, located 30 kilometres from Grenoble, has set up a "Chamrousse Propre" initiative. In this context and in collaboration with the company Tri-Vallées, the resort organises collections of used equipment at the end of the season. The aim is to recycle the materials: the metal is reused for other purposes, while the shredded material recovered from the rest of the equipment is used as fuel in cement works. Thus 200 pairs of skis save 3 tonnes of oil.
Les Arcs (Savoie)
Les Arcs in Savoie is a large ski area that is very committed to the environment. For example, in terms of biodiversity, they have set up the Arpette tranquillity zone, allowing the black grouse to benefit from a protected living space.
A funicular which operates 7 days a week also allows you to reach the resort without a car from the Bourg Saint Maurice station. Thus the streets of Les Arcs benefit from the calm of the absence of cars. A great way to spend a relaxing holiday!
Good practices in eco-responsible skiing
Going skiing without your car
The private car remains the preferred means of transport for ski holidays. The roads in the Alps are often saturated and the car parks in the resorts are full to bursting during the February holidays. While some villages are not yet easily accessible by car, others are putting in place measures to facilitate the arrival of travellers. So, if you can, support such initiatives! You'll save time and arrive less tired.
For example, it takes 5 hours to get from Paris to Bourg-Saint-Maurice by TGV compared to 6 and a half hours by car. Then, you just have to take the funicular to reach Les Arcs.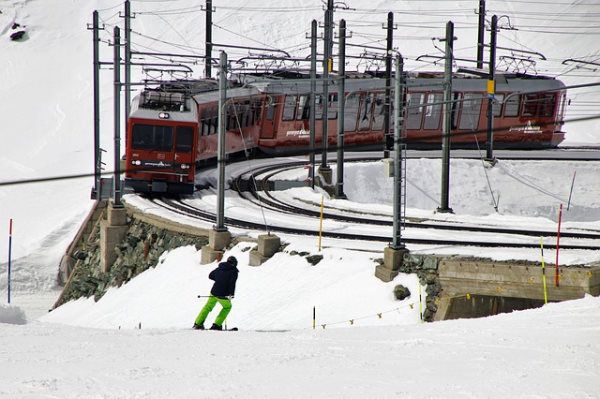 Why not take the opportunity to try the night train? Briançon is accessible by sleeper train and allows you to reach Serre-Chevalier without a car. In the Pyrenees, you can also reach Ax-les-Thermes and the surrounding snowy slopes while you sleep.
For even more unforgettable adventures on the rails, discover 6 mythical sleeper train journeys in Europe.
Rent or buy second-hand equipment
For equipment used for one week a year, is it worth buying your winter sports equipment? If you only use it occasionally, rent it. This way, you don't have to worry about maintenance and you free up space in your home! Also remember to book your skis in advance, as rental agencies generally offer good rates.
Alternatively, you can also buy your equipment second-hand. At the end of the season, resorts sell some of their stock at often interesting prices.
Keeping good habits like at home
Limiting and taking care of your rubbish is an excellent ecogesture in the mountains! If you are a smoker, think about your pocket ashtray so that you don't throw your cigarette butts in the nature. Also carry a water bottle in your rucksack to limit plastic bottles and if you can, prepare your own picnics to avoid unnecessary packaging.
Discover all our best practices for zero waste holidays, even when skiing!
Finally, as at home, reduce the heating in your chalet or rental flat if possible. Even a reduction of 1°C is a significant energy saving! You can also turn down the heating during the day while you're on the slopes.
Now you know all our tips for choosing an eco-friendly ski resort and planning your next holiday! Where are you planning to go this winter? Tell us in comments!