As you know, on Ethik Hotels we are spearheading sustainable tourism. And we won't teach you anything about the fact that there are different types of tourism, sustainable or not. 2021 is really the year when the sector is looking to reinvent itself and we see new practices coming in. As always, we want you to have all the information you need to plan the responsible holiday you want. That's why we want to highlight the new trends in sustainable tourism to perhaps inspire you to try it.
#1 Slow tourism, the art of slowing down on holiday
#2 Local tourism or how to rediscover your region
#3 Micro-adventure, a new tourism trend to try out for a weekend
#4 Regenerative tourism, active responsible holidays
#5 Bleisure, reconciling holidays and work
#6 Holidays in a van, freedom regained
#7 Glamping, chic camping
#8 The great return of train travel
#1 Slow tourism, the art of slowing down on holiday
Slow tourism is inspired by the slow food movement. This movement, which began in Italy in the 1980s, aimed to counter the emergence of fast food. To this end, Carlo Petrini, the founder, wants to restore food to its rightful place at the heart of our lives. He advocates moments of sharing and living with our loved ones around a good meal with quality products.
For slow tourism the idea is the same: to spend quality time during our holidays. To do this, we avoid the race after the "must-see" sites and we take our time. We learn to discover, to enjoy the moment. Discover our suggestions for implementing slow tourism in our article on Ecological Activities.
If you decide to embark on slow tourism your new motto will very quickly become :
See less but better!
#2 Local tourism or how to rediscover your region
The end of the first confinement, and the 100-kilometre limit, pushed us to discover places that in normal circumstances we would never have taken the time to visit. It must be said that after 2 months locked up at home, we all had only one desire: to get some fresh air. Once again we showed our resilience, we adapted and found activities in our 100 kilometres. And what lovely surprises! It has to be said we all discovered some nuggets during this period.
Everyone can in their own way practice local tourism and discover their environment:
cultural places : museums, historical sites …
sports activities : cycling, canoeing, hiking …
other activities : discovering crafts, local cooking classes
industrial/professional tourism: discover the companies that make our regions live, meet local producers, etc.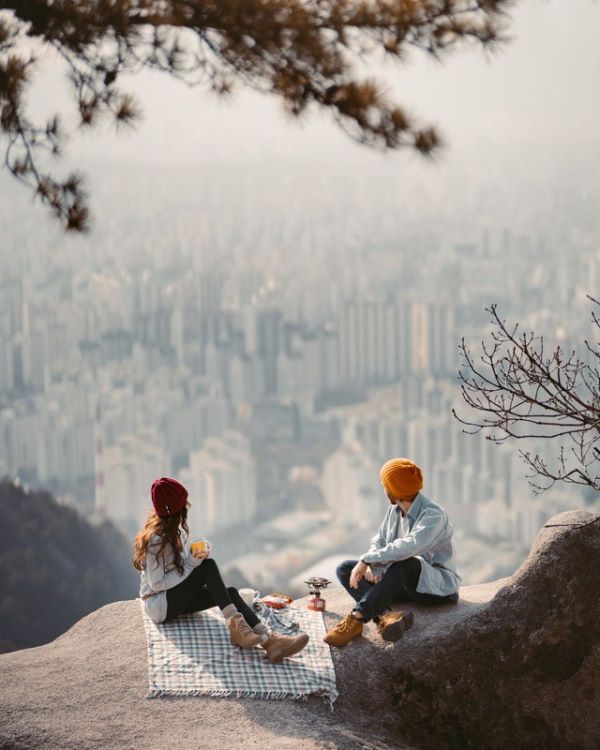 #3 Micro-adventure, a new tourism trend to try out for a weekend
The micro adventure is completely in line with the approach of proximity tourism, but it is also in line with the approach of minimalism and sobriety. That is to say, to leave for one or two days (micro stay), very close to us (micro distance) and in an accommodation like a tiny house (micro house). The main idea remains the same: to discover all the riches that surround us.
With community-based tourism and microadventure, what was once a constraint is being transformed into a new form of tourism and a new way of life. Given the richness of what everyone has discovered in the wake of confinement, there is plenty to do. We are not about to run out of ideas! There have been many blog posts about these two new tourism trends, so check out the ones in your area. A new tourism trend is born!
However, if you are still looking for inspiration, I invite you to visit the Chilowé website. This site is full of information so that you can "go on an adventure just around the corner".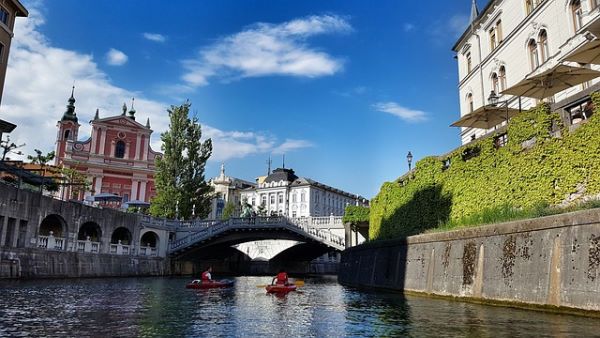 #4 Regenerative tourism, responsible active holidays
In the new trends in tourism, this one is really the most recent. It is part of the regenerative agriculture movement which aims to give the soil time to regenerate. So, it looks like this is another slow-motion story! More concretely, for tourism it means leaving a place in a better state than we found it.
This involves several actions:
limit and control access to certain places that are victims of over-tourism. Venice comes to mind, but this is also the case for Machu Picchu, Dubrovnik…
Encourage travellers to take part in positive actions in favour of the eco-system they are visiting. This can be done by planting trees, corals, participating in the construction of infrastructures for the local population, contributing their knowledge in a particular field and passing it on to the inhabitants…
not bringing or returning with you any plants or animals that are not part of the local eco system and that could have dramatic consequences if they proliferate.
It is a question of having a positive action and not just consuming tourism. In this movement, we must become actors in tourism!
#5 Bleisure, reconciling holidays and work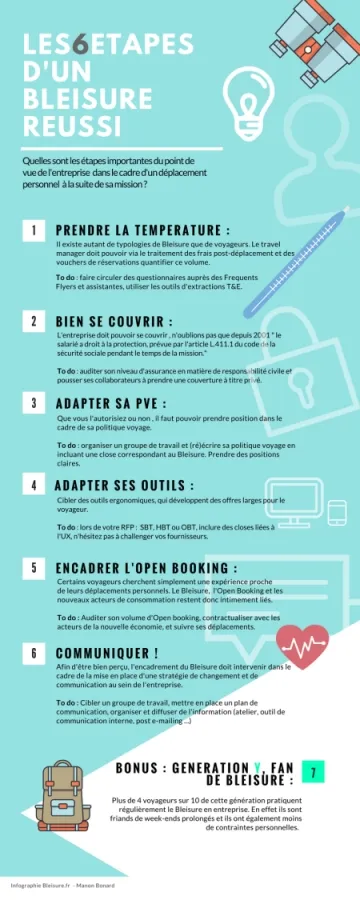 The what? Yes, you read that right: the Bleisure. What is it? It's a contraction of business and leisure. Originally, it concerned employees who integrated personal time before or after a business trip. In a way, they combined business with pleasure.
Once again the pandemic has reshuffled the deck. With the rise of teleworking, a new trend in tourism has emerged. Now it's all about integrating business into our leisure time. More concretely, for those who are lucky enough to be able to work, many can work from wherever they want. The only condition sine qua none is to have a good Wifi condition. As a result, many who had planned a weekend here or there plan to stay a few days longer and telework there. This makes it possible to optimise the journey, to take full advantage of the place where you are.
Thanks to the Bleisure website for this infographic on good practice.
Some destinations go further. Indeed, given the cessation of international flights, they are trying to propose alternatives with one-year visas for those who agree to come and telework in their country during that year. There is Mauritius in particular, Barbados seems to be thinking about it and travel agencies are even starting to offer this type of proposal.
#6 holidays in a van, freedom regained
The big trend in tourism: converted vans
We have heard it said over and over again for months, for many people the repeated confinements and restrictions on movement have been felt to be a reduction in personal freedom. In this context, driving a van and stopping wherever you want is one of the new trends of these years. In fact, 2020 saw a 19% increase in the number of registrations of this type of vehicle and 2021 seems to be following the same curve.
As far as parking and overnight stays are concerned, there is nothing written or forbidden in the law in France. However, some town halls can put in place specific restrictive decrees. We invite you to read this very detailed article on the blog Le Monde de Tikal. They are specialists in this field.