Peaceful stretches of water as far as the eye can see, enchanting mountain landscapes, colorful villages and dynamic cities: welcome to the Great Lakes region in Italy! At the bend of Lake Maggiore, Lake Garda and Lake Como, discover the nuggets of this beautiful region in the north of the Big Boot. What to see, what to do, what budget to plan, where to sleep and how long to stay: we give you all our advice to prepare your road trip around the Italian lakes.
When to go to Northern Italy?
To take advantage of a mild weather without big heat or crowds on the shores of big lakes, we recommend you to plan your road trip in spring or autumn. Avoid leaving between November and February, as many visits may be closed at this time of year.



  L'info en plus !




Nous vous recommandons particulièrement le début du printemps. Vous pourrez notamment profiter de la nature en fleur et des sommets alpins encore enneigés : une combinaison magique !

What is the budget for a road trip around the Italian lakes?
Depending on the planned visits, the chosen accommodation, the choice of restaurants, the rented car and the possible transportation, the budget for your escapade in Northern Italy can vary greatly. In general, count on around 100 € per person and per day all inclusive for this kind of trip in this region. Beware: prices go up in high season!
How much time should I plan for a road trip in the Great Lakes region of Italy?
It will be difficult to see everything: the Italian lakes region is rich and full of surprises! However, if you want to discover the must-see places of the 3 main lakes, we recommend you to leave for a minimum of 7 days, ideally 15 days. This will give you time to explore without rushing and to adopt the slow rhythm of the Italian Dolce Vita.
Here is an example of a 10-day tour around the Italian lakes:
Lake Maggiore with a visit to Stresa and an excursion to the Borromean Islands: 1 or 2 days;
Lake Como: 3 days with 1 day in Como, 1 day to explore the area around Bellagio by boat and 1 day to discover Lecco;
Lake Garda: 3 days with a visit to Riva del Garda, Malcesine and Limone sul Garda.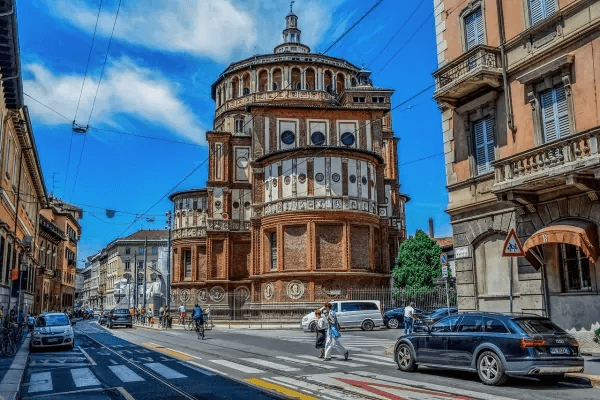 It's up to you to modulate your road trip as you wish! If you already know Milan, you can replace this stage by the discovery of Bergamo, the charming lake of Iseo or even go off the beaten track, for example to the Ledro valley. You can also extend the adventure and why not, push your excursion to Verona.
How to get to the Italian lake district?
Reaching the great lakes
Milan is easily accessible by direct train from Paris, Lyon or Chambéry. It takes 7 hours by train from Paris Gare de Lyon and 4 hours from Chambéry. You can travel with the SNCF or Trenitalia both rail companies operate this route.
When you arrive, take the time to discover Milan, the largest city in Northern Italy, before renting a car or exploring the region by train!
Getting around the Great Lakes without a car
If you want to reduce the carbon footprint of your road trip in Northern Italy, why not consider traveling by train and boat between points of interest?
With the train, you can easily reach Stresa, Como, Lecco or Peschiera del Garda.
If you want to explore the lakes for a longer period of time without a car, a boat is the best way to get around, as there are no winding roads and no parking problems. The 3 big lakes offer crossings to reach the different coastal villages.
If you choose to travel by car, discover 6 steps to prepare an eco-responsible road trip with peace of mind.
Where to sleep during a road trip in the Italian lakes region ?
Ethik & Trips suggests 2 eco-responsible accommodation addresses near Lake Garda for a complete experience of sustainable tourism in Italy.
Ambassador Suite Hotel in Riva del Garda
Located only 200 meters from the beach, in a green setting, Ambassador Suite Hotel offers the perfect setting for a relaxing vacation. The accommodations can be adapted to your needs with spacious rooms that can sleep up to 7 people. Enjoy a swimming pool and jacuzzi to relax.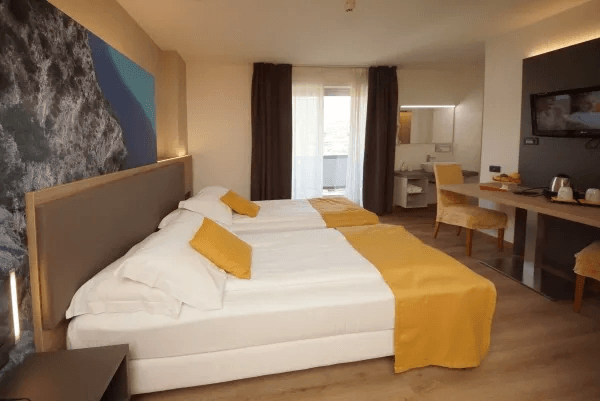 Book your stay at Ambassador Suite Hotel.
B&B Anna Maria, a guest house near Lake Garda
Want to get off the beaten track on your road trip around the great lakes? Then head to B&B Anna Maria, located in the charming Ledro Valley, a Unesco Biosphere Reserve.
Stay in an old hayloft restored with ecological materials and turned into a comfortable guesthouse. Rejuvenate in a spacious room with a private bathroom and a balcony with a magical view of the Ledro Alps.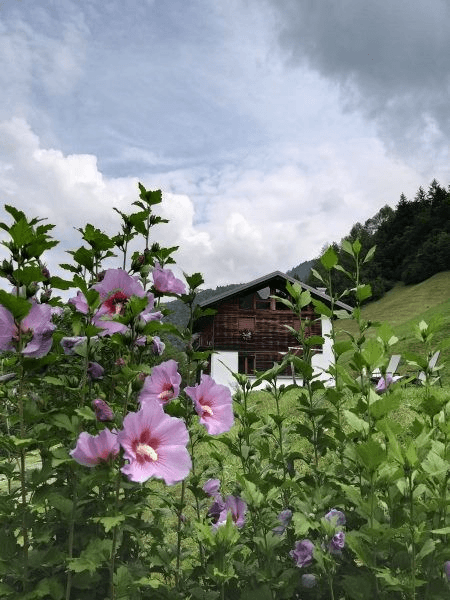 Book your stay at the B&B Anna Maria.
What to see in the Italian lakes region?
A few words about the Italian lakes
The Italian lake district extends from Lake Orta west of Milan to Lake Garda near Verona.
The 3 largest lakes (Lake Maggiore, Lake Como, Lake Garda) are the most famous and therefore the most popular with visitors. If you want to extend the adventure or enjoy a visit a little more off the beaten track, the lakes of Orta and Iseo can be destinations of choice.
Lake Maggiore
Best known for its magnificent palaces and gardens, Lake Maggiore offers 170 km of coastline, straddling Piedmont and Lombardy. A small part of the lake even runs into Switzerland!
If there is one excursion not to be missed during your visit to Lake Maggiore, it is to the Borromean Islands. You can easily reach them by boat from Stresa. Discover 3 unique islands:
Isola Bella, which houses a majestic baroque palace surrounded by beautiful gardens;
Isola Madre, famous for its beautiful botanical garden;
Isola Superiore, where you can stroll through the streets of an old fishing village with a picturesque atmosphere.
Back in Stresa, don't miss the chance to take the cable car up to Monte Mottarone. On the heights, at about 1500 meters above sea level, you can enjoy a breathtaking view of Lake Maggiore and Lake Orta.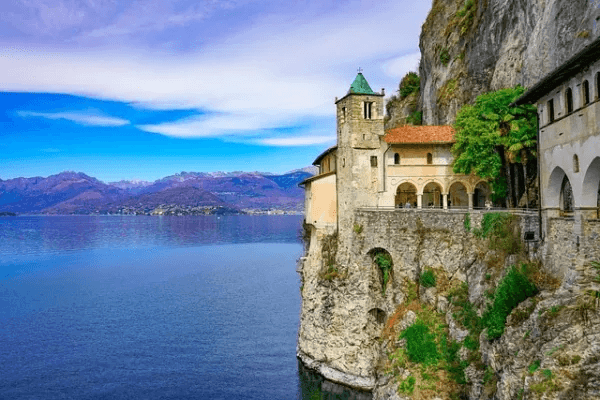 Lake Como
140 km of shoreline await you on this lake with its amazing shape. Do not miss to discover during your road trip around the Italian lakes:
The city of Como, built in 2 areas. The lower part offers a typical Italian city atmosphere. The upper part, accessible by funicular, offers beautiful panoramic views of the immense lake;
Bellagio. Ideal starting point to discover several coastal cities by boat, it is also a place to linger a while. Visit the beautiful English gardens of Villa Malzi. Then make a short detour to Punta Spartivento, to admire an iconic view of Lake
Lenno. This pretty village offers a beautiful walk along the water's edge. Don't miss the Villa Balbianello, which has been used as a film location for famous movies, including Star Wars and James Bond.
Varrena.Typical Italian colorful houses are waiting for you in this beautiful village.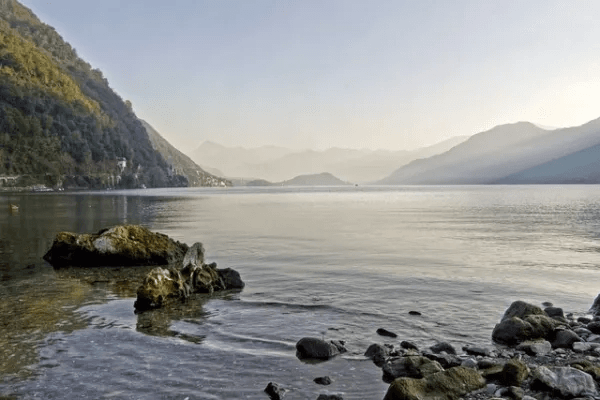 To go further, discover all our advices to discover the lake of Como.
Lake Garda
The biggest of the 3 Italian lakes has some nice surprises in store for you and especially some charming villages, each with its own atmosphere:
Riva del Garda. This charming seaside resort is framed by Monte Rochetta, which is over 1500 meters high. Start your visit in Piazza III Novembre to discover the monuments of the city: Torre Apponale, Palazzo Pretorio and the Rocca. For a refreshing walk, head to the Varone waterfalls and the Lago di Tenno, nestled in the mountains
Malcesine. Climb to the tower of Castello Scaligero to admire the lake before effortlessly climbing to the top of Monte Baldo with the cable car. Admire the breathtaking panorama and extend the wonder with a beautiful mountain hike;
Limone sul Garda. Don't miss this picturesque village on the cliffs overlooking the lake.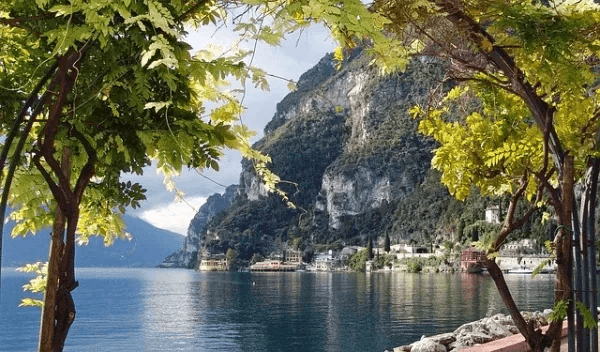 Ready to organize your road trip around the Italian lakes ? For more inspirations, discover other ideas of stays with ecological accommodations on Ethik & Trips:
Road trip in Tuscany over 2 weeks ;
Road trip in Dominican Republic.
Image by Angelika from Pixabay
Image by Gianluca from Pixabay
Image by Dimitris Vetsikas from Pixabay
Image by Sergio Cerrato - Italia from Pixabay
Image by Pascvii from Pixabay
Image by Julius Silver from Pixabay