Want to explore the roads for your next holiday? For a change of pace from the usual road trip planning tips, we've put together an article on how to make your next road trip a little more eco-friendly! Even if you choose to go by car, you'll see that it's possible to reconcile road trip and ecology with a few simple tips to implement. Discover 6 steps to prepare your eco-responsible road-trip with peace of mind and without forgetting anything! Whether you decide to go to France, Europe or the other side of the world, for 2 weeks, 2 months or 6 months, you will surely find some good ideas for your next adventure. So are you ready to organise a low-impact road trip without compromising on adventure, change of scenery and discovery? Follow the guide!
Choose your destination
The first step in organising an eco-responsible road trip is to choose your destination carefully. To limit the impact of your trip on the environment and on local populations, avoid as much as possible places that are victims of mass tourism.
This is the case, for example, of Venice, which welcomed nearly 30 million tourists in 2018. As a result, the quality of life of the city's 50,000 inhabitants is deteriorating and the fragile ecosystem of this city on water is threatened.
Dubrovnik in Croatia is also a victim of the fame brought to it by the series Game Of Thrones. Since the series was broadcast and before the Covid-19 pandemic, the number of tourists to the city has increased by 10% per year, which has had a significant impact on its 40,000 inhabitants.
But these cities are not the only ones: Santorini, Reykjavik and the Galapagos Islands are also suffering from overtourism. While some destinations have put restrictions in place to preserve their heritage, others have not yet taken the plunge.
In France, at the end of 2019, the Senate voted measures to control excessive tourist flows in protected areas: Mont-Blanc, Mont-Saint-Michel, Gorges du Verdon, Dune du Pilat. Did you know, for example, that the latter receives no less than 16,000 tourists a day during the summer?
If you still want to visit these destinations during your road trip, try to stay as far out of season as possible, i.e. between November and April in Europe. This will make your experience more enjoyable and reduce your impact on the environment.
Instead, why not try to visit places that are not yet popular with tourists? The world is full of little-known places to discover! Discover for example 10 destinations in France and 20 countries in the world that are not very popular with tourists. To discover these destinations with peace of mind, contact the local tourist offices and take a guide to the region.
Also read: Are you looking for a destination that does its utmost to preserve its biodiversity? Discover our selection of 9 eco-responsible destinations!
Choosing your mode of transport before preparing your eco-responsible road-trip
The car remains the most practical means of transport for easy road trip travel. However, as Explor'actors, have you thought about alternative itinerant trips: by bike, by train, by bus, or even on foot?
With little or no pollution and more originality, going on holiday without a car can be a good way to reconnect with your adventurous soul while limiting your impact on global warming.
We give you some ideas to explore if you are tempted by the adventure:
discover the chateaux of the Loire Valley by bike. It is a flat, well laid out and rich in discoveries route that awaits you, perfect for beginning cycle touring;
travel through Switzerland by train and avoid motion sickness on the small mountain roads;
visit Andalusia by bus so you don't have to waste time looking for a parking space in the narrow streets of Seville or Malaga.
Are you tempted by these ideas for getaways? Discover the Ethik'Hotels in Switzerland and Andalusia.
Adopt a slow tourism approach
Define its steps
When it comes to defining the stages of your road trip, we have only one piece of advice to give you: be sober and take your time! Not only will you limit your impact on the planet by reducing your number of kilometres, but also :
you will avoid the stress of running from one place to another;
experience the local culture to the full by exploring the towns in depth, strolling through the markets, walking the trails.
For example, rather than doing a road trip in Italy stopping only in the big cities, maybe you can try to explore a region thoroughly? The idea is really to forget about the "been there, seen it, taken a picture, gone" rush. Take your time and find your explorer's soul for a trip!
Choose eco-responsible activities
Wouldn't it be a shame to spend your entire holiday locked in a car? To prepare your eco-responsible road trip, find out about low-impact activities: walking, cycling, kayaking, etc. You can even go further and learn about regenerative tourism! Discover this concept and all our ideas for eco-friendly activities for your holidays in our dedicated article!
Choosing your accommodation
This is our favourite question at Ethik'Hotels ! To choose eco-friendly hotels for your road trip, start by looking if you can't find anything on our website.
If you can't find what you're looking for, try exploring the labelled accommodation. We have summarised the 9 sustainable tourism logos for you to find in a dedicated article. In the case of the Clef Verte and Gîtes de France labels, you will find the labelled accommodation on their respective websites.
If you are planning your road trip on the Old Continent, discover our top 15 most ecological Ethik'Hotels in France and our selection of 9 eco-lodges in Europe to find inspiration for your next trip.
Finally, to enjoy total freedom and fully embrace the concept of slow tourism, you can also leave in a tent and modulate your trip from day to day and according to what you discover, without booking anything in advance!
Travelling light
Choose your rental car carefully
The heavier a car is, the more fuel it consumes and the more pollution it causes. Try to choose a car that suits your needs and the number of people travelling with you. The good news for your road trip budget is that small cars are often the cheapest!
Are you thinking about taking a road trip in an electric car?
Although an electric car does not emit CO2 when it is driven, it is still very polluting to produce. Indeed, it contains many rare metals, the extraction of which from the ground is energy-intensive and greatly harms the biodiversity of the areas concerned. In addition, in many countries, the electricity needed to power the car is produced from fossil fuels. Depending on the country, an electric car can therefore pollute as much as a combustion car. Find out more about this in the video below.
In any case, whether you choose an electric or internal combustion car, or whether you go with your own vehicle, try to adopt an eco-responsible driving style with gentle acceleration and moderate speeds. If you're going to France, perhaps you can avoid the motorways and only travel on the national and departmental roads? You'll save money and help the planet by using less fuel and avoiding tolls!
Packing a minimalist suitcase
To limit your fuel consumption, avoid overloading your car and try to travel light. To do this, pack versatile outfits that you can use in a variety of circumstances. Also, see if you can't do some laundry halfway through your road trip so that you can pack less clothes in your suitcase.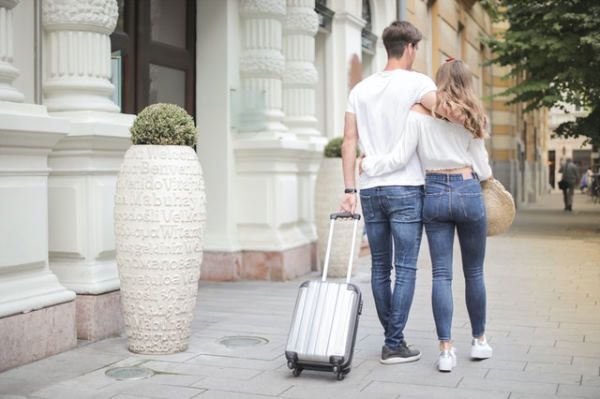 Limiting your impact during your trip
Reducing waste
If you can, keep unnecessary packaging to a minimum during your road trip. This will save you from carrying large bins for long distances before you find a place to dispose of them. Before you leave, find out about zero waste tips in the countries you plan to visit: bulk shops, farmers' markets, etc.
Discover all our tips for a zero waste holiday in our dedicated article.
Choose a sunscreen with mineral filters and natural cosmetics
To preserve marine biodiversity during your eco-responsible road trip, choose a sun cream with mineral filters. We advise you on the choice of your sunscreen in a special article.
Especially if you plan to wash up in nature, think about natural and biodegradable cosmetics, as your wastewater will not be filtered and all your products will end up directly in the soil.
Consuming locally
Make sure your trip is as local as possible. Farmers' markets, local restaurants, fully experience the culture and soak up the customs! This is also what makes the trip so rich! Who knows, you might even meet local people who are passionate about their work and eager to share their know-how with you.
We hope that our tips for preparing an eco-responsible road-trip will be useful and inspire you for your next adventure! Share your road trip experiences in comments and contribute to the Explor'Acteurs community!