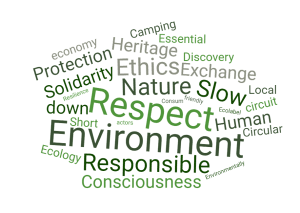 It is now a year to the day that I launched Ethik Hotels and I realize that sustainable and responsible tourism is the glue of the site but that I have never really defined it. I also realize, at the pace of the exchanges with each other, that there is not only one definition. The word cloud accompanying this article is a perfect illustration of this! It is the result of a survey of the Instagram community, where I asked the people who follow us in Story, to give me the 3 words which, for them, define Sustainable Tourism.
Moreover, as part of my studies at HEC I need to enrich this word cloud. If you can, at the end of your reading, it would be very nice to leave me in comment your 3 words, to you, which represent sustainable tourism. thank you in advance :)
Definition of sustainable tourism
The interest of sustainable tourism
Who can practice sustainable tourism?
Which destination (s) for responsible holidays?
How do we practice sustainable tourism?
What is sustainable tourism?
The World Tourism Organization defines it as follows:
"Sustainable tourism is tourism that takes full account of its current and future economic, social and environmental impacts, meeting the needs of visitors, professionals, the environment and host communities. "
I am completely in tune with this definition. If I had to follow the same exercise as the one asked of the members of the community, here is in 3 words what sustainable tourism represents for me:
Respect is for me the basis of everything, that's why I put it first. In my opinion, this is the key word of sustainable tourism. We must respect people, nature and the heritage visited. This implies in particular to accept the habits and customs and not to leave a trace of our passage.
We obviously cannot talk about sustainable tourism and respect without mentioning the environment . We owe it to ourselves today and for future generations to protect this vital space. For us, it means continuing to adopt simple everyday actions by trying to limit the use of single-use plastic as much as possible. We are part of the "never without my water bottle" team but, abroad, it is sometimes difficult to find drinking water except plastic bottles. For the rest we refuse the straws, we always have a tote bag with us as well as a set of cutlery if we have to improvise a picnic. In our accommodation, we do not wash our towels unnecessarily and we are very careful about the consumption of water in the showers. Finally, when walking, this translates into not leaving the marked trails to let nature express itself in other spaces. In short, nothing crazy, neither more nor less than the gestures that we apply to the maximum in our everyday life.
And to finish the exchanges because, I do not know if you noticed it, but for me the human relations are very important. I love to chat, I really feed off every discussion I can have. It's all the more important on vacation because I meet people who can bring me new ways of seeing things. It is also for the notion of exchange that I decided that Ethik Hotels would not be a reservation center but a directory. This thus allows direct contact between the Explor'actors and the Ethik Hosts.
Why is sustainable tourism necessary?
As we know today, the planet is, in a way, on a drip. We must also ensure that it is preserved for our future and that of future generations.
Tourism in a few figures:
8% of greenhouse gas emissions in 2018 (1)
126 million direct jobs in 2019 (2) including 2.8 million jobs linked to tourism in France in 2017 (3)
More than just numbers, tourism is also a tremendous opportunity for open-mindedness, discovery of other cultures, other paradigms. In short, traveling, in my opinion, is as vital, avoiding withdrawal into oneself and the fear of others, as protecting the planet.
Let us also remember that if we no longer travel, other countries will no longer travel as well. Or they may be less inclined to come to France. Yes, that is also the trade: if we boycott foreign destinations, tourists also risk boycotting our beautiful country. And tourism represents 10% of jobs in France (3).
However, we can no longer travel as we did in recent decades. We have to completely rethink our way of practicing tourism. The objective is to reconcile these 2 pillars of respect for the environment and open-mindedness while allowing these millions of workers to continue to live decently.
The task is arduous and I do not pretend to settle it all in one blog page. However, I try to open the chakras so that everyone can adapt their holidays at their own pace and according to their desires and means to make them more responsible.
In any case, I believe that the period we are going through is ideal for wiping out the past and rebuilding tourism on solid, responsible and sustainable foundations. This goes through the transport sector, a subject that I had the opportunity to address in a previous article and that I invite you to find out if you haven't read it yet . But not only because it represents "only 20%" of greenhouse gas emissions from the tourism sector (1).
It is therefore urgent that we also make great progress in our way of living our holidays. Accommodation is certainly the raison d'être of Ethik Hotels, but also our way of consuming once there. I think of the memories that we bring back but that were made on the other side of the planet. But we could find plenty of other examples.
"Why do with others what you refuse to do at home"
Here is my 2nd Leitmotif after "Alone we go faster, together we go further"
Is sustainable tourism accessible to all?
Popular ideas are tough and even today when we talk about the word sustainable tourism, 2 opposing stereotypes continue to be associated with sustainable tourism:
This kind of tourism is for backpackers. Sustainable tourism = sleeping in a cabin without water or electricity and above all without comfort
You must have a full bank account to practice sustainable tourism because to travel better you have to stay in luxurious eco-lodges.
So the good news is:
That there are ecolodges, let's say, classic and not upscale
You can sleep in a cabin in the woods with comfort!
In short, you will understand that sustainable tourism is far from these clichés and accessible to all. Indeed, whether you like micro adventures or planning a world tour, you can in any case organize it in a respectful way.
This is what I do my best on Ethik Hotels: list all kinds of responsible establishments. This ranges from camping to, indeed, the luxurious ecolodge, through guest rooms or even vacation rentals.
In short, one thing is certain, everyone can, according to their desires and their budget, organize responsible holidays.
Where to practice sustainable tourism?
Here again, we often associate sustainable tourism and eco tourism. Of course, the two are closely linked. Eco tourism, like slow tourism, is part of sustainable tourism. The world tourism organization defines eco tourism as:
Ecotourism tends to minimize the impact on the environment to preserve it in the long term. But it is more focused on the discovery of ecosystems and involves the active participation of local populations and tourists in safeguarding biodiversity. it is practiced in nature, in small groups, within small structures.
So it's more to turn on a nature vacation. And you can actually practice more sustainable tourism by going on vacation closer to nature. But, again, not that. And yes we can even spend a responsible holiday in the heart of Paris, we have even listed 2 Ethik Hotels there . It is not, however, the only large metropolis on our site.
On Ethik Hotels, in order to satisfy everyone's desires and participate in facilitating access to sustainable tourism, I therefore make sure to offer you:
urban establishments, in the heart of nature, by the sea or in the mountains
from Ethik Hotels in France, with more than 70 listed to date, for those who wish to favor local tourism and the discovery of our beautiful country.
responsible accommodation all over the world with a presence in 54 countries for those who wish to leave to discover more distant lands.
Our 10 fundamentals for practicing more sustainable tourism
Take his time. For us, with Clément, slow tourism is an integral part of sustainable tourism. We choose to fully enjoy the place we visit, sometimes to see less but better.
Sustainable everywhere. No matter the distance traveled: sustainable tourism is practiced everywhere: at the end of the street or on the other side of the globe
Adapt to local customs and traditions without wanting to impose your point of view.
Consume local. At home or on vacation, this helps to limit the negative impact of our trip and to make new culinary discoveries.
Limit tourism and mass activities. Some places are unmissable but we can favor less busy schedules, an alternative solution for the visit … Everything is possible, you just have to be creative and accept not to have the same Instagrammable photo as everyone.
Dare to leave the beaten track and common places. There is a lot of wealth to discover that is not frequented by mass tourism, so why go without? Especially since the locals are often happy to tell us more about these still confidential places.
Limit the production of waste. And throw the remaining ones in a suitable place, for example by having a small garbage bag in your backpack
Do not distort the places visited: we do not bring back "memories" of the places visited: stone, sand, plants … We take advantage and store as many memories as possible in the head and in the camera!
Respect the eco-system: we do not leave the marked paths, in order to let biodiversity occupy other spaces, we only climb the authorized places in order to protect monuments and other spots for the benefit of future travelers, we respect the solemnity of the place …
Last but not least, and at the origin of Ethik Hotels: favor responsible accommodation in order to limit the impact of our trip. It is a great opportunity to meet people in love with their territory, generally generous in advice and information to enrich our trip.
Do not forget if you want to help me give me in comment the 3 words which for you are synonymous with sustainable tourism. Thank you in advance !
(1) Study conducted by Australian, Chinese and Indonesian researchers, published Monday, May 7, 2018 in the journal Nature Climate Change(2) Data from the World Tourism Organization (UNWTO)(3) Studies by the World Travel and Tourism Council in collaboration with The Oxford Economics dating from 2018