Located in northern Italy, the Dolomites are a unique mountain range that has been a UNESCO World Heritage Site since 2009. With their rocky, tower-like peaks, changing colors according to the time of day and magnificent green valleys, these mountains attract thousands of visitors from all over the world every year. If you're looking for a place to recharge your batteries, reconnect with nature and escape the urban chaos, a stay in the Dolomites is the ideal solution. Here's our guide to making the most of this exceptional experience
How to get to the Dolomites
The Dolomites can be reached by various means of transport. If you're coming from abroad, Venice airport is the most convenient option, with direct flights from many European cities. Once in Venice, you can reach the Dolomites by car, train or bus by bus, depending on your preference. The distance between Venice and the Dolomites depends on the destination you choose, but varies between 2 and 3 hours by car. Another option is to fly direct to the airports of Bolzano Bolzano, Innsbruck or Verona airports, which are closer to the Dolomites.
Find out more, compare means of transport
When should you go?
The best time to visit and spend a holiday in the Dolomites is from June to September, when the weather is generally sunny and mild, with average temperatures around 22°C. This is also the season when most outdoor activities are possible, such as hiking, climbing, cycling and paragliding. In winter, the Dolomites are also very attractive, with renowned ski resorts, but weather conditions can be more extreme, with snow and sub-zero temperatures.
What to do on a holiday in the Dolomites?
A wide range of activities
The Dolomites offer an endless array of outdoor activities to suit all ages and skill levels. Here are a few suggestions that will keep you happy during your stay in the Dolomites :
Hiking: The Dolomites have a diverse network of hiking trails, with itineraries of varying length and difficulty. difficulty. Depending on your skill level and the time you have available, you can opt for an easy hike through the green valleys or a more technical rocky peaks.
Climbing: The Dolomites are a paradise for climbing enthusiasts, with numerous equipped and non-equipped routes offering offer challenges for all levels. If you're a beginner, you can join a local climbing school to learn basic techniques. techniques. If you're an experienced climber, you can try your hand at the most emblematic peaks, such as the Tre Cime di Lavaredo or the Sassolungo.
Cycling: The Dolomites are also a popular destination for cyclists, with panoramic roads offering breathtaking views and breathtaking views and challenges for even the most experienced experienced cyclists. You can rent a bike on site, or join a guided tour to discover the region's most beautiful landscapes.
Paragliding: If you're looking for a thrill, paragliding is an activity not to be missed in the Dolomites. You can fly over the mountains in the company of a qualified instructor, who will take you the region's most beautiful panoramas.
Skiing: In winter, the ski resorts of the Dolomites are very lively, with slopes to suit all levels of ability. abilities. The most famous are the ski areas of Cortina d'Ampezzo, Val Gardena and Alta Badia.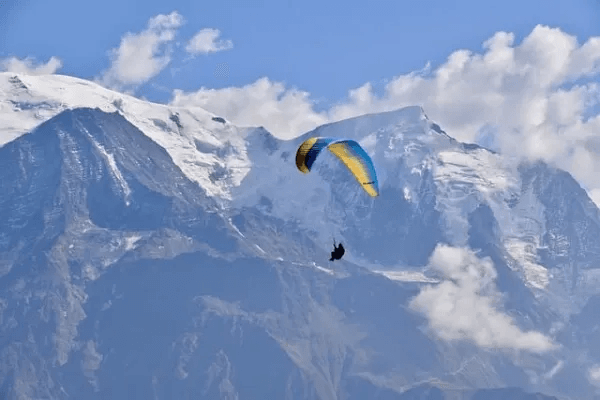 Day trips to the Dolomites as a guide
Tasting specialities in the Dolomites
The cuisine of the Dolomites is varied and tasty, with traditional dishes based on local produce. The region's specialties include potato gnocchi, polentas, mountain cheeses and cured meats. Here are a few recommended addresses for discovering the local gastronomy:
Stube Hermitage, in Madonna di Campiglio: a Michelin-starred restaurant offering creative Dolomite cuisine, with a selection of local wines.
Osteria Al Forte, Canazei: a traditional mountain restaurant serving hearty dishes based on local meat and vegetables. vegetables.
Baita Fraina, in Cortina d'Ampezzo: a cosy, warm refuge offers local cuisine based on organic products. organic produce.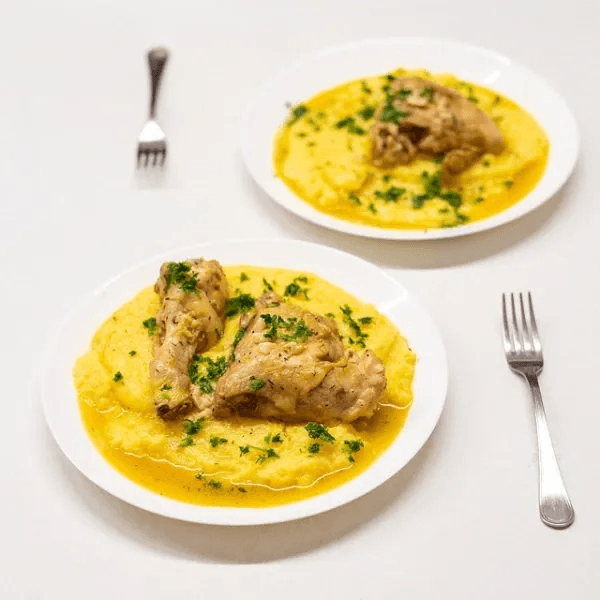 Where to stay?
Camina Cortina, a spa hotel in Italy's Dolomites
Camina Cortina is a luxury hotel located in the Dolomites, offering breathtaking views of the surrounding mountains. It's the ideal choice for those seeking relaxation and in the midst of nature.
The hotel's rooms are elegant and comfortable, with panoramic mountain views.
The hotel boasts a world-class spa, where guests where guests can enjoy a wide range of wellness and beauty treatments during a stay in the Dolomites. The spa also features an indoor pool sauna, hammam and jacuzzi, as well as a well-equipped gym for fitness enthusiasts. for fitness enthusiasts.
The hotel's restaurant serves tasty regional cuisine prepared with top-quality local ingredients. Guest can also sample a range of renowned Italian wines in the hotel's lounge bar.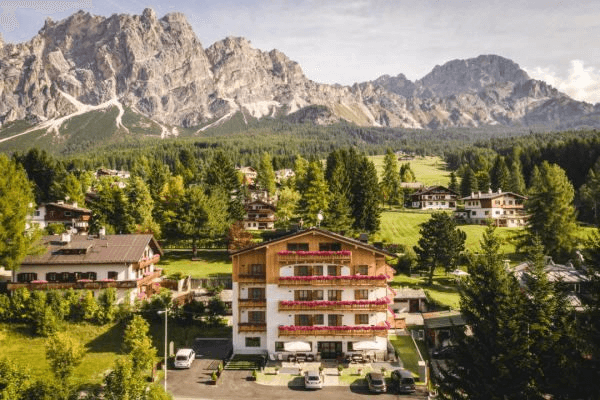 Stay at Camina Cortina, a spa hotel in Italy's Dolomites
Eco Park Hotel Azalea, an ecological hotel in the Dolomites
Located in Val di Fiemme, in Italy's Dolomites region, the Eco Park Hotel Azalea is an eco-friendly hotel that offers a sustainable, eco-friendly vacation experience during a stay in the Dolomites.
Rooms are equipped with geothermal heating systems, solar panels, triple-glazed windows and a mechanical ventilation system with heat recovery. All this contributes to a considerable reduction in the hotel's energy consumption.
The Eco Park Hotel Azalea is therefore a perfect example of an ecological hotel that combines comfort and respect for the environment in an exceptional natural setting.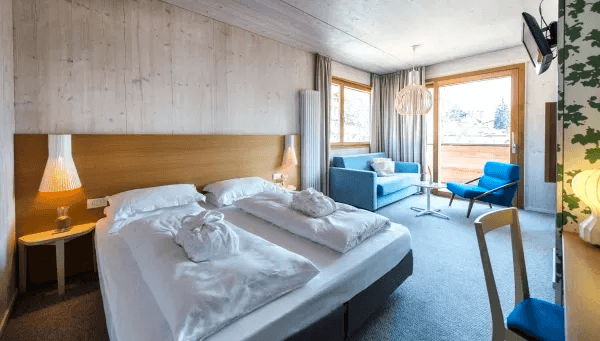 Stay at Eco Park Hotel Azalea, an eco-friendly hotel in the Dolomites
Olympic Spa Hotel, a spa hotel in Val di Fassa in the Dolomites
The Olympic Spa Hotel is a spa hotel located in the beautiful valley of Val di Fassa, in the Italian Dolomites. The hotel offers breathtaking views of the surrounding mountains, surrounded by coniferous forests and alpine meadows.
Rooms at the Olympic Spa Hotel are comfortable and decorated in a classic Alpine style. All rooms have en suite bathrooms and balconies offering panoramic views of the mountain views.
Whether you're looking for a relaxing getaway or an active mountain or an active mountain experience, the Olympic Spa Hotel is the ideal destination for your next stay in the Dolomites.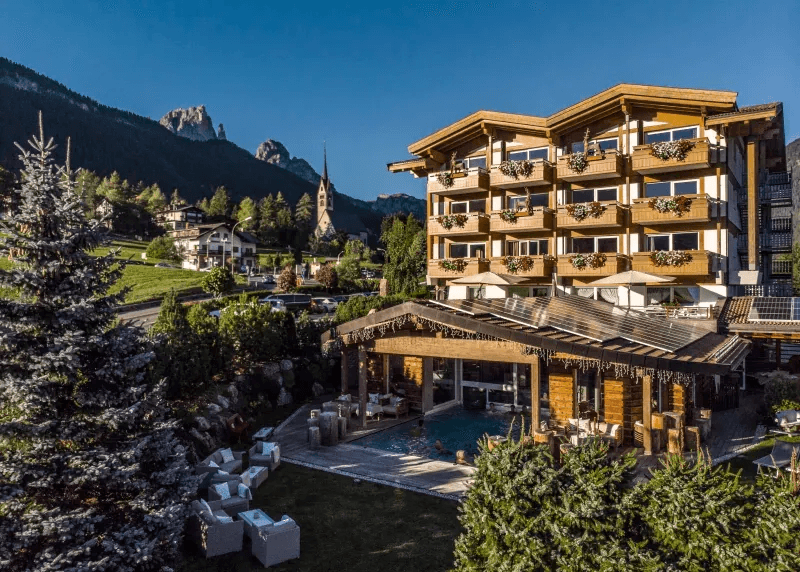 Stay at Olympic Spa Hotel, a spa hotel in Val di Fassa in the Dolomites
Want to discover other places in Italy? Here's our article, 3 ideas for eco-friendly vacations in Italy.
A stay in the Dolomites is a unique experience, allowing you to get away from the stress of city life and reconnect with nature. Its breathtaking mountain scenery, varied outdoor activities and tasty local cuisine, this region of Italy Italy has much to offer visitors. Whether you're a a nature lover, a seasoned sportsman or a gourmet epicurean, the Dolomites will meet all your expectations. So pack your bags and and set off to discover this Italian gem!
Image by 334092 from Pixabay
Image by JackieLou DL from Pixabay
Image by Paul Istoan from Pixabay