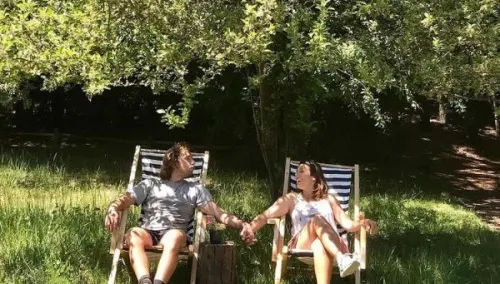 Thanks to Ingrid, Spanish from Barcelona, and Floflo, French from Nantes (the most beautiful city in the world!), we go to discover Argentina. Thank you to them for having accepted to be the first to take part in this new exercise of the Explor'acteurs Travelogue and for having already shared with us 2 Ethik Hotels. This dynamic couple set sail for South America in early 2020. Since then they have :
Discovered sustainable tourism in Argentina (3 months)
Crossed Chile (10 months) and Bolivia (3 months)
They don't have a return date yet and now want to head to Paraguay, Brazil, Uruguay and the part of Argentina they missed because of Covid. If you want to follow their adventures it is on their Instagram account that it happens!
When our travel idea was born, we did not yet know about sustainable tourism, as much as we did not yet know how we would want to travel. One thing was clear to us: we did not want to participate in mass tourism and we had no return date.
That's why when we arrived in Argentina we decided to go down the coast that goes from Buenos Aires to Ushuaïa, which is more dedicated to national tourism than international.
The revelation for sustainable tourism in Argentina
At our second stop we found the place that would guide our trip even more respectful of the environment.
This place is the camping El Malón, near Mar del Plata in Argentina. It's a family campground, it breathes an atmosphere of connection with nature (the pachamama). Apart from the fact that everything is made with recycled and natural materials for the most part, they also have organic vegetable gardening workshops, yoga, meditation etc… Full of good intentions! This family inspires you without forcing you to live in a more responsible way.
Itinerary for a responsible trip to Argentina
While going down this road (3000km), we had the opportunity to share a lot with locals who were fully willing to help us, as we were the only tourists.
We made about ten stopovers, in about 3 months, including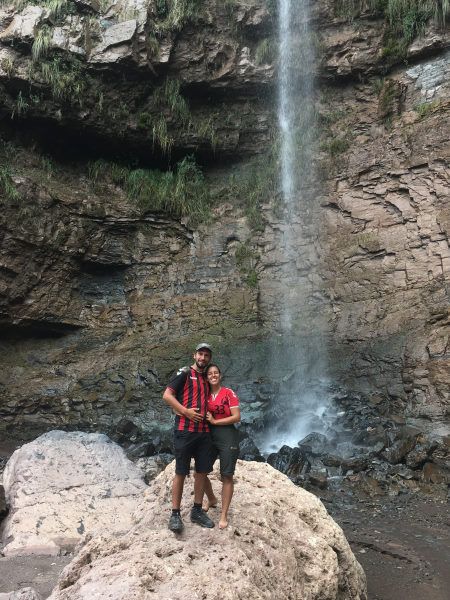 Mar del Plata
Viedma
Puerto Madryn
Caleta Olivia
Pierdrabuena
Rio Gallegos
We travel by hitchhiking and especially sleep in the homes of local people, a way that helps to have a small environmental footprint. You may say that we do not participate in the local economy. Nevertheless, we prefer to buy local. For us it is indeed important to know where to make our purchases or our expenses:
Buy souvenirs from an artisan, instead of small imported plastic key chains for example.
Shopping at markets.
Visit museums and historical places that respect the norms and its inhabitants. For example, outside of Argentina, we are currently in Bolivia where there are still operating mines to visit, which exploit children as young as 10 years old and whose working conditions give them a life expectancy of 40 years. We consider that participating in this is not sustainable tourism.
Example of an eco-responsible action that has become a travel habit
The concrete actions we do are equally important. When we are on a trip we cannot necessarily do great works. For our part, after a while, we realized that we were complaining about the cleanliness of the sites, and that we were not doing anything to change it, under the pretext that there was a lot of work. Finally we decided to pick up the waste we can carry all the time. We think that if everyone does this, little by little the places will be cleaner.
After Argentina, responsible travel continues in Chile and Bolivia…
The final point of this Argentinean route was Ushuaïa, a great tourist place. Thanks to the habits acquired, it seemed easy to continue with our steps.
Now, a year and a half after our departure in January 2020, we have crossed two more countries, Chile and Bolivia, and many places that attract the interest of travelers.
For example, when we arrived in Puerto Natales (Chile), we arrived with the idea of visiting the Torres del Paine National Park (like everyone else). In view of the overexploitation of nature and their policy of skimming we decided not to go. We had the chance to enjoy the nature around us, alone, thanks to the advice of the locals. We are not all obliged to visit the same things.
Our vision of sustainable tourism is an example of our own, as we tell you part of our way of traveling and how we make sure to be as eco-responsible as possible. We believe that there are many different ways to do sustainable tourism whether it is in the city or in the country, with a small or large budget depending on the length of the trip. The level of commitment progresses at one's own pace.
To conclude we strongly recommend Argentina for those who are new to sustainable travel, as it is a country that has a lot of facilities in this area.