Traveling without a plane is possible! It's even a way to discover Europe that promises a great adventure: you can get back in touch with distances, fully integrate the journey into your getaway and live new experiences. By night train, by bus or even by sailboat : low-carbon and slow vacations are yours! So where can you travel from France? Which destinations are accessible without taking the air route? We give you all our advice to organize your next getaway. Flying less is not the same as traveling less!
Why travel without a plane?
Before getting into the heart of the matter, we give you 3 reasons to make you want to rely less on air travel.
The carbon footprint of the plane
Limiting air travel is one of the most important actions to reduce your carbon footprint on an individual level.
The latest models estimate the carbon footprint of air travel at 200g CO2e per kilometer for a long-haul flight and 390g CO2e per kilometer for a short-haul flight.
If you want to calculate the carbon footprint of your last airplane trip, we recommend the Bon Pote simulator which also gives a lot of information to understand the calculation and what's behind the numbers.
Putting the journey back at the center of the trip
The carbon footprint is one thing. But this is not the argument that will convince you that travelling without a plane can be pleasant and exotic.
Traveling without a plane also means putting the journey back at the center of the adventure and giving it a place of its own! You stop over in Madrid during your train trip to Portugal: what if you took the opportunity to (re)discover the rich culture of the Spanish capital?
We'll take care of the accommodation: discover our addresses of eco-responsible accommodation in Madrid.
Avoid the inconvenience of flying
Traveling by plane also means a lot of little inconveniences to take into account:
The lack of Wifi in the air;
The stress of the airport between checking in your luggage and going through security;
The possible extra trip between the city center and the airport.
Alternatives to airless travel
The train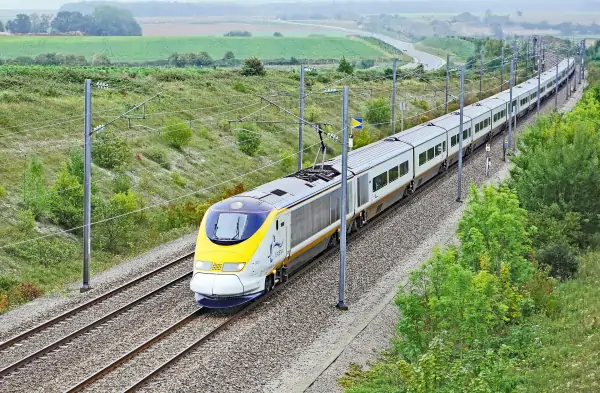 The carbon footprint of trains
Trains, especially when powered by electricity from low-carbon sources, as is the case in France, emit very little greenhouse gas during transportation.
The carbon footprint of trains in France is thus
2 g CO2e per km for a TGV;
5 g CO2e per km for an Intercity train;
25 g CO2e per km for a TER.
If you take a train powered by diesel or electricity from fossil fuels, you have to count about 80 g of CO2e per km. This type of train still exists in some European countries.
Where to go by train from France?
The countries bordering France are very well served by trains from France. You can reach Amsterdam, Brussels, London, Milan, Barcelona, Geneva or Lausanne without any connection from Paris. With the night train, cities like Vienna and soon Berlin become easily accessible!
To plan your next adventure, discover where to travel by train in Europe and 6 sleeper train trips in Europe.
To go further, the Chronotrains website gives the cities accessible in less than 5 hours by rail from the major European stations.
The bus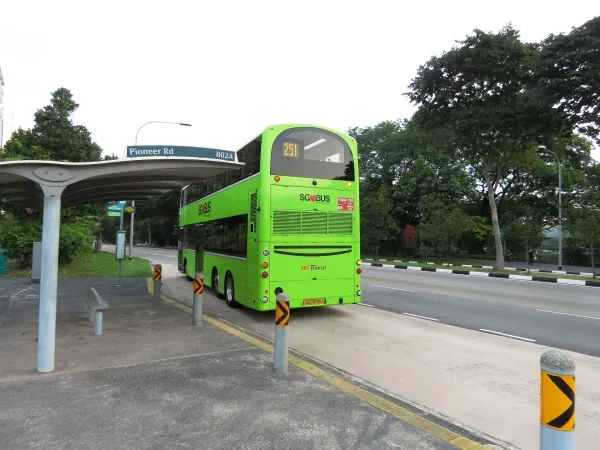 The carbon footprint of the bus
Traveling by bus is often a cheaper alternative to the train to get around without flying. On the other hand, it pollutes more, at around 100 g of CO2e per km for a bus filled with 10 people. The impact decreases if the public transport is well filled.
Where to go by bus from France ?
The bus also has the advantage of serving small towns where the train does not necessarily go. It is therefore a good solution to travel on a regional scale.
Flixbus and Blablacar are the main companies to travel long distances from France:
Blablacar offers mostly destinations in France, as well as connections to Barcelona and Amsterdam;
Flixbus offers access to many cities in Europe, for example Hamburg, Stockholm, Lisbon or Istanbul.
To find more local routes (and even organize your trip more globally), the Rome2rio website shows you the best way to reach your destination with the different possible alternatives (bus, train, etc.). If you need to travel by bus within a country, this is an excellent site to find the bus companies that operate regional routes.
The ferry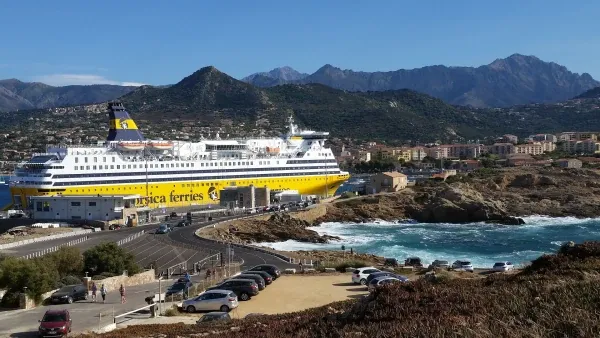 What is a ferry?
A ferry is a boat that carries both people and freight. It is therefore not a cruise ship only intended for the transport and leisure of people.
Although it is difficult to find reliable information on the carbon impact of cruise ships, it is probably worse than that of airplanes. Let's not forget that cruise ships are often real hotels moving on water, with vast cabins, swimming pools, sports halls, casinos, bars, restaurants. In this article, we only talk about ferries that also transport goods, accept to take your car and transport you from point A to point B.
The carbon impact of the ferry
As for liners, finding reliable information on the carbon impact of ferries is not easy. The level of greenhouse gas emissions depends on the size and comfort level of the vessel.
However, one thing is certain: ferries pollute and emit fine particles in port and on board that are dangerous to health. The carbon footprint of your trip can even be worse than flying per kilometer if you travel alone, take your car with you and take a cabin all to yourself.
On the other hand, if you share a cabin or book a seat only and travel as a pedestrian, the carbon footprint of your trip is significantly reduced.
To evaluate the greenhouse gas emissions of your ferry trip, Bon Pote has published a simulator accessible to all. It's up to you to evaluate if it's a more virtuous solution than flying or not for your trip!
To give you a concrete example, let's suppose that you are going to Corsica for your vacations together and want to reach Ajaccio from Paris. Let's compare 3 solutions in terms of carbon impact:
The plane Paris-Ajaccio ;
The TGV Paris-Toulon then the ferry Toulon-Ajaccio ;
The car to Toulon before boarding the ferry to Corsica.
Here is the carbon footprint of your round trip with the different solutions per traveler:
For the plane, you need to count 700 kg of CO2e;
For the journey by car (medium size) and ferry: 227 kg CO2e for the ferry + 134 kg CO2e for the journey by car = 361 kg of CO2e in total;
For the journey by TGV and ferry: 121 kg CO2e for the ferry as a pedestrian + 2,4 kg CO2e for the TGV = 123,4 kg of CO2e.
With this scenario, taking the ferry is in any case better than flying in terms of carbon footprint, as most of the kilometers are covered by land. It is therefore a good alternative to the air route to cross the seas and reach the islands.
To further reduce the carbon footprint of your vacation, consider taking the ferry without your car. You will reduce the impact of your ferry crossing by almost half! To help you, we have put together an article on car-free holidays in which we present the alternatives.
Where to go by ferry from France?
Corsica from Marseille, Nice or Toulon. Reach the main Corsican ports by boat, including Ajaccio, Bastia, Ile-Rousse, Porto-Vecchio or Propriano;
the United Kingdom from Dunkirk, Roscoff, Dieppe, Saint-Malo, Cherbourg, Caen and Calais. You can connect by sea to many destinations in the south of the country: Dover, Plymouth, Newhaven, Portsmouth and Poole;
Ireland from Cherbourg or Roscoff. Join Cork, Rosslare or Dublin from France;
Majorca and Minorca. A regular service leaves from Toulon to the Balearic Islands;
Sardinia is accessible from Nice, Toulon and Marseille;
Morocco from Marseille or Sète to Tangier and Nador;
Algeria from Marseille to Algiers;
Tunisia from Marseille to Tunis.
Alternatives to the ferry
Even if they are quite marginal and often more expensive, less polluting alternatives to the ferry exist! This is particularly true for sailing boats and cargo ships.
Good news for sailboats: Sailcoop offers regular lines between the continent and Corsica with 2 departures per week between July and October.
If you are interested in these solutions, discover our articles dedicated to the alternatives for the ferry:
So, are you tempted by all the possibilities of airless travel? Which destination will you start with? Tell us in comments!
Image by Ingrid from Pixabay
Image by Arul from Pixabay
Image by Erich Westendarp from Pixabay
Image by Patrick SABATIER-VESCOVALI from Pixabay