When we decide to organize a responsible vacation, we quickly think about our mode of transportation or our accommodation. However, we often forget to anticipate the activities that we will be able to practice on site. And, let's face it, it would be a shame not to follow through and ruin our efforts. And yes, unfortunately, even today on the resorts, it is not the natural and responsible activities that are the most promoted. Sustainable tourism is not yet part of everyone's habits. So to make it easier for you, we propose a selection of green activities that you can practice during your next eco responsible vacations.
Take your time with Slow Tourism
Take advantage of your vacation to practice outdoor activities
Regenerative tourism, the new ecological activity that is on the rise
Where to find these green activities
Take your time with Slow Tourism
What is slow tourism?
Vacations are, above all, the time to take time. All year long we run after the watch. We run to pick up the kids at school, to arrive on time for the next meeting… So let's take advantage of this moment that is offered to us to breathe and stop running. That's why my first advice is to become a fan of Slow Tourism. This concept is fully in line with the sustainable tourism movement by encouraging us to move less and enjoy what is around us.
So the very first advice we can give you is to Live in the moment. One idea is to take a nap, reconnect with your biological clock. This will really recharge your batteries. It is not easy to fall asleep in the afternoon when you are not 5 years old anymore. The idea is to give yourself some quiet time, to live the present moment by listening to the sounds of nature, by reading a book.
Slow tourism: synonymous with reconnection
Also, don't forget to disconnect from your computers and cell phones. This is the key to reconnect with yourself and your loved ones. It can also be an opportunity to play some great board games with family and friends. And why not try some games about our planet for a change. Here are 5 committed board games:
It is better to see less but better. The goal here is to stop running after your to-do / to-see list. We want to encourage you to reduce your To Do to a minimum and make the most of every moment. This way you will live fully from all the things you do. Your mind will really be here and now and not already on the next step.
Take advantage of the vacations to practice outdoor activities
After spending the year locked up in our workplace, we all aspire to enjoy the fresh air. To take full advantage of this and not give in to the ease of turning on the television, it is necessary to have in mind some ideas of natural activities that we can easily practice. And the good news is that you can do them at your vacation spot as well as at home if you don't have the opportunity to leave.
Land-based activities
Walking, an ecological activity par excellence
One of the simplest ecological activities is of course walking: no special equipment is required and it can be done anywhere. So if you are sporty, you will naturally turn to hiking. You can find easily accessible paths everywhere. In France alone, there are no less than 180 000 km of marked trails. I invite you to visit the website of the French Federation of Hiking. You will be able to discover many paths around your vacation place.
For the less athletic, walking does not require a particular technical level. It can be done over short distances, but it can also amaze us. The proof: many of us have rediscovered our neighborhood thanks to our authorized mile. Finally, you just have to open your eyes and miracle: it doesn't cost anything, neither to our wallet, nor to the nature. So let's take advantage of it!
Bicycles for cycling enthusiasts
If walking is not your thing but you still want to go out in nature, the second easy ecological activity is cycling. Whatever your level and your desire, you can find something to please you: mountain bike, VTC, road bike. There is really something for everyone. What is really perfect with the bike is that you can ride it everywhere: in town, on steep mountain roads, on country roads or to go to the beach! There are more and more bike rental companies on the vacation spots. A good reason not to miss this opportunity. It's also a good reason to put down the car even for everyday use.
We know that today the electric bike is the must have. However, if you can do without it, we can only encourage you to do so. In spite of the considerable interest that it brings to the level of the facility, let us not forget that it is equipped with a battery and that it needs electricity to recharge itself.
The little extra tip:If you want to go for a day trip, don't forget your zero waste kit in your luggage. You don't know what I'm talking about? Check out our article "Zero waste vacations: let's take the challenge together!"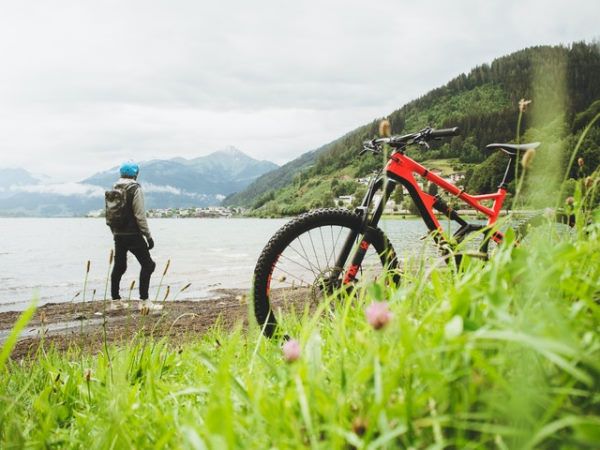 Depending on where you are, you may also be able to practice other ecological sports activities such as climbing, paragliding…
Water activities
Whether you are by the sea, in the mountains or in the countryside, you will probably have a water source nearby. It can be the sea, a river, a lake… You will then be spoilt for choice. As for the electric bike, we encourage you to prefer non-motorized activities.
At the sea the offer is very large. Here is an overview: windsurfing, surfing, sand yachting, sea kayaking, pedal boats, kite surfing, sailing, paddle, snorkeling… Get in touch with tourism professionals to find out what green activities are available at your vacation spot. Many beach clubs will be able to offer you courses of any level. They can also offer you to rent the equipment, so you can arrive with your hands in your pockets!
In the mountains and on the rivers you can practice activities with a bit of sensation like rafting or canyoning. If you prefer more gentle activities, think of kayaking. This allows you to discover the landscape in a different way. Indeed the point of view is completely different.
A little extra advice:Don't forget to use a sun cream that respects the sea bed. If you don't know any consult our article "We don't tan anymore without sunscreen but not with just any sunscreen either!"
Regenerative tourism: the new ecological activities that are on the rise
Regenerative tourism is a concept that has emerged recently. It has emerged with the awareness of the impact of tourism on our environment. The objective is to leave the place visited in a better state than when we arrived. The visitor becomes a real actor of his vacations.
To achieve this regenerative tourism several solutions can be implemented:
To sensitize the visitors thanks in particular to charters of travelers as that with been able to be set up in Iceland
Closing certain places during given periods to preserve them. This is the case of some natural parks in Thailand
Participate in green activities that have a positive impact on the environment
Concerning these activities, there are more and more of them organized on the vacation places. It can be to plant trees, to clean up beaches or natural areas, to participate in a collaborative work camp… And if this type of action is not set up where you will be, nothing prevents you from doing it alone. You can indeed plan a day of cleaning nature near your home with your friends and family!
Where to find these green activities?
Once you have listed all these activities, you still have to find out where and how to practice them. Here again, many solutions are available to you:
If you have booked your stay with an Ethik Hotels, ask your future hosts for advice. They are very involved in the protection of the environment around them and know the various stakeholders well. They will be happy to give you all the information you need. Some of them have already set up regenerative actions in their structure, so you can easily take part in them.
Eco responsible travel guides such as Guide Tao or My Ecothentic Guide
Tourist offices will also be very good advice. You can consult their website before your departure or go to their office once you arrive on site.
We hope we've given you some ideas for green activities to make your next vacation even more responsible. What is the idea that interests you the most? Don't hesitate to tell us in comments. In the same way, let us know if there is an idea missing in this proposal. We will update this article to share it with other explorers.