Today we explain how to replace plastic bottles and have alternatives, how to replace plastic bottles and still have drinking water with you all the time. As you may have noticed, the first you must have seen, the first criterion that we put forward on Ethik Hotels is the possibility to fill our water bottles in the accommodation.
Indeed, when we count the number of plastic bottles that we consume plastic bottles that we consume because the tap water is not drinkable, it is not drinkable, it is frightening. In any case, it scares us.
The main plastic bottles: know where to find drinking waterHow to get drinking water without buying plastic bottles?
Some figures
To realize the market that this represents I am obliged to go through some figures, sorry:
In 2016, more than 8 billion liters of bottled water are consumed per year in France(1)In the world, it is 480 billion plastic bottles that are purchased per year with a majority of water bottles(2)In France only 58% of these bottles are recycled...(3)
An infographic realized in 2017 by France Nature Environnement
sums up the problem for France perfectly well, it is enough to
transpose it to the world scale to realize that it is not only a problem a problem, it is a plague for our planet and therefore our future. I invite you to discover it on their website.
As for us, our water bottles have been with us every day since we decided to we decided to replace plastic bottles. It is unthinkable for us to unthinkable to buy water in a plastic container when we know that when we know that it is drinkable from the tap. What's more, some brands supply themselves in the same water table...
It is therefore really difficult for us to resume the massive purchase
of plastic bottles when we are abroad.
Why do at other people's place what we refuse to do at home?
Replacing Plastic Bottles: Where to Find Clean Water
First of all, it is good to specify that if you stay in Europe the water is drinkable in most countries. So don't forget your water bottle when you pack your bags!
For the other countries, where unfortunately there is no access to drinking water, initiatives exist to eliminate plastic bottles.
Discover the alternatives that deserve to be highlighted before leaving and thus remove bottled water from our shopping list :
Some hotels offer filtered water or bottles to fill our water bottles when the water in the country is not drinkable. They They can be identified in our website thanks to the 1st picto, the drop !
In Cambodia, we discovered an association called Refill Not Landfill which lists the water bottle refill points. They propose also propose to these different refill points to sell their own gourds with their logo. with their logo. An application called RefillMyBottle lists the places in the world where it is possible to refill one's gourd, when the water when the tap water is not drinkable. This avoids buying bottled water.
What to do when none of these solutions are available and drinking water is not accessible?
Don't panic, there are still other ways to avoid buying plastic bottles. We propose 2 of them but there are probably others. Do not hesitate to communicate them to us so that we can enrich this article and thus inform the future explor'actors!
Disinfecting tablets
They are available in pharmacies, parapharmacy, specialized stores or on the Internet. There are different brands, the best known being Micropur® from Katadyn. However, they all work in the same way: a tablet is dissolved in a liter of water, and all you have to do is wait a few minutes for them to take effect and eliminate all bacteria.
I already told you about it in the free 16-page guide "Becoming Explorers in 2021". What, you don't know what document I'm talking about ?
Download our free guide to organize your next responsible vacation
In the meantime I wanted to introduce you to this "magic" gourd in more detail.
We didn't have the opportunity to test it because we discovered it the guide and that the period is not suitable for far away travels. to travel far away. However, you can find some feedbacks on the internet. experience on the internet. They all seem to say that the concept is good and effective, which is why I put it forward.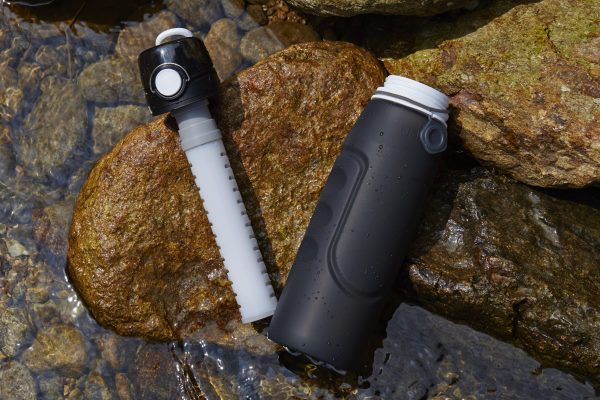 It is a folding water bottle, which will not take any space in your suitcase, with a capacity of 1 liter. In addition, there is a filter to be installed inside. This one filters up to 99,99%. This figure does not mean much to the average person, but it does mean that it filters out bacteria such as E.Coli and protozoa (Giardia, cryptosporidium), all those little things that can cause us great inconvenience on vacation. This filter has a lifespan of 1,000 liters, or about 1.5 years. That gives you plenty of time to see what's coming, especially since it can also be used without a filter when you are in an environment that does not require one.
If you are interested in this product, the link that we propose to you towards the brand is an affiliate link, which means that if you decide to buy it, a commission will be paid to Ethik Hotels.
And you, have you already replaced plastic bottles ?
Are you already a member of the team never without my water bottle ? Or are you ready to to take the step after reading this article ?
Did you like this article? Pin it on Pinterest to find it later!
Sources :
(1) https://eaumineralenaturelle.fr/qui-sommes-nous/leau-minerale-en-chiffres
(2) https://www.lesechos.fr/2017/07/les-chiffres-dementiels-de-la-consommation-de-bouteilles-en-plastique-dans-le-monde-175073
(3) https://www.recygo.fr/blog/dossier/recyclage-bouteilles-plastiques