Whether you are a couple without children or a large family, taking time out for yourself is essential. This time is meant to be used to get away from the routine, to recharge the batteries… However, caught up in the daily routine, it is not always easy to arrange a romantic weekend. And just because you've decided to start living a more responsible life doesn't mean you shouldn't still have some special moments. To save you time and encourage you to take the plunge, today we're sharing our good addresses for a getaway for two.
Our tips for a successful romantic weekend
Our addresses for a romantic weekend in FranceRooms with private JacuzziUnusual stays for loversRomantic hotels
Rooms with private Jacuzzi
Unusual stays for lovers
Romantic hotels
Our tips for a successful romantic break
The organisation
Clarice Lasemillante taught us during Live on our Instagram account, responsible holiday organising is overwhelmingly down to women. So why not reverse the trend and organise it as a team?
To ensure that this getaway will meet everyone's expectations, it's best to organise it together. The aim is for both of you to be involved in choosing the destination, accommodation and activities. This way, everyone will arrive in the best possible condition.
The trade-offs
Compromises are the basis for a couple to function well. I'm not teaching you anything and this is not the main point of our subject (to learn more I invite you to read this article on psychologie.fr). Nevertheless, holidays are no exception to the rule! And here it concerns us more.
Just because you're in love doesn't mean you only have common interests. If one of you is rather sporty and the other likes cultural visits, you will have to find a destination that pleases everyone. Or you can say to yourself that this time it will be a sporting getaway and the next time you will opt for a destination steeped in history. The advantage of this option is that it forces you to plan a second nature weekend together soon! And that is very good for our married life.
The timing
We talked about it in our article on new trends in tourism, slow tourism has the wind in its sails. A weekend away as a couple is the right time to put it into action. In order to be able to find each other and live in the moment, you have to stop chasing time. Only in this context will you fully enjoy these moments together.
Don't plan every second but let yourself be surprised. Don't hesitate to sit down, order a drink and enjoy! If you feel like having a nap by the pool, why not?
These off moments, unplanned, can also allow everyone to go about their own business. Reading a book, doing sports… Allowing yourself time alone allows you to appreciate the time together even more.
Log out
We've already talked about this in our article on disconnection on holiday, it's essential to take time out from social networks. This is even more true during a romantic weekend. In everyday life, the temptation is great not to pick up your mobile phone. Between social networks, professional and personal emails, we sometimes spend more time in front of our screen than talking to our partner. No judgement, it happens to us all.
To make the most of this time together and renew communication, it is essential to cut the networks for a while. You will be able to talk about subjects that you did not take the time to discuss before, reminisce, laugh, share… In short, you will be able to find yourself and come back stronger to face everyday life.
Our addresses for a romantic weekend in France
Now that you've got the cards in hand for your romantic getaway, you're still missing your destination. Don't go away and find below our selection of 15 romantic AND eco-friendly addresses in France.
Rooms with private Jacuzzi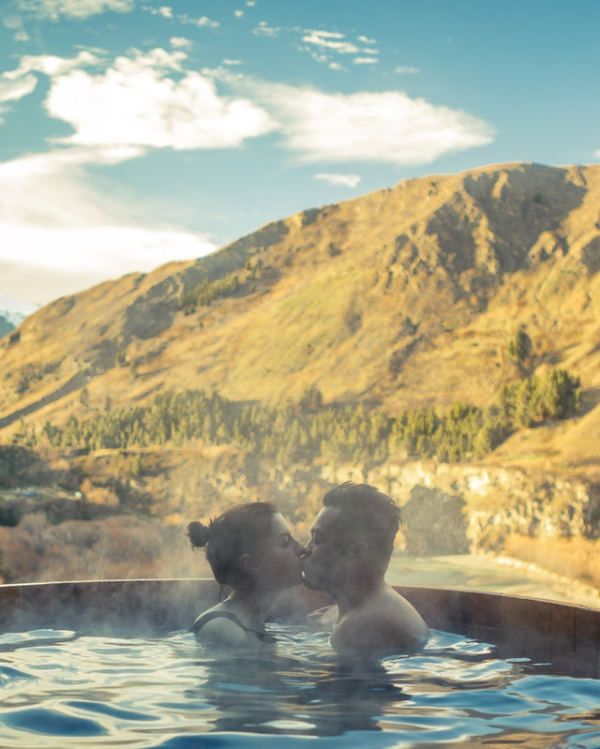 Who hasn't dreamt of a weekend with their lover with a hot tub just for us? Not many of you have, but if you have, move on to the next point. In the meantime, here is our selection of rooms with private spa.
With only 3 ecolodges, Bien Loin d'Ici is a haven of peace only a few kilometres from the centre of Nîmes. You can visit the historical centre, walk in the garrigues or enjoy your private spa on your terrace.
If you want to reconnect with your lover as well as with nature, Pella Rocca is made for you. With its 4 cabins, each with a beautiful panoramic terrace, you will really be in your element.
We all know the pink city of Toulouse, but we are less familiar with its little sister Albi. Kassiopée Bed & Spa invites you to discover the city of Toulouse Lautrec, accessible on foot, as well as to bask in your own private spa.
Just a short distance from the Châteaux of the Loire, the superb cabins of Loire Valley Lodge are set in the heart of the forest to ensure your privacy. To complete the romantic getaway you can arrange a hot air balloon ride.
Located on the island of Saint-Barthélemy, with its villas with private pool, Fleurs de Lune is an ode to romantic holidays. They are also located just a few metres from the Salines beach.
There is no jacuzzi here, but a Nordic bath, just as romantic. Terra Alta combines both the unusual and the romantic because it is also a troglodyte house. It is also located in the Loire Valley.
Unusual stays for lovers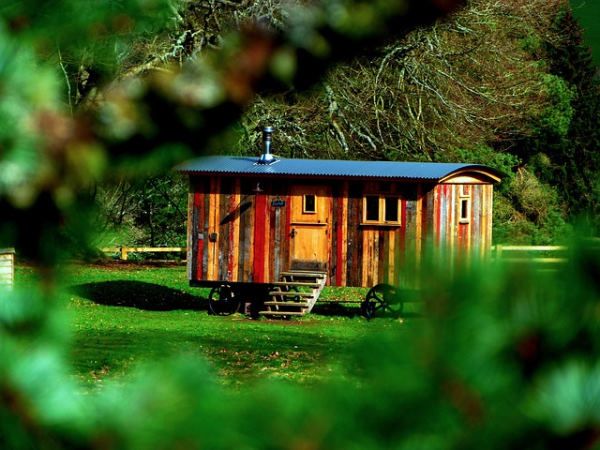 There is nothing like getting out of one's comfort zone to get away from everyday life. Unusual accommodation is therefore also very suitable for romantic stays.
Just a few minutes from the centre of Montauban, La Maison du Lac is a guesthouse on the shores of Lake Piboulette. During the summer season, the establishment installs a superb glamping tent in the garden.
There is nothing better than a beautifully decorated little cocoon to give you the feeling of living a bohemian life. Elicie's gypsy caravan with its panoramic terrace overlooking the valley will offer you this timeless interlude. To find out more I invite you to discover Karine's travel diary.
Want to cut yourself off from the world? Terre des Baronnies is the ideal place because you can hardly get a phone call from the breakfast terrace. So in your tree house you will only be with your lover!
45 minutes from Mont Saint-Michel, come and recharge your batteries in the tiny house in Saint-Symphorien Park. A tiny house is a mini house that invites you to refocus on the essential and in this case it will be your couple.
Romantic hotels
Do you prefer a more classic accommodation for your romantic stay? No problem, we also have hotels on Ethik Hotels that lend themselves very well to this type of escapade.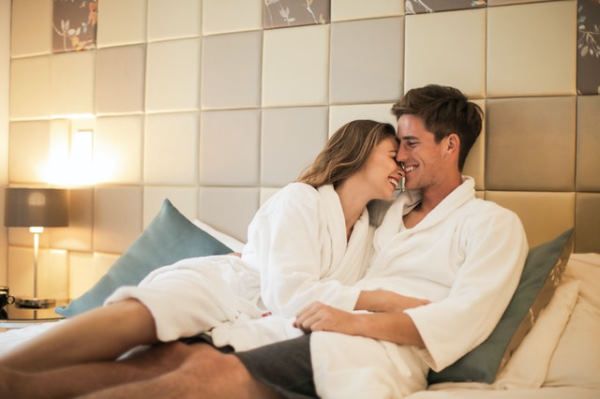 In the heart of Burgundy and the Morvan natural park, the Moulin des Templiers is ideal for a couple's weekend. It is located along a river which gives it a bucolic atmosphere and the establishment also has a SPA.
The location of the Manoir des Eperviers makes it easy to discover the islands of Morbihan or the alignments of Carnac. After all these visits, there is nothing like relaxing together in the wellness area.
Looking for an exotic couple's holiday? Head for Guadeloupe and the Caraïb'Bay Hotel. With its villas nestled in the heart of the tropical garden, you will be sure to have privacy and enjoy your time together in peace.
The hotel was built on the shores of the lake of Biscarosse. The terraces of the rooms overlooking the lake invite you to relax and enjoy the view. To complete your relaxation, Villa Seren also features a SPA.
With a breathtaking view of the bay of Propriano and the beach just a few metres away, the Auberge Kalliste is the perfect hotel for a romantic weekend away from the daily hassle.
We hope that all these addresses will give you ideas for your next nature weekend. And why not prepare a surprise for her?