Paros, the hidden gem of Greece's Cyclades archipelago, invites travelers to escape into a world of idyllic landscapes, golden beaches, picturesque villages and fascinating history. A stay in Paros is much more than a simple getaway: it's a sensory and cultural experience that leaves an indelible imprint on the heart of every visitor.
What to do on Paros
Explore the picturesque villages
During a stay on Paros, it's impossible not to be seduced be seduced by its picturesque villages, which exude an atmosphere. Among them, Naoussa stands out for its harbor, winding alleys and whitewashed houses. Traditional taverns offer a taste of the local cuisine, featuring authentic Mediterranean flavors.
Heavenly beaches
Paros is renowned for its breathtaking beaches with its own unique charm. The beach at Kolymbithres is famous for its rock formations sculpted by time, creating natural pools ideal for swimming. Golden Beach attracts water sports enthusiasts with its crystal-clear waters and winds that are ideal for windsurfing. windsurfing.
Historical and cultural heritage
Paros' rich history is reflected in its archaeological sites and museums. The Temple of Apollo, dating from the 6th century BC, is a fascinating testimony to ancient architecture. The Paros houses sculptures, ceramics and artifacts that tell the story of the island through the ages.
Local crafts and shopping
The cobbled alleyways of Paros' villages are brimming with local products such as Paros lace, renowned the world over. Handcrafted pottery, unique jewelry and original works of art make perfect souvenirs to take home with you.
Immersive culinary experience
Gastronomy during your stay on Paros will be a gustatory journey in itself. Local restaurants serve cuisine based on fresh ingredients, highlighting seafood, local vegetables and aromatic herbs. Be sure to try the traditional "souvlaki" and savor sweet delicacies like "Loukoumades" for a complete culinary experience.
Moraitis Winery in Paros is much more than just a winery, it's a veritable wine treasure trove in the Cyclades. Nestled on the picturesque island of Paros, this family-run winery offers an authentic experience. Visit the winery for an enchanting tasting, learn about traditional traditional winemaking methods and learn about the fascinating history history of the Moraitis family.
For more information, Moraitis Winery in Paros
Outdoor activities and nature
For outdoor enthusiasts, Paros offers a multitude of activities. Hiking trails wind their way through the hills offering breathtaking panoramic views of the island. Diving enthusiasts can explore the seabed, rich in marine life and historic wrecks
To find out more, plan your stay and travel to the island of Paros
Where to stay in Paros?
Seesoo Paros, a charming hotel in Paros
Located on the enchanting island of Paros, the Seesoo hotel embodies authentic Cycladic charm. Nestled between the azure blue of the Aegean Sea and the serene atmosphere of local villages, Seesoo offers an unrivalled retreat. Elegantly decorated rooms welcome you into a cocoon of comfort comfort, while traditional architecture blends harmoniously with modern modern conveniences. Enjoy moments of relaxation by the sparkling pool pool during your stay in Paros, sample local delicacies at the hotel's the hotel restaurant and take in the picturesque panorama. Seesoo Paros, much more than a hotel, an immersive experience in the captivating of the island.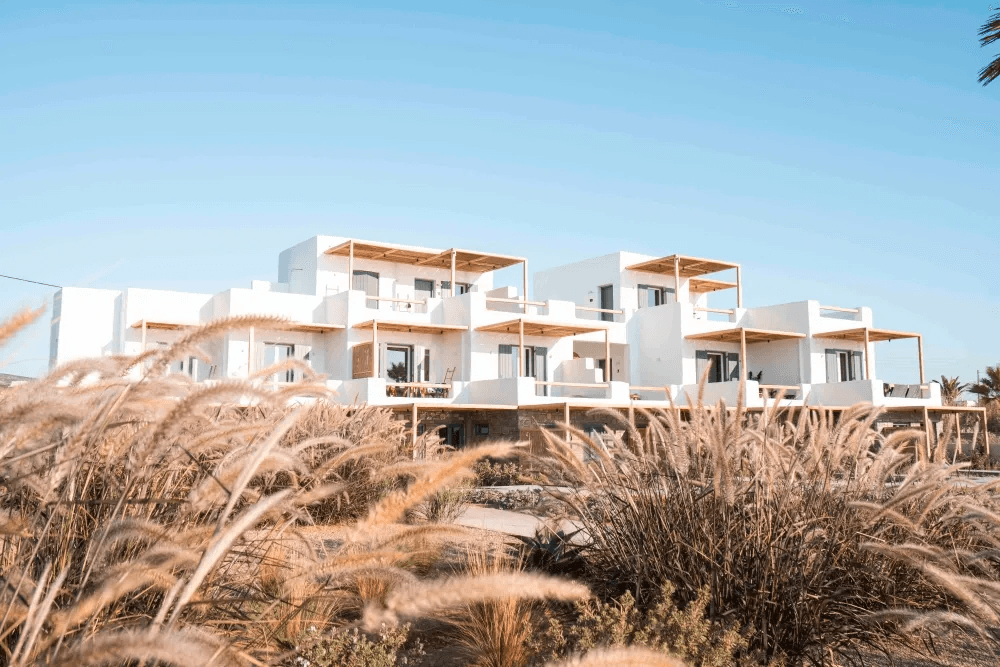 Stay at Seesoo Paros, a charming hotel in Paros
Paros Bay Hotel, an ecological hotel in Paros, Greece
Nestled in the heart of Paros' natural splendor, the Paros Bay Hotel shines as an example of eco-friendly hospitality. With a deep respect for the environment, this hotel offers an exceptional experience while preserving the surrounding beauty. From sustainable materials to responsible energy use, every aspect has been designed to minimize impact on nature. Elegant rooms offer modern comfort with a Cycladic touch. Panoramic views of the Aegean Sea delight the senses, while the infinity pool seems to merge with the horizon. Enjoy a luxurious experience while acting in favor of our planet at the Paros Bay Hotel during your stay in Paros.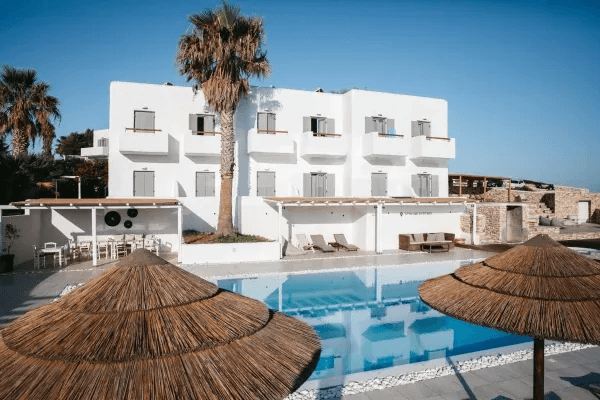 Stay at Paros Bay Hotel, an eco-friendly hotel in Paros, Greece
How to get to Paros
Getting to Paros, the pearl of the Cyclades in Greece, is an adventure that combines various means of transport to bring you to a Mediterranean paradise. Whether you're coming from Europe or elsewhere, here are the options for reaching this enchanting island.
If you're traveling from abroad, the first step is often to reach Greece. The international airports of Athens, Thessaloniki and Heraklion (Crete) are popular entry points. From there, you have several options for getting to Paros.
By plane: You can take a domestic flight from Athens or other major Greek cities to Paros airport. The flight offers panoramic views over the Aegean Sea and usually takes less than an hour. From Paros airport, you can reach your accommodation by cab, bus or rental car.
By ferry: Ferries are an iconic option for reaching the Greek islands. Regular ferries operate from the port of Piraeus in Athens to the port of Parikia in Paros. The ferry journey may vary in length depending on the type of ferry you choose, but it's an opportunity to enjoy spectacular sea views and feel the maritime atmosphere.
By high-speed boat: High-speed boats are faster than traditional ferries and offer a quicker way to get to Paros. They also operate from Piraeus and other nearby islands.
By land and sea: If you're in mainland Europe, you can also choose to travel by car and ferry. and by ferry. Drive to the port of Ancona in Italy, then take a ferry to Patras in ferry to Patras in Greece. From there, drive to Piraeus and board a ferry or speedboat to Paros.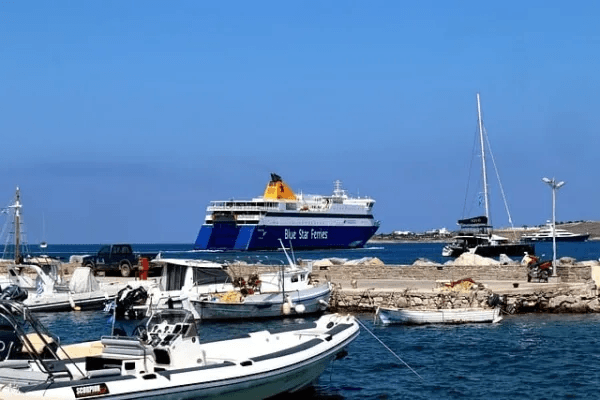 To find out more, how do I get to Paros?
It doesn't matter which means of transport you choose every step of the journey adds to the experience. The breathtaking views, the smell of the sea and the prospect of reaching a mythical Greek island all add to the excitement of the journey. Once you arrive for your stay on Paros, you'll be greeted by the dazzling beauty of its beaches, picturesque villages and authentic island ambience.
A stay on Paros is much more than just a getaway, it's an immersion in the island's culture, history and natural beauty. From picturesque villages to heavenly beaches, historical heritage and culinary experiences, Paros offers a variety of experiences for every every type of traveler. Let yourself be enchanted by the timeless magic of Paros and and create memories that will last a lifetime.
Image by Volker Ostermann from Pixabay
Image by Thomas G. from Pixabay