Jenny and Benoît are a couple of travel bloggers who, after the Covid, decided to go on a tour of Europe by train. They regularly give us on Instagram but also on their blog lots of tips for our next trips! I strongly invite you to discover them if you don't know them. And by the way, to know them a little better, discover here their travel story of their discovery of Europe by train.
The birth of our project
Our project to go on a tour of Europe by train appeared during the first confinement due to the COVID-19. We were both going to be free professionally speaking from September 2021 so we thought we would take the time to travel.
But the tour of Europe was not our first idea, we wanted to go to Australia for a PVT, but in view of the context it was not possible. So we looked for an alternative that could also correspond to our values: responsible travel.
And we discovered Interrail, a pass which allows to travel by train in 33 countries of Europe and we said at once that we were going to do it! So we left for the adventure to make the tour of Europe during 2 months.
To know more about the train in Europe
It was the first time for both of us to travel for so long and backpack. A new adventure that made us leave our comfort zone.
The itinerary of our tour of Europe by train
We passed through Switzerland, Italy, Slovenia, Croatia, Hungary, Slovakia, Poland, Czech Republic, Germany, the Netherlands and Belgium. It was very exciting because each time we discovered a new country, a new culture and new landscapes.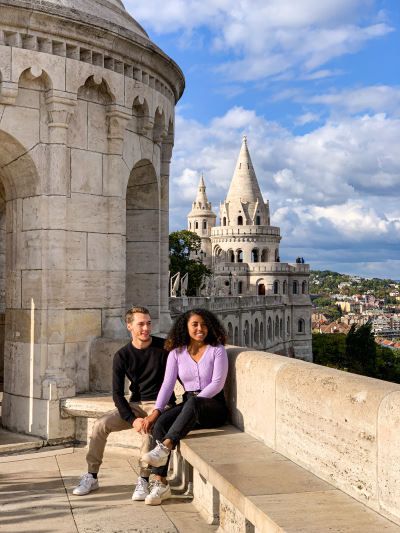 By train, we could appreciate to see different panoramas: the mountain, the sea, the fields, the forests... We liked Switzerland, Italy and Slovenia very much precisely for their magnificent and diversified landscapes. For us, these are countries not to be missed for a train trip.
We could also do various activities, surprising or atypical! We share with you our top 4:
Visiting the caves of Saint-Béat in Switzerland, a first for us. And it was quite impressive to see the stalactites and stalagmites that were formed several million years ago.
Climb to the roof of Europe: Jungfrau in Switzerland. Which is a real adventure with the journey by train but also by cable car. It is on this occasion that we could see various landscapes all so magnificent the ones on the others. And once arrived at the top, we felt very small in front of the mountains and the sky as far as the eye can see.
Museum of Broken Relationships in Zagreb. It was a really atypical museum, which gathers objects which recall broken relations. We discovered the history of the objects but also of their owner and it was sometimes moving.
Museum of chocolate in Zagreb. We liked very much the concept to have as "entrance ticket" a box with different chocolates to taste according to the room where we were. The concept was different and we found that top!
During this tour of Europe, we visited 11 countries, 48 cities, took 63 trains and travelled more than 6900 km in 2 months. It was an incredible experience! And we were pleasantly surprised by how easy it was to get around by train in all the countries we visited thanks to the Interrail pass. Travelling by train is a way of travelling that we recommend, it's totally different! We feel things differently and we enjoy more the landscapes that surround us.
Link to their accounts: