The long awaited vacations are here! You've been dreaming about it while sitting at your desk and looking out the window. You've even counted the days and hours between now and then. And then: it's the drama! The weather forecast announces wet weather and showers for your destination. How are you going to keep yourself busy on your rainy vacation? In this article, discover 7 ideas to keep smiling and enjoying your trip, even when clouds and gray skies are in the air.
#1 Treat yourself to a day of rest and cocooning
How many times a year do you take a day of rest without planning anything at all? If the snails are out, take advantage of it to stay inside and give yourself a well-deserved moment of relaxation!
On Ethik & Trips, we propose you a selection of eco-responsible accommodations around the world. Several addresses invite you to rest and relax : why not take advantage of it ? Whether it is by providing you with books, board games or a pleasant spa, the hotel owners know how to put a smile back on your face, even when the rain showers fall from the sky. Discover 3 addresses that are perfect for a lazy day!
A small budget cocooning address
Welcome to Morbihan, a few kilometers from Vannes. This is where you will find the Gîte des Algues, a pleasant seaside address, perfect for exploring the riches of southern Brittany.
If the weather doesn't inspire you to hike the GR 34 or go kayaking, enjoy the comfort of the living room with TV, games consoles and movies to entertain yourself without the risk of getting wet!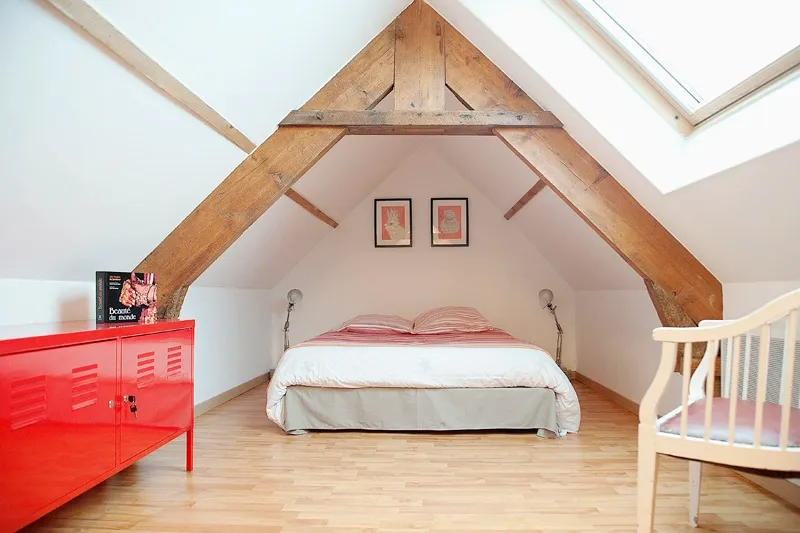 A cocooning address on a reasonable budget
Looking for an unusual getaway in the South-West? Discover Pella Roca: an accommodation in the middle of nature in the Tarn-et-Garonne. Stay in a perched cabin with a private spa on the terrace.
Immersed in the water of the Nordic bath or wrapped up in the heat of the sauna, you will quickly forget the rain.
After your relaxing break, continue to warm up inside in front of the wood stove, admiring the magnificent view of nature and the rain falling through the window.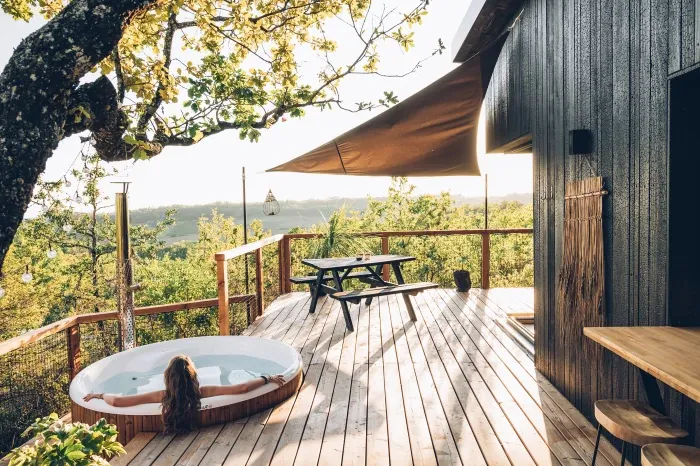 An exceptional cocooning address
Welcome to Bleu Minuit, an ecological accommodation in the heart of the Vosges du Nord Regional Nature Park, one hour from Strasbourg. Stay in one of the 3 exceptional lodges and enjoy the nature that surrounds you.
On rainy days, treat yourself to a relaxing break in the sauna or the Patagonian bath with a view of the forest. To prolong your relaxation, book a pleasant massage.
Return to the comfort of your wooden cocoon open to nature, from which you will never tire of contemplating the rain.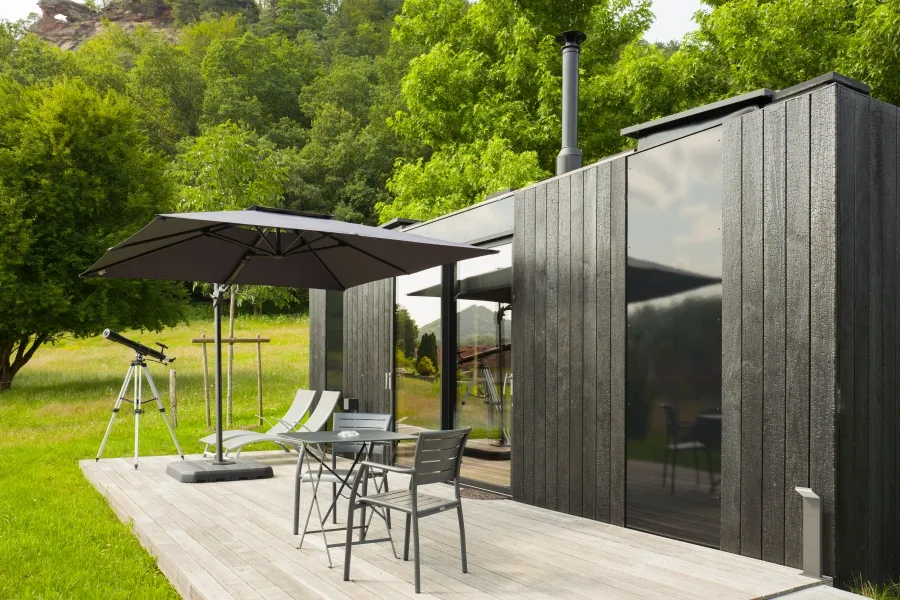 #2 Take advantage of bad weather to meet the locals
For this, nothing better than to take refuge in a café, a pub or a restaurant and engage in a discussion with the other customers!
You'll probably leave with memories of great encounters and interesting discussions! Maybe you can even pick up some good ideas for activities to occupy your vacation in the rain from the insiders?
#3 Take advantage of the rain to indulge in a cultural activity
If you are staying in a large city, you should have no trouble finding an interesting cultural activity to do on a rainy day. The best way to do this is to go to the local tourist office to get an overview of the events that are taking place at the moment.
The hardest part may be choosing from the cultural offer! A visit to a museum, a play, a local cooking workshop: which activity will tempt you?
To limit the environmental impact of your vacation, avoid as much as possible the shopping session to pass the rain! Discover in our dedicated article why bringing back a travel souvenir is not without consequences.
#4 Treat yourself to a water activity
If you're going to get wet, why not do it all the way? It's counterintuitive, but many water activities can be done in the rain as well as in dry weather!
If the water temperature is pleasant despite the downpour, you can go for a swim! However, you won't get your tanning session to dry off.
Otherwise, activities such as windsurfing, surfing or stand-up paddle can be practiced in the rain, when the sea conditions are suitable! Just remember to rent a wetsuit if necessary to avoid the cold.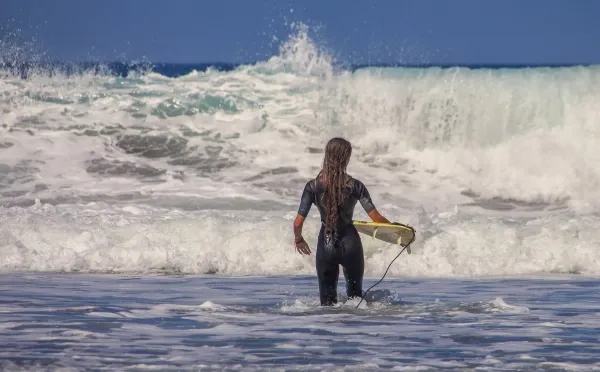 #5 Taking pictures
Want to have a little photo session but the rain spoils the experience? It's time to let your creativity speak. Many places or landscapes are suitable for beautiful photographs, even in gray weather!
The mist can give an intense and mystical atmosphere, which can be interesting to exploit. Nature and flowers beaded with raindrops create interesting subjects for macro photography.
In the city, the reflections of puddles on the ground are conducive to captivating light effects. To prevent your equipment from getting wet, consider investing in a rain cover for your camera or a waterproof case for your smartphone.
#6 Cooking on vacation in the rain
If your accommodation has a kitchen, why not take advantage of it to prepare some tasty dishes to enjoy with your group of travelers?
Cooking during your vacation is an opportunity to innovate by using local products that you are not used to. You can even try to recreate a local specialty to learn a new recipe!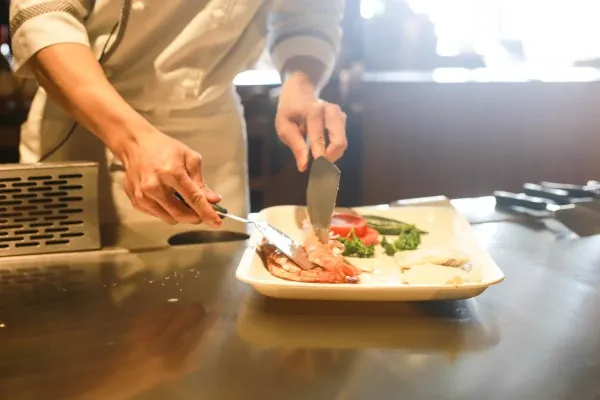 #7 Make the most of your vacation despite the rain!
Whatever happens, try not to mope about the upcoming weather and enjoy your vacation anyway! You won't have any influence on the weather, even if you're brooding in your lodging: you might as well adopt a positive frame of mind.
Also, put the severity of the rain into perspective: unless a hurricane or storm is forecast, the worst that can happen is that you get wet! So dare to go on a trip anyway!
Try to reconnect with your childhood soul that surely enjoyed jumping into puddles. Enjoy the relaxing and soothing atmosphere of the rain! Who knows, maybe a lightning storm will appear and confirm your decision to go outside?
Also read: discover 10 ideas to escape in France and Europe for a weekend without a car.
What to wear in case of rainy weather?
The most important thing to do in case of rain is not to be cold! Even if your top layers of clothing are wet but you stay warm, everything is fine.
Remember to pack a windproof waterproof jacket and rain pants before you leave. Sure, it's not incredibly fashionable, but if there are too many gusts of wind to open an umbrella, you'll stay safe from the humidity!
For your belongings, carry a waterproof backpack or a protective cover to put over it. Most hiking bags come with this type of equipment.
Don't neglect your shoes! Getting your feet wet is the first step towards the cold feeling you are trying to avoid.
Some rain pants also cover your feet, which can be very practical! Some hiking boots are waterproof and can become your best friends in wet weather. If you're going into town or don't want to burden yourself with a big pair of shoes, at the very least take shoes that dry quickly!
Also read: discover 4 exotic ideas for a fall weekend in France.
So, are you ready to spend a great vacation in the rain? Even if the weather is grey, Ethik & Trips guarantees you sweet nights for your next adventure: discover our selection of ecological accommodations around the world.