Rouen, located in the Normandy region of France, is a city rich in history, culture and architectural beauty. and architectural beauty. With its cobbled streets, half-timbered houses and magnificent and its magnificent cathedral, a weekend in Rouen is ideal for a moment of discovery and relaxation.
Day 1: Discover Rouen Explore the historic center
Exploring the historic center
Start your weekend in Rouen by taking a stroll through the city's historic center. The Place du Vieux-Marché is a good place to start. It was here that Joan of Arc was burned at the stake in 1431. Explore the picturesque streets and admire the half-timbered houses that make up the charm of the old town.
Don't miss the magnificent Notre-Dame de Rouen Cathedral, made famous by Claude Monet's paintings. Its impressive Gothic architecture and colorful stained glass windows make it one of the city's jewels. Take the opportunity to visit the interior of the cathedral and admire its spectacular rose window.
For a gourmet break, stop off at one of the many cafés and restaurants on Rue du Gros-Horloge. This lively pedestrian street is lined with beautiful half-timbered houses and offers a wide choice of Normandy specialties, such as camembert, seafood and cider.
In the afternoon, visit the Musée des Beaux-Arts de Rouen. This museum houses an impressive collection ranging from medieval to contemporary art. You'll paintings by such great artists as Monet, Renoir and Delacroix.
Round off your day with a stroll along the banks of the Seine. You can admire the the magnificent facades of the houses lining the river and enjoy the view of the the Pont Gustave-Flaubert, a modern lift bridge that is a feat of engineering feat.
To find out more, visit the Rouen Tourist Office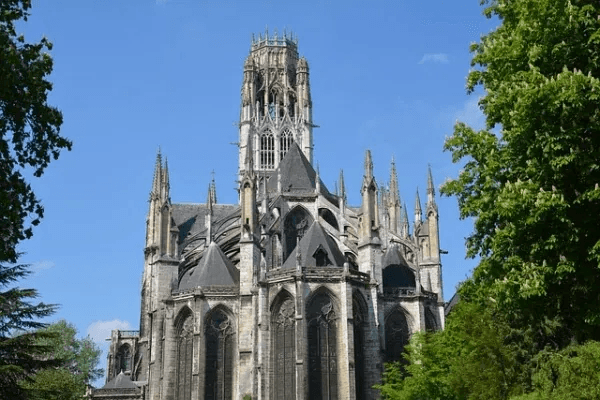 Day 2: The a weekend in Rouen
History and Gastronomy
Start your second day day with a visit to the Gros Horloge, one of Rouen's landmarks. This ancient 14th-century fortified gate houses a superb astronomical sundial and offers panoramic view of the city from the top of its belfry. Don't forget visit the clock room to learn more about the history of this this emblematic monument.
Next, head to Église Saint-Maclou, another masterpiece of Gothic architecture. This known for its richly sculpted portal and medieval charm.
For an authentic experience, lunch in one of the restaurants in the Antiquaires district, near the church of Saint-Maclou. This district is full of charming charming little streets where you can sample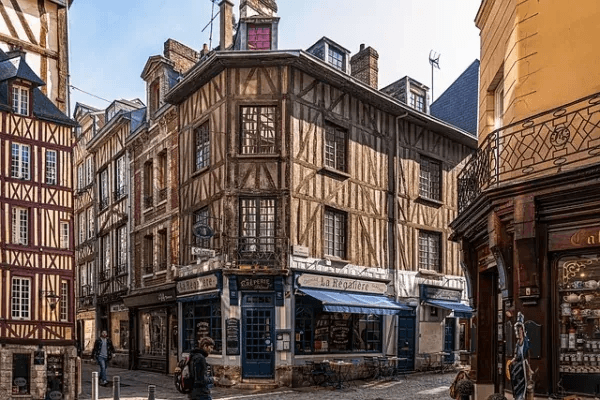 Day 3: Explore the Rouen area
A mix of heritage and unspoilt nature
Rouen's surroundings offer a multitude of captivating
for visitors in search of discovery. Located in Normandy, this region is brimming with historic sites, picturesque landscapes and activities. Just a few kilometers from Rouen, you can visit the magnificent Abbey of Jumièges, one of the finest vestiges of medieval architecture in France. For outdoor enthusiasts, the cliffs of Étretat offer spectacular views of the English Channel, while the Seine valley offers opportunities for peaceful strolls along its verdant banks. its verdant banks. History buffs can explore the castle of Robert le Diable or the medieval village of Lyons-la-Forêt. Whatever your whatever your preference, the Rouen area has plenty to offer.
For more information, abbaye de Jumièges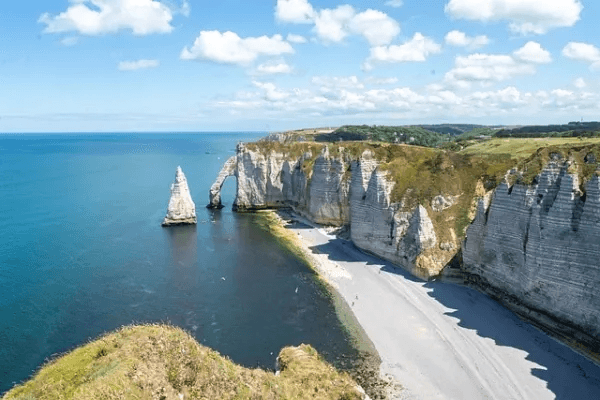 Our selection for a weekend in Rouen
Hôtel Littéraire Gustave Flaubert
This 4-star hotel is dedicated dedicated to Rouen-born French writer Gustave Flaubert, and offers a experience for literature lovers.
Located in the near Rouen's main attractions, the Hôtel Littéraire Gustave Flaubert Gustave Flaubert offers luxurious, comfortable rooms.
The hotel also features a literary lounge where you can relax and read books from the library collection of works by Flaubert and other classic French authors. classic French authors. It's the ideal place to immerse yourself in French literature and draw inspiration from the renowned writer.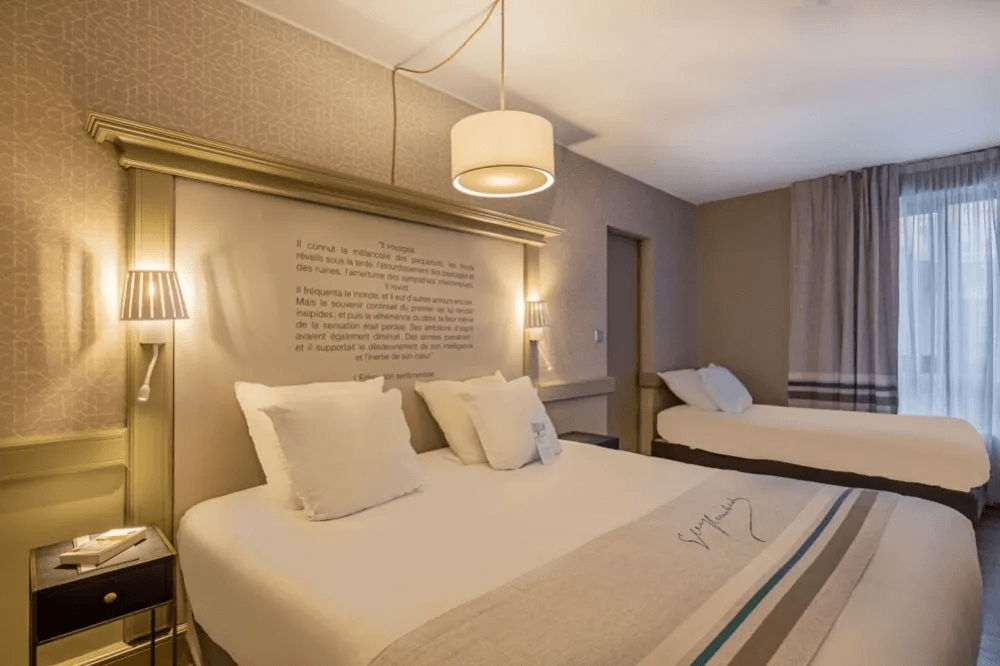 Stay at the Gustave Flaubert literary hotel
HI Rouen, a youth hostel on the banks of the Seine
The youth hostel offers a warm and welcoming ideal for travelers on a budget or those wishing to meet other from around the world.
The youth hostel reception is open 24 hours a day, so you can arrive at any time of the day or night. The friendly, multilingual staff will be happy to provide you with information about the city, local attractions and the best tips for making the most of your stay in Rouen. Take advantage of the hostel's friendly atmosphere while discovering the charms of this historic city.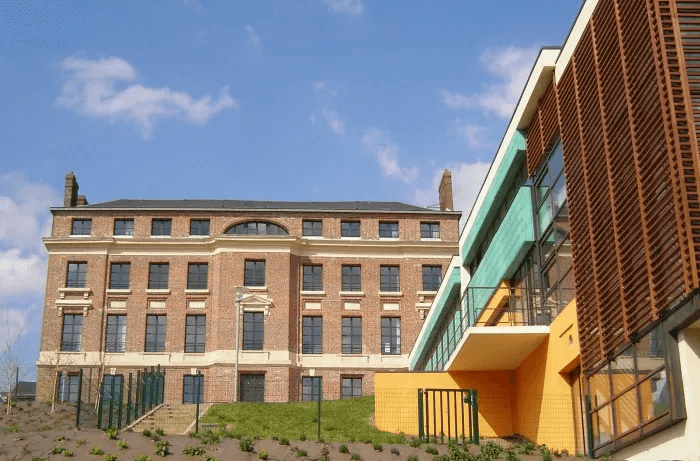 Stay at HI Rouen youth hostel
Getting to Rouen:
Alternatives for a weekend in Rouen
If you're looking for an eco-friendly way to get to Rouen for the weekend, there are several sustainable transport options to consider. Here are some of the best ways to reach this charming Normandy town while reducing your carbon footprint
By train:
The train is one of the most eco-friendly options for getting to Rouen. You can take advantage of regular train connections from many cities in France and Europe. Trains are renowned for their low environmental impact, consuming less energy and emitting less CO2 per passenger than cars or planes.
Long-distance bus :
Long-distance buses are becoming increasingly popular as a sustainable transport option. From many bus companies offer connections to Rouen from various cities in France and Europe. Modern buses are designed to be be more energy-efficient and produce fewer polluting emissions. Travelling also lets you take in the scenery and enjoy the journey as part of a group travel.
Carpooling:
If you prefer to travel by car, consider carpooling to reduce your carbon footprint. You can share your journey with other travelers heading in the same direction. There are several online car-sharing platforms that make it easy for drivers and between drivers and passengers.
To find out more, take a look at our overview of alternatives for car-free vacations
Rouen is a historic city with magnificent architecture architecture and rich culture. It's a must-see travel destination in France. Are you looking forward to a weekend in Rouen?