Between land and the Atlantic Ocean, Brittany's Morbihan region offers a variety of landscapes and activities to satisfy the desires of all travelers. From the mythical alignments of Carnac to the small islands of the Golfe du Morbihan and the heavenly coves of the Île de Groix, the Breton département has plenty to surprise you. In this article, find out where to stay in Morbihan. Youth hostels, campsites, hotels, vacation rentals: we present 7 addresses for eco-friendly accommodation, so you can explore the most beautiful corners of Morbihan and participate in sustainable tourism in Brittany.
#1 Nature campsite in the Gulf of Morbihan
Looking for an ecological vacation in the heart of nature? Then book your pitch or unusual accommodation at Camping La Fontaine du Hallate. Sleep in your own tent or opt for an authentic Mongolian yurt, a cosy wooden pod, a Lappish kota or a more traditional mobile home.
Simplicity and nature are the order of the day during your stay in Morbihan. Here, the swimming pool is replaced by a convivial communal area and a pleasant vegetable garden for a calm and serene atmosphere.
Take advantage of an ideal location in the heart of the Golfe du Morbihan Regional Nature Park to explore its treasures, including :
The charming fortified town of Vannes;
The idyllic coves of Belle-Île-en-Mer.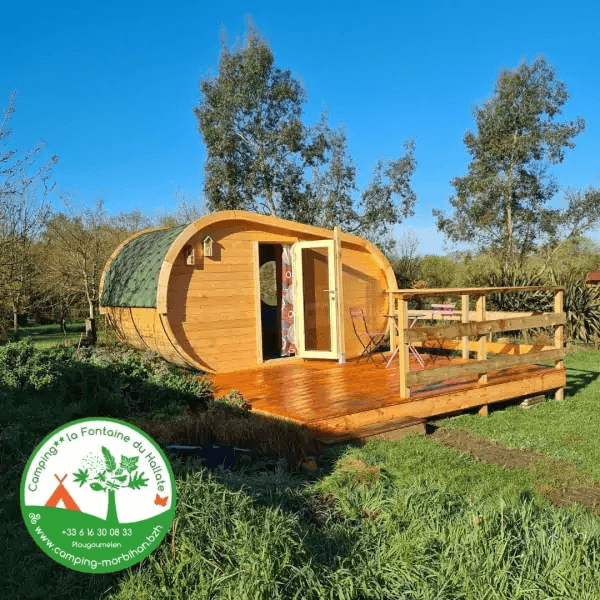 Book your stay at Camping nature in the Gulf of Morbihan | Camping La Fontaine du Hallate (ethik-and-trips.com)
.
Also worth reading: discover our guide to ecotourism in Brittany, a committed region full of surprises.
#2 Youth hostel in Lorient
On the banks of the Etang du Ter, in a green setting not far from the city center, discover HI Lorient youth hostel.
Stay in friendly, human-scale accommodation, with rooms for 1 to 5 travelers, to be shared or privatized. Take advantage of the hostel's friendly facilities, including a bar, garden with barbecue and independent kitchen, before exploring the streets of Lorient by bus or bike.
In this Morbihan town, discover a rich heritage still marked by the aftermath of the Second World War. Don't miss Lorient's marina and roadstead, which hold many surprises in store for you:
Larmor-Plage, a seaside resort just 4 km from the youth hostel where you can swim or try your hand at sailing;
Port-Louis, home to a perched 16th-century citadel offering superb views as far as the Île de Groix.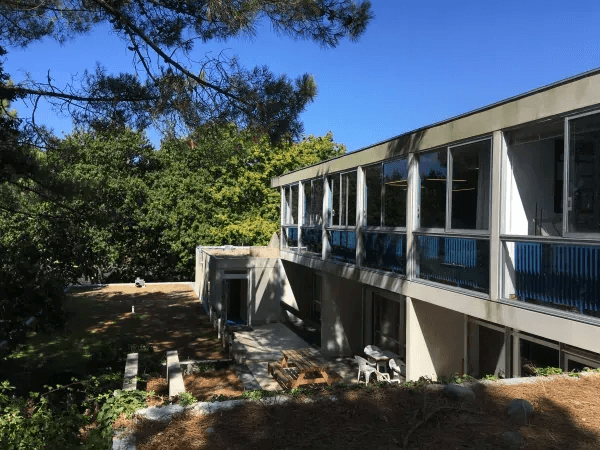 Book your stay at HI Lorient youth hostel.



  L'info en plus !




Toutes les auberges de jeunesses du réseau HI France sont labellisées Clef Verte, une certification fiable et complète de tourisme durable ! Les adresses de Bretagne ne font pas exception !

#3 Youth hostel on Groix Island
Welcome to Groix Island, a Breton nugget not to be missed during your stay in Morbihan. Accessible by boat from Lorient, you'll find charming nooks and crannies between beaches, cliffs and villages. Discover its riches on foot, by bike, paddle or kayak. You'll be amazed by its turquoise coves, picturesque harbours and numerous menhirs and dolmens.
HI Île de Groix youth hostel welcomes you in a former blockhouse with an unusual atmosphere. Stay in a shared room or opt for a night in a tent, with your own equipment or that already set up by the hostel. Take advantage of an ideal location 2 steps from the waves of the Atlantic Ocean, and a pleasant garden with terrace for unforgettable moments of conviviality between travelers.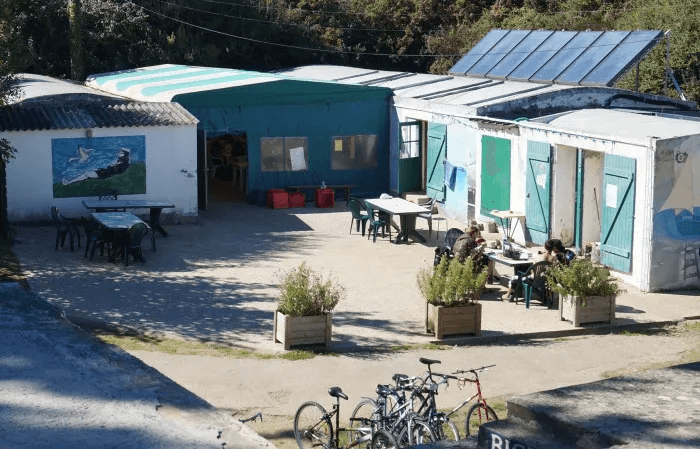 Book your stay at HI Île de Groix youth hostel.
Read also: discover the story of a weekend on the Île de Groix and get inspiration for your next Breton getaway.
#4 A seaside vacation rental in the Golfe du Morbihan
Welcome to the Gîte des Algues! This delightful accommodation, just 10 minutes from Vannes town center and 2 steps from the waters of the Golfe du Morbihan, offers an idyllic location from which to discover one of the most beautiful bays in the world!
Take advantage of 70 km of footpaths, including the famous GR34, to explore the surrounding area on foot. Discover Vannes, a fortified medieval town with authentic charm, beautiful narrow streets lined with half-timbered houses and superb townhouses. Come aboard a sailboat and discover the small islands of the Golfe du Morbihan with their evocative names: Île d'Arz, Île aux Moines.
After your days of discovery, recharge your batteries in a pleasant 42 m² house designed for 4 people, with plenty of entertainment for convivial evenings with family or friends in very peaceful surroundings.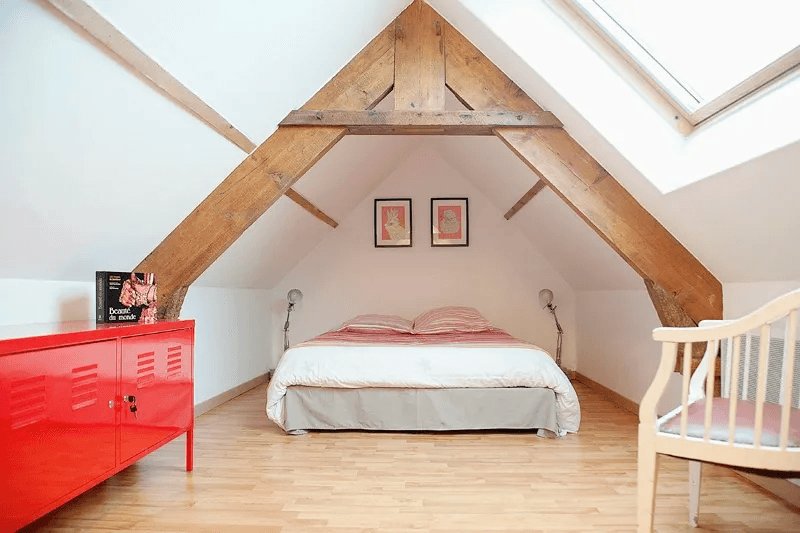 Book your stay at the Gîte des Algues, a seaside gîte in Morbihan.
Read also: discover how to spend an eco-friendly vacation by the sea.
#5 Unusual accommodation in Morbihan
Discover the Morbihan off the beaten track by staying at the Roulotte Douar Diskuizh. Treat yourself to a cosy, unusual experience in an authentic old-fashioned gypsy caravan. Designed to accommodate up to 5 people, it offers every comfort, with ecological dry toilets and a shower whose waste water is purified to irrigate the soil.
Take advantage of your stay to explore the riches of the Breton countryside:
Rochefort-en-Terre, listed as one of France's most beautiful villages, with its fine stone-built houses;La Gacilly, home to one of Europe's largest open-air photography festivals;Josselin, a charming medieval town with a Renaissance château and charming half-timbered houses.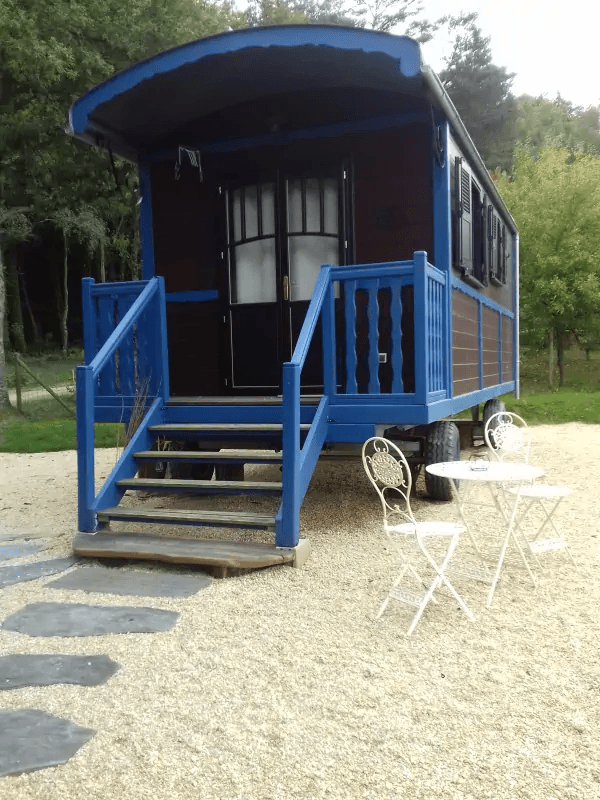 Book your stay at the Roulotte Douar Diskuizh, an unusual accommodation in Morbihan.
Also read: discover 4 itinerary inspirations in Brittany for a change of scenery in France.
#6 Ecological camping in the Morbihan countryside
Welcome to Camping Le Lac Ô Fées, an ecological campsite and member of the Via Natura network. Located in Priziac, on the edge of a lake in the Morbihan countryside, it promises a relaxing stay, with hikes in the Pont-Calleck forest, sailing or paddle-boarding courses and pedal-boating on the nearby lake.
Choose from a wide selection of unusual and classic accommodations:
A chic and comfortable mobile home;
The fairy hut, an astonishing and magical construction;
An authentic vintage caravan from the 70s.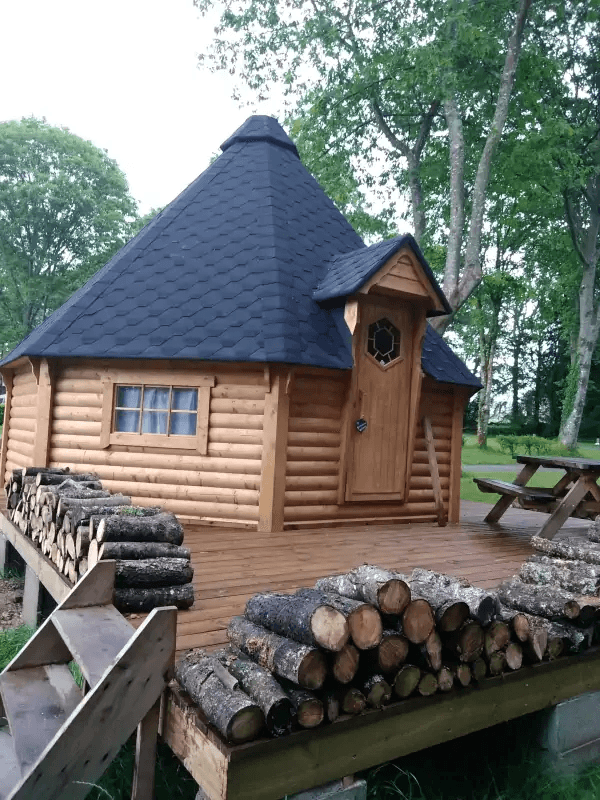 Book your stay at Camping Le Lac Ô Fées, an ecological campsite in Southern Brittany.
#7 Youth hostel in Pontivy
On a cycling trip along the Canal de Nantes à Brest or a road trip in Brittany, why not stop off at the HI Pontivy youth hostel? Housed in a former flour mill and surrounded by greenery, it's the ideal place to recharge your batteries in Morbihan. Rooms with 1, 2, 3, 4 or 6 beds await you, with breakfast included in the price of your stay.
Take advantage of our ideal location to discover the historically rich town of Pontivy, which offers 2 very surprising faces. Lose yourself in the narrow streets of the medieval town, dominated by the Château des Rohan, before discovering the Napoleonic town with its wide, straight avenues, now lively shopping streets.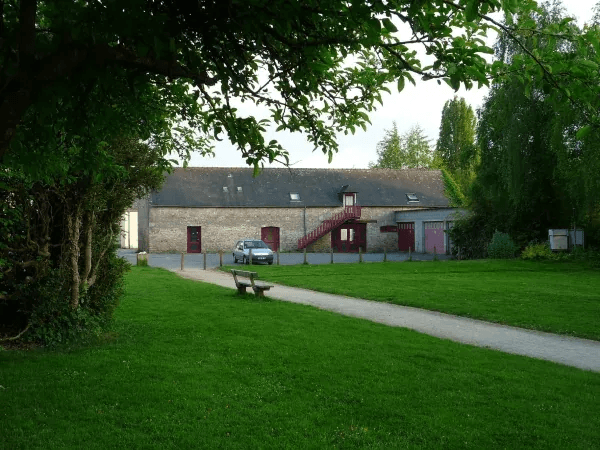 Book your stay at HI Pontivy youth hostel.
See also: 7 reasons to stay in a youth hostel, a much-maligned form of accommodation, but one that can be a great surprise, without blowing your travel budget!
So, have you found the inspiration to sleep in Morbihan? Start planning your next stay in Brittany and let yourself be seduced by this region of countless riches.
Image by Fabien - Pixabay Ambassador de Pixabay