Moving with the wind, being in harmony with the elements: isn't this a great way to experience a responsible itinerant trip? Far from your daily worries, with only the weather as your ticket out, that's the promise of a sailing vacation! Are you a seasoned sailor hesitating between renting a monohull or a catamaran? Would you like to learn how to sail and discover life within a crew? Perhaps you would even like to take part in a sailing cruise with a skipper, to simply enjoy the sea, the sun and the beautiful landscapes? Budget, destinations, type of trip, for a weekend or more: we give you all the information you need to embark on this adventure. Are you ready to hoist the mainsail and set sail?
Why go sailing?
An ecological way to travel
By choosing to travel almost without a motor, on the strength of the wind, you are opting for a low-carbon mode of travel for your trip. When you know that transportation accounts for 77% of greenhouse gas emissions in the tourism sector, this is a great initiative for the environment.
Traveling on a sailboat also means being forced to adopt a minimalist lifestyle on board. You only bring the bare minimum, learn to live in a small space and pay attention to your waste production. Why not continue these good habits when you return home?
To go further on this subject, discover how to adopt zero waste on vacation.
An exotic adventure
But a sailing vacation is above all an opportunity to live a unique and unusual travel experience. Rocked by the swell and your face whipped by the sea spray, your daily life will take a new turn!
You can even choose to go on vacation in France or close to home and discover a place you already know from the water, from a whole new angle. If you haven't already, you'll realize that you don't have to go far away to get a change of scenery.
Away from the often crowded coastline, especially in the summer, you will feel like an explorer in search of uncharted anchorages and secluded coves. Are you ready to go on an adventure like a modern-day Robinson Crusoe?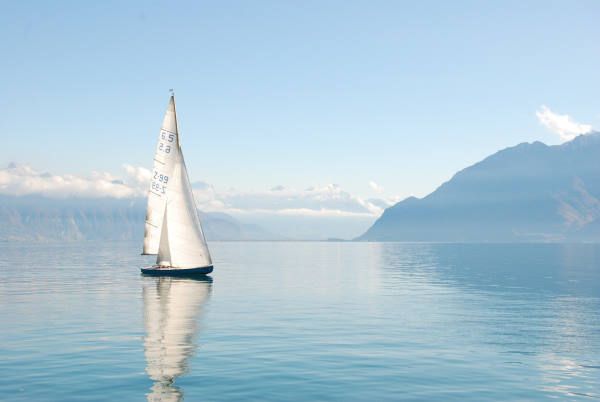 How to go sailing ?
With all the formulas that exist, your sailing vacations can be easily adapted to your sailing skills and your desires.
Participate in an organized sailing course
Several organizations such as UCPA offer all-inclusive stays to learn to sail. In Brittany, in the Mediterranean or in the Caribbean, choose only where the wind will carry you. Then learn all the basics to become a seasoned sailor. Plan on a minimum budget of 500 € per person per week for this type of adventure.
Benefits
Leave with no previous knowledge of sailing;
Learn to sail and take part in the life of a crew with an experienced skipper;
Go on a budget.
Disadvantages
It is not you who decides on the schedule, the navigation times and the stages.
Participate in an organized crewed cruise
This type of stay, also called cabin cruise, is ideal for small groups. This formula is particularly adapted if you don't want to learn how to sail, but you want to enjoy the sea air and the sun. Count on at least 800 € per person and per week for this type of adventure.
Benefits
Don't worry about anything, just enjoy your vacation!
Go as a couple or in small groups without having to privatize a boat.
Disadvantages
You are not alone on the boat, so you are not completely free on the choice of excursions or stopovers;
You don't learn how to navigate.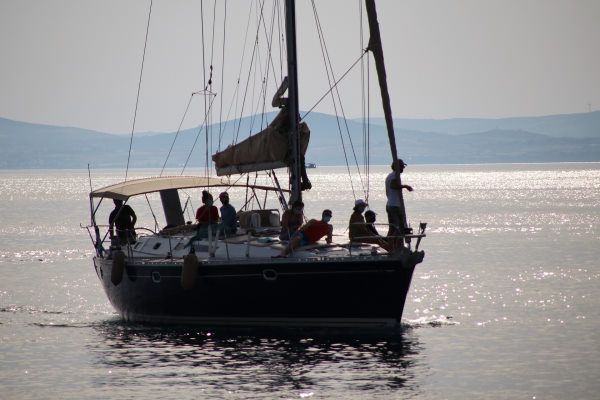 Rent a sailboat with a skipper
Leave with your captain and your troupe of sailors for a customized stay without constraints!
Benefits
Control your sailing vacations from A to Z. Destinations, ports of call, activities: only your skipper will have a say;
Go safely with a seasoned professional;
Choose to learn or not the basics of navigation according to your desires.
Disadvantages
Rates vary greatly depending on the boat chosen and the destination. However, count on several thousand euros per week to rent the boat with its captain.
Rent a sailboat without skipper
If you are or one of your crew members is a seasoned sailor, then this sailing vacation package may be for you. Count on a minimum of 200 € per week per person for the rental of a small 4-seater sailboat.
Benefits
Renting can be as affordable as staying on land, unless you choose a luxury sailboat;
Be completely free to choose your route!
Disadvantages
You leave at your own risk: be sure of your navigation skills and your ability to take into account the weather conditions to leave in all serenity.
Where to go on vacation on a sailing boat?
With a sailboat, you can go anywhere the wind takes you! However, find out the best times to sail to your destination. Some periods are more suitable to take advantage of favorable winds and limit the risk of bad weather conditions. Discover in the following article the most popular destinations where you will have no difficulty in finding a sailboat and crew to leave.
In France
With splendid coasts to explore, live very beautiful vacations in sailing boat without leaving the Hexagon!
Bretagne
Sail along jagged coastlines, explore small islands and unexplored bays along the Breton coastline. Become a seasoned sailor on the Atlantic Ocean.
Discover all our Ethik'Hotels in Brittany for your coastal escapes.
To go further, we give you all our advice to practice ecotourism in Brittany.
Corse
Are you tempted by a sailboat cruise on the Mediterranean? Enjoy the clear water and pleasant temperature on the Isle of Beauty. Moor in hidden coves and dive into the blue water from the deck of your sailboat. Discover Corsica in a whole new light.
Explore our selection of eco-friendly hotels in Corsica to extend your stay.
In Europe
Greece
Fancy a sailing cruise in the Cyclades, to discover the Greek paradise islands? Then take your tube of sunscreen, your bathing suit and go discover Greece with the force of the wind.
Extend your vacation with our Ethik'Hotels in Greece.
Croatia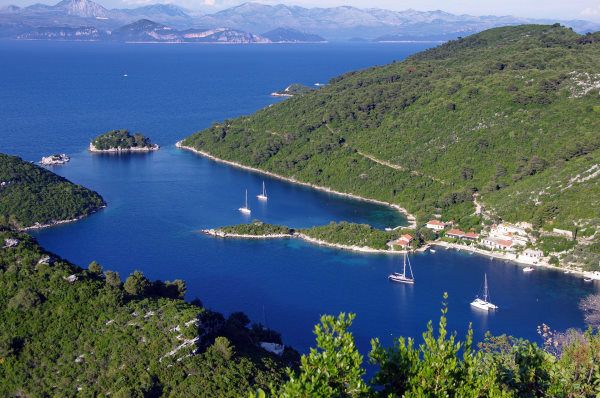 Croatia is not the first destination that comes to mind for a sailing vacation. However, sailing yacht charters are affordable. Plus, with its beautiful coves and turquoise waters of the Adriatic Sea, you'll certainly have a great trip.
Discover our eco-friendly hotels in Croatia.
In the islands
Caribbean, Seychelles, French Polynesia: the islands can be discovered marvelously well under sail. Explore the Grenadines, Guadeloupe or Tahiti from the water and treat yourself to a dream vacation!
Discover our Ethik'Hotels in Guadeloupe, Martinique and Saint-Barthélemy.
Are you convinced by sailing vacations? Are they in your future travel plans? Tell us about it in comments!
Article written by Anaïs Maroteaux, SEO web writer