It's Héloïse's turn to tell us about her trip. Héloïse is the first explorer-actress to have shared with us eco-friendly addresses to enrich the site. Thanks to her, we were able to discover 3 nuggets: one in Colombia, one in the Philippines and this one, in Brittany, which gave birth to this article.
Not far from Belle île en Mer, there is a lesser known sister: Groix.
2 days on a Breton island
To get to the island of Groix, I took the boat from Port-Louis (you can also take it from Lorient), and as soon as we left, the first big surprise: we were followed by dolphins! The weekend couldn't have started better.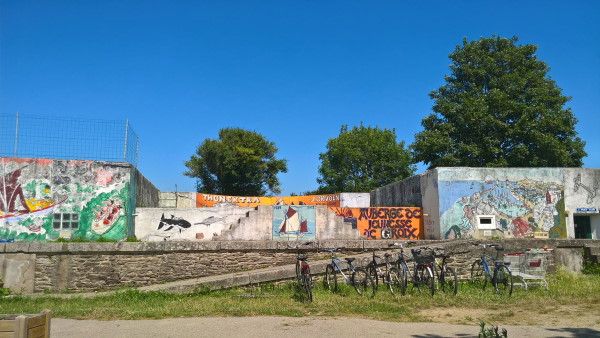 When we arrived on the island, we immediately booked electric bikes, which is ideal for discovering all the different coloured beaches, the surrounding nature, the dolmens, and other curiosities. It was my first time on an electric bike, and to be honest I abused the electric assistance a bit and didn't pedal too much… well in my defence the theme of the weekend was "farniente"!
We leave to discover our accommodation: the youth hostel of the FUAJ association network. This atypical hostel has the particularity to be located in an old bunker tagged with nice drawings. You can sleep in a dormitory or in a tent. Here the welcome is warm, they take the time to welcome us, the tourists discuss together, share their table, enjoy the sun and the sweetness of life. That's what I like about the youth hostels, there's really this sharing and meeting side. Our first day will be resting at the beach, and who says Brittany says of course tasting of Galettes! At night, we are far from the light pollution and the starry sky is magnificent.
Discover the island!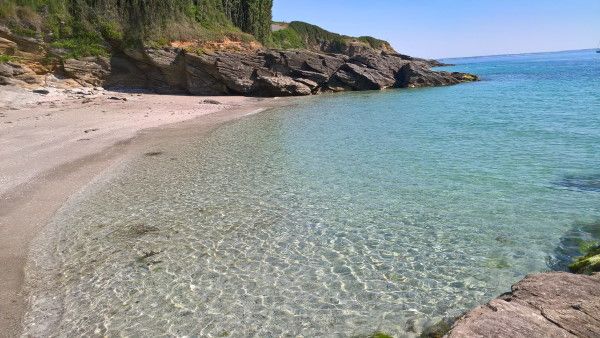 The next day, we set off on a tour of the island with our bikes, discovering more and more beautiful beaches and coves. There are very few cars on the island, which makes our walk very pleasant. Between land and sea we feel cut off from the world. I feel like eating fresh fish and here we are in a charmingly bucolic restaurant, in the distance in the garden a pirate flag is flying, this island is definitely full of surprises. The owner and his wife have opened a restaurant directly at home and are passionate about what they do, it shows in the plate. We continue our tour and after a few beaches we are in the town. The day is already coming to an end.
I have wonderful memories of this weekend which made me want to discover the other islands of Brittany.