Today it's me, Anne, the founder of Ethik Hotels, who gives you my travel diary of a weekend in Amiens. Indeed, a few years ago I watched an episode of Echappées Belles on France 5 which talked about this city. Honestly I hesitated to watch it because on paper Amiens doesn't sound like a dream. And as there was nothing else I persisted and what a great idea! I discovered a city that was the opposite of the image I had of it: pretty, green, human… I had always kept this destination in the back of my mind without taking the plunge. I had to wait for the pandemic and the traffic restrictions to take the plunge. And I can assure you that I have no regrets, we just spent two very nice days discovering the city.
I hope in this article, as in my previous one about my weekend in Le Havre, to break down your barriers and thus make you want to organise a stay in Amiens too. And so that you don't wait as long as I did to spend a romantic weekend in Amiens, discover all my advice to make this stay a success.
What to see in a weekend in Amiens?
If you have more than a weekend in Amiens: our tips for discovering the area
Organise your weekend in Amiens
What to see in a weekend in Amiens?
The Hortillonnages
They are the undisputed stars of Amiens and the main attraction for travellers. And it's easy to see why. It's quite surprising to find this green bubble in the almost city centre. After all, they are only a 15-minute walk from the station.
What are the hortillonnages?
It is a space entirely shaped by man. Their existence goes back many years and it is difficult to date them exactly. However, it is estimated that they existed in the 12th century. It is a multitude of islands surrounded by the waters of the Somme, which has been canalised. The original purpose was market gardening. Today this practice is somewhat lost, there are only a little more than 10 market gardeners left. These islands have become second homes or private gardens. To find out more, I invite you to discover this site dedicated to them.
The visit of the hortillonnages
There are several ways to visit the hortillonnages. In any case, we identified 3 during our stay:
Guided tour. Please note that these tours are only offered in the afternoons
Electric boat rental
Boat with oars
We have chosen the latter option. Our hosting company provides them for these customers. I will come back to this in more detail in the rest of this article.
Some sites mention that you can visit the hortillonnages on foot by walking the towpath along the Somme. We often used this path because we were staying there. However, I find that you can't really see the hortillonnages. They are the borders of the space in a way. If you're content with that, you miss the point in my opinion.
International Garden Festival
As I said, we visited this place by boat. It's perfectly ecological because it's done with the strength of our arms alone. I must admit that I was a bit sore! No regrets because it was very nice. We went for a walk in the morning and it was a good idea because the guided tours took place in the afternoon and we were rather quiet.
As far as navigation is concerned, I can assure you that it is quite easy, the water is calm, no need to worry. And it reigns in the small channels a very peaceful atmosphere, we really had a feeling of quietude to join the pond of Clermont. This is where the international garden festival is held.
This festival was created in 2010 and takes place every year. The aim is to invite young landscape artists to create works to highlight this exceptional landscape. Some of these installations are temporary, some last from year to year. The objective with all these artistic creations is to propose a route to encourage both tourists and the inhabitants of Amiens to discover the hortillonnages. It's really an excellent idea. For our part, we saw :
a telephone booth, where when you pick up the receiver you can hear the sounds of nature
a hot air balloon
an installation that amplifies the surrounding sounds
a work representing the crumbling of the banks of the islands…
These works are installed on islands. This is an opportunity to take a break from sailing and to move from one island to another thanks to the many footbridges. At least for the islands that allow it.
The old Amiens
Even if the hortillonnages are very popular, one should not limit the visit of the city to this green space. Indeed, a weekend in Amiens without visiting the historic centre would be a real shame. I found it very pleasant with its canals, its different districts, its coloured houses…
We liked it very much:
The Saint-Leu district, on the banks of the Somme. There are many restaurants in this area, it is very lively. In the chapter "Where to eat" I will give you a very good address that we had the opportunity to test
The Cathedral district with many beautiful buildings. The cathedral of course, impressive, the law courts, one of the buildings of the Jules Verne University…
Moreover, if you go to the Cathedral, you should know that there are guided tours that allow you to climb the towers. This tour allows you to have a panoramic view of the city. We didn't do it because the weather was grey. However, if you want to know more, you can read the article of the Globes Bloggers about their weekend in Amiens because they did it.
The house of Jules Verne
I am originally from Nantes, the city where Jules Verne was born and which inspired the machines on the island. I was therefore very keen to discover the Amiens part of his life. He moved here because his wife, a native of the city, wanted to be closer to her family. This is the house they rented from 1882 to 1900. It is only 5 minutes walk from the station.
It is a beautiful bourgeois house with a winter garden. Inside we discover his office, his large library, models of his creations… There is also a lot of talk about his friend and publisher Pierre-Jules Hetzel. On the third floor, a room has been devoted to the reconstruction of his boat and the visit ends with a passage through the attic.
The House of Jules Verne is open all year round with dedicated slots for guided tours. If you choose to visit the house on your own, it takes about 45 minutes / 1 hour. For more information on opening days/times and prices, please visit the Amiens tourism website.
Cathedral show
We went to Amiens in 2021. This is the anniversary year of the Cathedral. It is celebrating its 800th anniversary this year. For the occasion, there is a light show projected on the façade every evening from 12 July to 12 September: "Chroma". The show lasts 50 minutes. For the record, I loved it so much, I got so caught up in it that I didn't see the time pass. I had the feeling that it was only 20 minutes long!
If you come at another time of year, you should know that every winter, at Christmas time, and every summer, light shows are organised on the façade of Notre Dame d'Amiens. This tradition dates back to 1999. But it seems that this year, as it is a special anniversary, the show is exceptional. We are lucky.
If you have more than a weekend in Amiens: our tips for discovering the area
Amiens is a beautiful city, but it only takes 2 or 3 days to explore. Why not take advantage of your stay to discover the surrounding area. Here is a non-exhaustive list on the theme of "What to do in the Somme" to make you want to extend your stay.
The Bay of the Somme
Less than an hour's drive from Amiens, you can go and discover this very unspoilt coastline. Once there you can discover all at once :
the beautiful village of Saint Valéry sur Somme
take a walk in the bay to see the hundreds of seals that live here
discover the ornithological park of Marquenterre which welcomes no less than 300 species of migratory birds every year…
The Somme Valley
The Somme valley has 120 kilometres of trails to explore. It is possible to reach Saint-Valéry sur Somme by following the towpath. If the 120 kilometres by bike scare you (as it does me), there are many points of interest along the way. And you can do just a small part of it from the city centre during your weekend in Amiens.
For more information, the Ouest France editions have published a guide: "la somme en roue libre" which you can order online.
The village of Long
This village is about 30 kilometres from Amiens. It is in the running this year for the most beautiful villages in France. I don't know it but I saw some tourist posters in the places we went. This village looks very bucolic. It is set on the edge of the somme river too.
You can also visit the castle and its gardens which date from the 18th century. It is a private property open to visitors.
Samara Park
This park is located 15 kilometres west of Amiens. It is both a historical reconstruction site and a landscape site. You can see reconstructions of prehistoric habitats, from the Paleolithic era to the Gallic farm.
The site is located in the Acon valley, which is a Natura 2000 zone and therefore protected. Facilities have been created to allow you to discover the marshes, an arboretum and to lose yourself in a plant labyrinth made up of 600 species.
I'm sure there are many other treasures in the region, check out the Somme Tourisme website.
Organise your weekend in Amiens
The period
To be able to visit the hortillonnages on a guided tour you have to come between April 1st and October 30th which is the opening period. If you take a boat from your accommodation I imagine you can come outside this period. However, in winter it must be a little less pleasant because there are fewer flowers and it must be wet and cold on the canals. If I had to give advice I would say that spring is the best time because it's the best time for flowers.
If you like the Christmas spirit, don't forget that there is a light show on the cathedral every year at this time of the year.
How to get to Amiens
Of course you can come to Amiens easily by car. However another easy way, and the one we used, is by train. From Paris, there are regular departures from the Gare du Nord. The journey takes about 1h15.
The provinces are not left out, as many TGV trains to Lilles stop at the Haute Picardie TGV station. Shuttles are then organised to reach Amiens city centre station. You can therefore come and spend a weekend in Amiens easily from Bordeaux, Marseille, Lyon, Rennes or Nantes.
Where to sleep
Like all big cities, Amiens has a very wide range of accommodation: hotels, guest houses, holiday rentals. However, I will only tell you about the address I had the opportunity to test: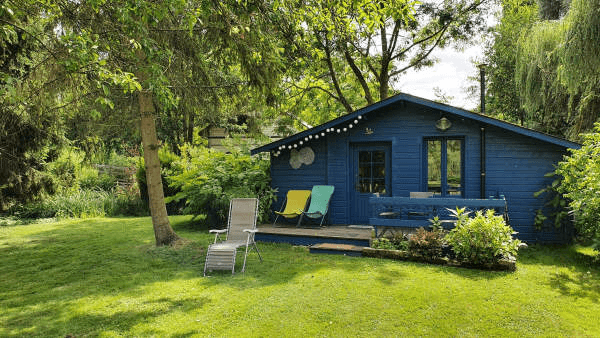 I had spotted these pretty huts in the heart of the hortillonnages in the episode of Echappées Belles. Since then I've always wanted to discover it, which is why we booked there. In addition, the icing on the cake, this accommodation meets 4 of our criteria, so I was able to add it to the database. I invite you to discover its detailed description.
D'une Ile à l'Autre consists of 7 cabins, with one or two bedrooms, spread over 2 hectares and several islands linked by small bridges. The atmosphere is very bucolic and it is the perfect address for a romantic weekend in Amiens! Each cabin has its own kitchen, bathroom, private terrace and a barbecue. The owners also provide bicycles, boats and a kayak.
The establishment is very easy to reach, it is located along the path of Hallage, along the river Somme. You can park your car in front of it. If you come by train, don't worry, the station is only 20 minutes away by foot.
Locavore restaurants
Exhausted from our day's paddling and cycling, on Saturday evening we had dinner at home. However, for the rest of the weekend, we ate in restaurants at lunchtime. Both were restaurants with excellent food and local products. We enjoyed both, so I'm happy to share them with you. Both offer meat and vegetarian dishes:
Robin Room. It is close to the cathedral. If the weather is good there are some outside tables. The room itself is beautifully decorated.
Green Corner. This restaurant is located in the Saint-Leu district on the banks of the Somme. Don't be put off by the fact that it is surrounded by restaurants that could be described as touristy. It is a perfect address for an aperitif or a Sunday brunch.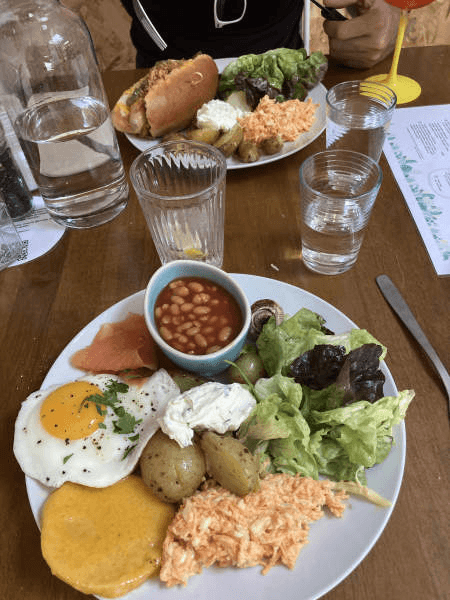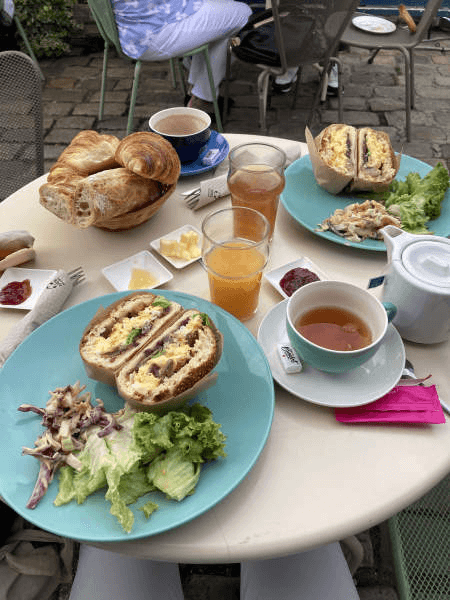 I picked up these great finds from the Globe Bloggers' article on Amiens. They also present other restaurants if you are interested. For your information, we went to see the restaurants Elisa and Break before deciding on the Robin Room. They didn't hold our attention, because although their food was appealing, we thought it was a shame to be served in plastic/cardboard containers. They are both caterers, cook in house and prepare all their dishes in advance. So you have to help yourself to the fridges when you arrive and they take care of the reheating if you eat on the spot. For the latter option I find that it creates waste that could easily be avoided.
Getting around Amiens
I've already talked about it a lot, but Amiens is an invitation to soft mobility. During our weekend we travelled by bike, boat and on foot. The city centre is almost pedestrianised and there are many cycle paths. So it's really very pleasant and easy. If your accommodation does not provide a bike, there is a rental system like in many cities today.
Moreover, the city benefits from an important bus network which allows, for those who prefer it or cannot travel by their own means, to use public transport. It is worth noting that buses are free in Amiens at weekends.
Extra info: the deposit
If, like us, you have to return your accommodation at the end of the morning and there is no possibility of leaving your luggage, I am happy to share our solution with you. Indeed, we wanted to continue our exploration but with the suitcases it is less practical. After several searches, we discovered that the Ibis budget Amiens Centre Gare also offers luggage storage. Moreover, it is, as its name indicates, only 5 minutes walk from the train station, so it is ideal to get your bag, catch the train and leave. It costs 6€ per bag.
I hope this article will make you want to come and spend a weekend in Amiens. Will you also pack your bags and discover this amazing city?