" Where are the sardines? The groundsheet is really not comfortable … Oh no, the tent is taking water! " Sometimes camping can be complicated and sleeping well in a tent can be a real challenge! What if we told you that there is a way to reconcile the comfort of a hotel and the proximity to nature of the campsite thanks to glamping? This is a great way to offer yourself an unusual night without compromising on your comfort! In this article, we take you to discover 9 glamping addresses in Europe , to give an atypical and original side to your next vacation, the time of one night, and more if affinities. Luxury glamping, by the sea or in the snow , there is something for everyone so follow the guide!
A little definition of glamping
Where does glamping come from?
If the origin of the word is difficult to trace, this neologism would have appeared in 2007 in Google searches of Internet users in the United Kingdom. In France, it will be necessary to wait until 2009 to see the term" glamping " gain popularity . But what exactly is behind this surprising word?
Glamping is the contraction of the words glamor and camping . It is a tourist accommodation that is closer to the campsite, while offering all the comfort and the chic side of a hotel room. Thus, you will find tents with a real bed and a bathroom, all in the middle of nature. You can also enjoy cabins perched in trees with heating and small kitchen or comfortable igloos perched on snow-capped peaks. Some establishments even go so far as to offer luxury glamping , an unusual experience, but with irreproachable comfort.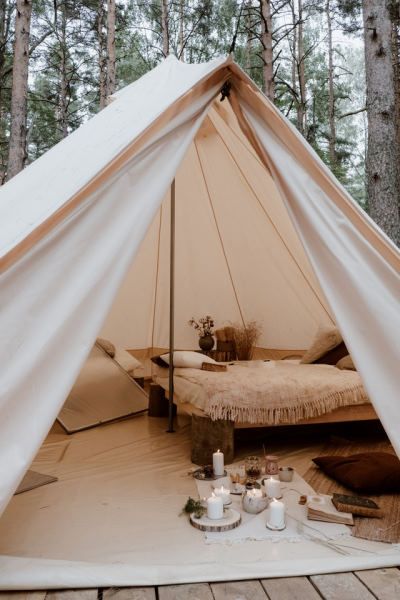 The "glampeurs" or followers of glamping are travelers who seek proximity with nature but without compromising on their comfort. adventurers looking for unusual accommodation and atypical experiences also favor this type of experience.
On the other hand, on the budget side, expect to pay the price of a hotel room rather than that of a campsite. However, the associated services justify the price.
How is this an ecological form of accommodation?
The glamping accommodations are not necessarily all eco-designed. However, the materials used for the structure of the house are often natural and renewable. In addition, glamping accommodations all have a limited impact on the ground compared to a hotel: no foundations, accommodations that are well integrated into their environment. A "glamper" Also often consumes less resources than a traveler in a standard hotel room .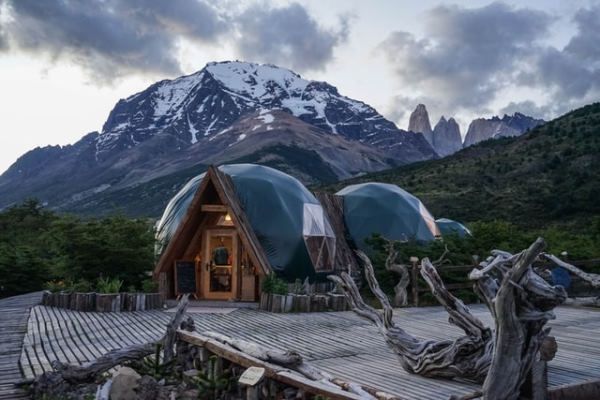 But the glamping accommodations listed on Ethik'Hotels go further! Heathered furniture, limitation of waste and highlighting of ecological activities , you will enjoy a complete ecotourism experience by choosing accommodation on our site.
Discover all our ideas for ecological activities for your next vacation .
You want to learn more about ecotourism ? Discover our file on the subject.
5 glamping addresses in Europe
So, are you tempted by the glamping experience? Good news, the Old Continent has no shortage of unusual and ecological accommodation for your next vacation . We have selected 5 addresses with very varied atmospheres.
Glamping in Portugal
Fancy sun and swimming? Direction Areias de Seixo in Portugal at this eco-friendly oceanfront hotel. Comfortable and nicely decorated glamping tents await you in this heavenly setting. You can occupy your time between visiting the vegetable garden, yoga sessions, relaxing in the spa and surfing lessons. What more could you ask for for an exotic and relaxing holiday?
Glamping in Belgium
The Domaine de Saint Roch , located in Couvin in Belgium, not far from the French border, offers you a night of glamping in a bubble on the water . You will be able to enjoy a peaceful sleep under the stars, rocked by the fauna of the pond and lit by the soft light of the Moon. Then let the first rays of the sun draw you naturally from your dreams in the early morning. So, are you tempted by this unusual experience which will certainly leave you with beautiful memories?
Glamping in Italy
Welcome to Tuscany! In addition to discovering the riches of this beautiful region of Italy, why not try the glamping experience? Agriturismo Biologico Sant'Egle you accommodates in 2 impeccably furnished luxury tents . Recycled furniture, a relaxing atmosphere, what more could you ask for to spend beautiful, restful nights? In the morning, you will be ready to explore the picturesque villages of the region, go hiking and enjoy the delicious Italian cuisine.
Glamping in Switzerland
With a splendid view of the steep peaks, come and sleep in one of the comfortable igloos of Whitepod . Summer and winter, you can enjoy mountain activities and find the comfort of your little warm cocoon at the end of the day . Wooden furniture, comfortable bedding, pellet stove, all you have to do is lie down and enjoy your holidays in the heart of the Alps.
Glamping in Finland
Igloos designed to observe Finnish nature from the comfort of your bed, a hot cup of tea in your hand, isn't that the dream? This is what offers Magical Pond , a hotel located near the ski resort from Ruka in northern Finland. Northern lights in winter or midnight sun in summer , you won't miss any of the extraordinary spectacle of nature in this luxurious glamping spot.
Fancy a refreshing swim in salt water? Discover all our tips for an ecological holiday by the sea.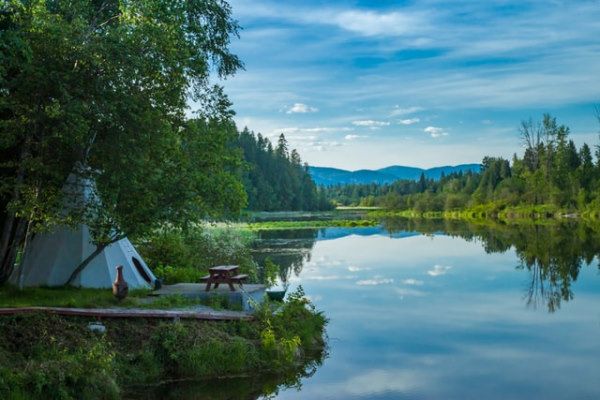 4 glamping camping addresses in France
The Hexagon is no exception when it comes to luxury camping . We share with you 4 French addresses for a change of scenery for a weekend or a longer getaway.
Glamping in the southwest at Maison du Lac
La Maison du Lac welcomes you near Montauban in an old renovated farm. You will have the opportunity to test glamping in a 15 m² tent with heather furniture. The experience would not be complete without the bathroom in the heart of nature with solar shower, dry toilet and water reserve. As for activities, take advantage of the nearby lake to fish or participate in a zero waste or cooking workshop offered by your host.
Discover all our advice for zero waste holidays easy and hassle-free!
Glamping near Île-de-France
To get away from the capital for a weekend, come and discover the Brévedent campsite located between Caen, Le Havre and Rouen. You will be able to sleep in a fully equipped tent for 4 people with real beds, something to prepare breakfast and a hammock to relax and watch the stars. Visit the permaculture vegetable garden, participate in a vegetable ink workshop or treat yourself to a massage to fully relax in the heart of Normandy nature.
Glamping in Auvergne
Fancy a glamorous camping experience facing the Puys mountain range & nbsp ;? Treat yourself to a stay at Bois Basalte and choose your cabin: Latite, Olivine or Tuf. The last one is actually a circular tent mounted on a terrace, available from June to September. As for activities, enjoy the sauna, a massage session or rent bikes to explore the exceptional natural setting of the surroundings.
Glamping in Provence
On the heights of Nice, discover Casa Sallusti and its Babel eco-lodge, a modular luxury tent according to your needs. In family mode with a living room and a bedroom or in dormitory mode for up to 8 people, the choice is yours! Two bathrooms and a kitchen are at your disposal outside, all to spend an exotic holiday in the heart of nature. To complete this authentic experience, take advantage of the natural basin and the permaculture vegetable garden.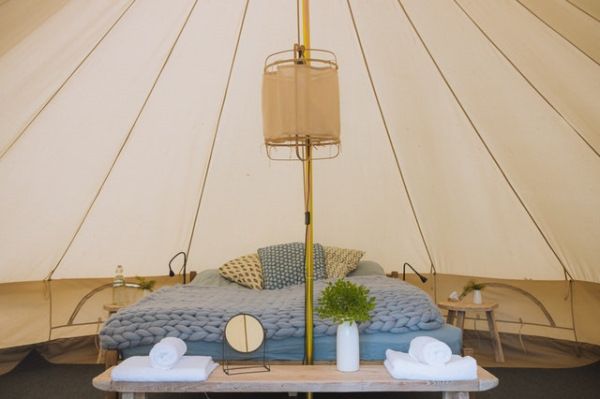 Now you have some ideas for your next glamping trip to Europe & nbsp;! Did this article make you want to try out this camping mode in complete comfort? Tell us in the comments!
Continue reading for even more unusual accommodation ideas by discovering our addresses at eco-lodges in Europe.