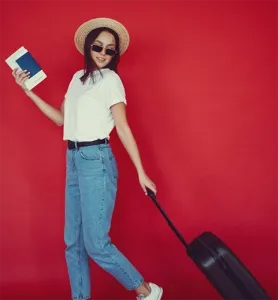 I can already see you coming " I remind you that we can't travel, we're stuck at home! ». And you are right. Physically indeed it is quite restricted, but the journey also happens in the head. Why do you think I like to organise my own trips so much? Because the 3 or 4 months before leaving, when I define the itinerary, select the things to see / to do, look for our Ethik Hotels and well, figure it out, it gives me the impression to have already left ! My head is already there, and it feels great.
Are you ready to travel differently ? I'll take you in my suitcase? 1st destination: your TV! If I assure you, come on!
Here are the shows I recommend you and that will make you travel every time.
The ones I watch
The one I don't look at
For lack of time I can't look at everything but there are others. It's up to you to choose the one(s) that will make you dream the most.
Historical issues
Your suggestions
Not all of these programmes will be on this week, unfortunately. However there are plenty of videos available on the internet: Google is your friend. So go ahead, travel! And even though the human link is missing, we can't be blamed for not travelling sustainably. In any case, I'm sure it will give you lots of ideas for your next holidays!
And you, do you travel from your couch with these programmes? Do you know others?
Next stopover, next week, same place!