Looking for Italian Dolce Vita, Mediterranean sunshine and all-you-can-eat pasta and gelato? Why not cross the Strait of Messina to Sicily for your next vacation? This southern Italian destination offers an ideal blend of culture and nature, adventure and idleness, for a memorable and unique getaway. The island's exceptional sites are ideal for slow tourism, inviting you to take your time and make the most of every moment. Budget, transport, accommodation, itineraries and visits: discover a complete guide to organizing your 15-day road trip in Sicily.
When to go to Sicily?
Sicily's mild weather makes it an ideal destination for year-round travel. However, we particularly recommend autumn and spring to avoid the crowds and heat.
Winter can also be a great season if you're looking for a peaceful vacation. Note, however, that it will be difficult (if not dangerous) to climb Mount Etna during this season.
What's the budget for a road trip to Sicily?
The cost of living in the south of the Grande Botte is more affordable than in France. However, Italy is still a European destination, so a certain budget is required. You can expect to pay at least €1,000 per person, all-inclusive, for a 2-week road trip in southern Italy if you opt for a very frugal trip. For a holiday with several paying visits, a few restaurants and charming accommodation, aim for a budget of between €1,500 and €2,000 per person.
To keep the price down, remember to go in low season! Accommodation and transport are cheaper outside peak periods.
What itinerary for a 15-day road trip in Sicily?
A 2-week road trip in Sicily will give you plenty of time to explore the region's must-sees and tour the island without rushing. In particular, plan to visit :
Allow between one and 2 full days at each of these sites. If you have more time, you can extend your trip to discover the Aeolian Islands, accessible by ferry from Milazzo. Allow 1 h 25 to Vulcano and 2 h to Lipari, the 2 main islands of the 7 in the archipelago.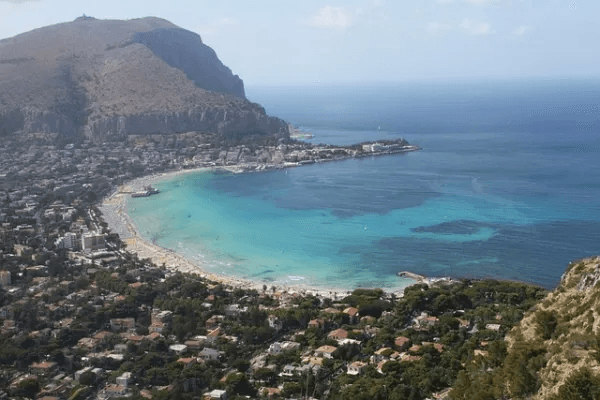 How to get to Sicily
By train
The good news is that reaching Sicily by train is possible, and can be a superb adventure! The journey from Paris takes around 22 hours, divided as follows:
7 hours by train between Paris and Milan (operated by SNCF or Trenitalia, the Italian rail company);
3 hours between Milan and Rome;
12 hours by night train between Rome and Syracuse. Don't forget to set an alarm clock for the unique experience of seeing the train board a ferry before crossing the Strait of Messina.
Also worth reading: discover 6 sleeper train trip ideas in Europe to experience at least once in your life. The night train between Rome and Sicily is one of them!
As far as fares are concerned, you can expect to pay around €250 for a round trip, if you book your tickets at least 3 months in advance. The price can go up if you take a more comfortable cabin for the night train. However, the fare remains relatively competitive compared with air travel, given that you save on 2 nights' hotel accommodation (one on the outward journey and one on the return).
By plane
If you're in a hurry, allow 2 hours 30 minutes for the flight from Paris. Direct flights to Sicily take you to Palermo or Catania.
However, for this type of journey, where there is no alternative, we can only advise you to take the train to limit the carbon footprint of your trip!
Also read: How to choose the right transport and reduce your carbon footprint on vacation?
Where to stay in Sicily?
Book part of your Sicilian stay at Casale Romano di Alefe, an eco-friendly hotel close to Mount Etna, nestled in the heart of nature. Discover a vast 10-hectare estate, where olive, walnut, orange and lemon trees thrive between Mediterranean sunshine and fertile volcanic soil. Comfortable rooms, romantic suites or country houses for rent: Sicilian accommodation to suit your every need.
Don't forget to book a table at the restaurant to discover delicious Sicilian recipes, prepared in part with produce from the organic farm. Last but not least, a beautiful swimming pool and a wellness area will provide you with a relaxing break during your road trip in Sicily.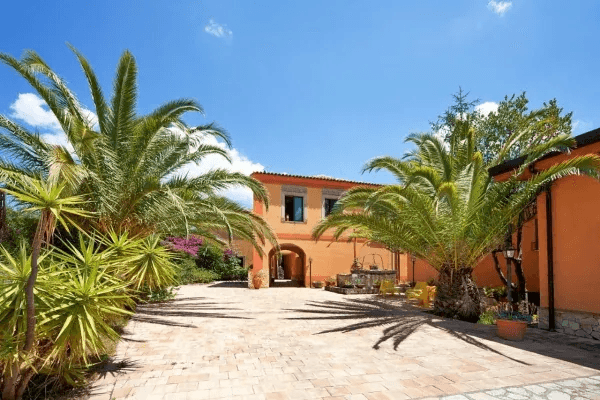 Book your stay at Casale Romano di Alefe.
What to see in Sicily
Sicily has a wealth of attractions not to be missed during your stay on the Italian island. Between nature and culture, treat yourself to a memorable vacation under the Mediterranean sun.
Palermo
The island's culturally rich capital is well worth a visit, and is an ideal starting point whether you're coming to Sicily by train or by plane.
Discover the city's architectural and historical treasures:
the Capuchin Catacombs, a deeply moving visit;
To treat yourself to delicious Italian produce as soon as you arrive on the island, head for the Ballaro market!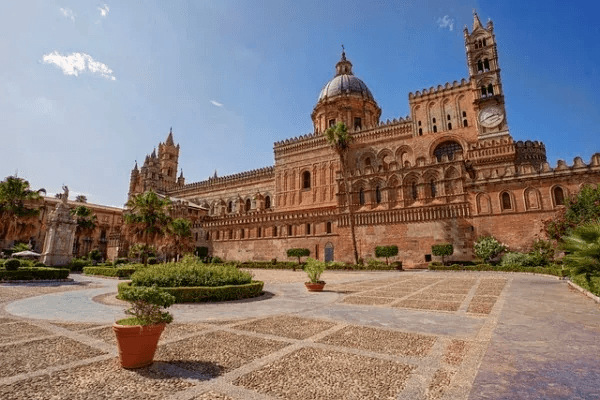 Zingaro Nature Reserve
Between San Vito Lo Capo and Scopello, discover the Zingaro nature reserve. This little paradise of nature is ideal for beautiful hikes. The best-known path runs along the coast, giving you access to beautiful, unspoilt coves that open onto crystal-clear blue waters. Don't forget your bathing suit!
If you're lucky, you may come across some rare endemic species, such as the Peregrine Falcon and other nesting birds.
Erice
Erice is the face of authentic Sicily. This small medieval village perched high in the hills can be reached by cable car from the town of Trapani, or by a lovely winding road if you have a little more time.
On the spot, don't miss the castle, the church and the magnificent viewpoints that allow you to embrace the region with your eyes, from the sea to the mountains of the hinterland.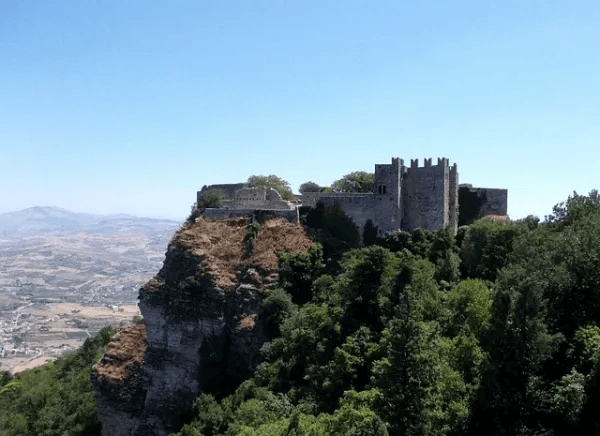 Agrigento
Agrigento is a city with a rich past dating back to antiquity. Be sure to explore the Valley of the Temples, an archaeological site with fascinating ancient ruins. To complete your visit, take the time to discover the regional archaeological museum. This will give you an insight into the past of Agrigento, one of Sicily's oldest cities.
Scala dei Turchi
This exceptional natural site offers a unique landscape with a magnificent beach and staircase-like cliffs of pristine white limestone. For a magical moment, visit the site at sunset: the colors are magnificent. To preserve this fragile site, don't climb the cliffs, and respect the signs on the spot!
Siracusa
In southeastern Sicily, take time out to visit Syracuse. This city, founded by the Greeks, promises a journey back in time. Don't miss the remains of the Greek theater, Apollo's temple, the Arethusa fountain and the Roman amphitheater. These marvels have earned the city UNESCO World Heritage status.
Etna, the famous volcano
It's impossible not to mention Etna on a road trip to Sicily. Plan to spend at least 2 full days in the Etna National Park to enjoy its incredible desert landscapes.
The volcano is still very active: perhaps you'll even have the chance to see it erupt?
Most visitors climb to the summit of Etna when they come. At 3300 metres, it's the highest volcano in Europe!
To reach the summit, start by driving up to the Sapienza refuge at an altitude of 1,900 metres, before taking the funicular up to 2,500 metres above sea level. The funicular ride is quite expensive (€30 round trip), as the site has to be regularly renovated following the volcano's eruptions.
Afterwards, a minibus takes you up to 2900 meters above sea level, from where you can reach the summit on foot. We advise you to hire a guide if you intend to climb Etna, as finding your way around in fog can be particularly tedious as you approach the summit.
In any case, make sure you wear warm clothes and good footwear, as the temperature at the top of the volcano is cool all year round.
Numerous other hikes allow you to admire the majestic volcano from every angle.
Taormina
Not far from Mount Etna, high above the Catania plain, stop off in Taormina. This Italian town is home to some beautiful churches and a splendid cathedral. But it's above all for the view of Etna and the coast with the Isola Bella Nature Reserve that the city is worth a visit.
From the Piazza IX Aprile, admire a magnificent sunset over the surrounding area, a panorama you'll remember for a long time.
Catania
Catania, a dynamic and festive city, is famous for its volcanic stone buildings. Don't miss the Roman amphitheater, Castello Ursino, Fontana dell' Elefante and Piazza del Duomo.
Cefalu
Finally, Cefalu rounds off this 15-day Sicilian road trip in style. This town is the quintessential Sicilian postcard. A charming little village on the waterfront with a beautiful sandy beach: this is what awaits you here. The town is a victim of its own success, and often crowded in summer. If you really want to make the most of it, don't forget to visit in the off-season.
Book your eco-friendly accommodation in Sicily now and discover the nuggets of this Italian island!
Image by Peter H from Pixabay
Image by Sebastian de Pixabay
Image by Sam Williams from Pixabay
Image by Depistotele from Pixabay
Image by DonnaSenzaFiato from Pixabay
Image by Leszek Hus from Pixabay