Blog / The problem of plastic bottles
The problem of plastic bottles
octobre 07, 2022
As you must have seen, the first criterion that we put forward is the possibility within the accommodation to fill our gourds. Indeed, when we count the number of plastic bottles we consume because the tap water is not drinkable, it's scary. In any case it scares us.
A few figures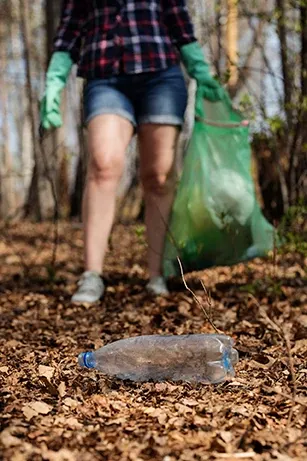 Pour se rendre compte du marché que cela représente nous sommes obligés d'en passer par quelques chiffres, désolés :
En 2016, plus de 8 milliards de litres d'eau en bouteille ont été consommées en France (1)
Dans le monde, c'est 480 milliards de bouteilles en plastique qui sont achetées par an avec une majorité de bouteilles d'eau (2)
En France seule 58% de ces bouteilles sont recyclées… (3)
A computer graphic produced in 2017 by France Nature Environnement sums up the problem for France perfectly well. You only have to transpose it to a global scale to realize that it is not only a problem, it is a scourge for our planet and therefore our future. I invite you to discover it on their website.
The solution to adopt on a daily basis
For our part, our gourds are with us every day. It is unthinkable for us to buy water in a plastic container when we know that it is safe to drink from the tap. What's more, some brands are supplied from the same water table…
So it's really difficult for us to resume the massive purchase of plastic bottles when we're abroad. Why do in other people's homes what we refuse to do at home?
How can we do abroad to keep this good habit?
Fortunately, initiatives exist and deserve to be highlighted to be aware of them before leaving:
Some hotels propose, when the water of the country is not drinkable, filtered water or bottles to fill our gourds. You will already find many of them on our site.In Cambodia we have discovered an association called Refill Not Landfill which lists the refill points for water bottles. They also propose to these different recharging points to sell their own water bottles with their logo.An application called RefillMyBottle (available on Applestore and Playstore) lists the places in the world where it is possible to refill a water bottle, when the tap water is not drinkable. This avoids buying bottled water.And you are already a member of the team, never without my water bottle?Or are you ready to take the plunge when reading this article? If so, tomorrow, we offer to help you in your approach. Stay Tuned…
Sources :
https://eaumineralenaturelle.fr/qui-sommes-nous/leau-minerale-en-chiffres
https://www.lesechos.fr/2017/07/les-chiffres-dementiels-de-la-consommation-de-bouteilles-en-plastique-dans-le-monde-175073
https://www.recygo.fr/blog/dossier/recyclage-bouteilles-plastiques
Image by Hans Braxmeier of Pixabay
Translated with www.DeepL.com/Translator (free version)