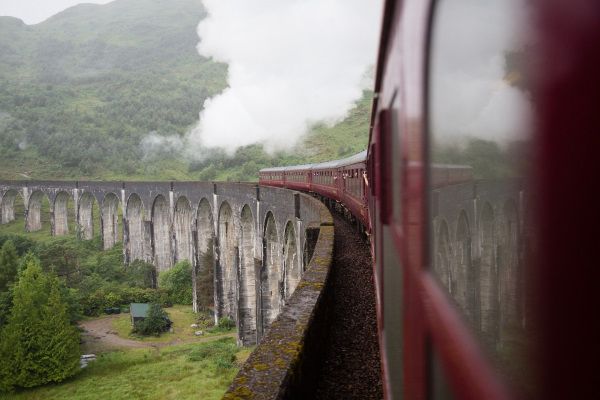 Travel by train is more than a journey, it is an adventure in itself. A moment that is an integral part of the journey. It's an opportunity to let yourself be carried away, to enjoy the landscape. We have neglected it for a few years, but today Marie, who wrote this article, gives you some tips on how to reclaim it when possible.
Updated on June 18, 2021
Some time ago, we talked to you about air travel and its ecological impact. While it is difficult not to fly for long journeys, it is easy to replace domestic flights with other alternatives, such as the train. While we often think of using the train for travel within a country, we still tend to prefer flying or driving for longer distances.Yet many European countries have invested in developing rail lines across the continent, making large parts of the country more accessible to everyone.Today, we wanted to show you the possibilities of travelling across Europe by train.
Is the train an ecological means of transport?
Night trains, the future of travel?
Where to buy train tickets for Europe?
The best ways to buy your train tickets
The future of the train in France, the opening to competition
Is the train an ecological means of transport?
When we talk about the ecological impact of a journey, we are talking about the CO2 footprint of the journey. This represents the amount of greenhouse gases emitted by the means of transport as a result of its energy consumption. The main greenhouse gas is carbon dioxide, coupled with other gases (methane and nitrous oxides). It is the amount of these gases emitted that is measured and expressed as CO2equivalent (or CO2e). Greenhouse gases are mainly emitted by the combustion of fossil fuels.In the case of a train journey, the amount of CO2e is calculated by the number of kilometres travelled multiplied by the average amount of CO2e emitted by a passenger. The CO2e footprint of the journey is expressed in grams of CO2e per passenger per kilometre:
Gram of CO2e/trip.km
In 2019, trains in France carried 102.2 million passengers over 43 billion cumulative kilometres. Compared to equivalent car journeys, this use of rail transport saved 2.1 tonnes of CO2e emissions. On average, a passenger who chooses the train over the car would produce 30 times less greenhouse gases. The difference is even greater when travelling by air. For example, over the Paris-Amsterdam distance, the ecological footprint of a user taking the train is about 12 kg CO2e/Km compared to 242 Kg CO2e/Km for the plane.Although the train is not perfect, it is currently the most ecological means of motorised transport.
Night trains, the future of travel?
The night train was historically very well established in France and in Europe. But from the 1990s onwards, unfortunately, many lines were closed down because they were attracting fewer and fewer passengers. Indeed, they turned to the plane, which offered significant time savings. However, as we will discuss below, many countries are now investing in night train services again. The aim is to enable travellers to cover long distances while minimising their ecological impact.
First of all, some figures
The night train in Europe is :
20: the number of countries currently served
10: the number of European companies willing to let you travel at night
19 euros: the price of the first tickets
60: the number of lines that historically existed in France
2: the number of night train lines still managed by SNCF
4.7 million: the budget released by Sweden to relaunch night trains
170 million: the investment made by the Caledonian Sleeper company to carry out improvements on Scottish territory.
Why travel by night train in Europej?
If the night train was destined to disappear, why should we take it back today?
Ecological: First of all, as we have seen previously, the ecological impact of the train is very low. In a green tourism approach, it is therefore preferable to use it when we have the possibility.
Economic: A night train journey is not necessarily more expensive than a traditional journey. It can even replace a night in a hotel. In addition, reclining seats are cheaper than sleeping cars.
Safe: Some trains have women-only carriages, such as the SNCF's Intercités or Thello trains. This option is not compulsory but is offered at the time of booking.
Comfortable: Travelling by night train ensures a certain comfort thanks to the sleeping berths which many trains are equipped with.
Apart from these advantages, travellers who have taken a night train describe it as a unique experience. Imagine falling asleep at night in Paris and waking up to the snow-covered Pyrenees or a new country outside your window.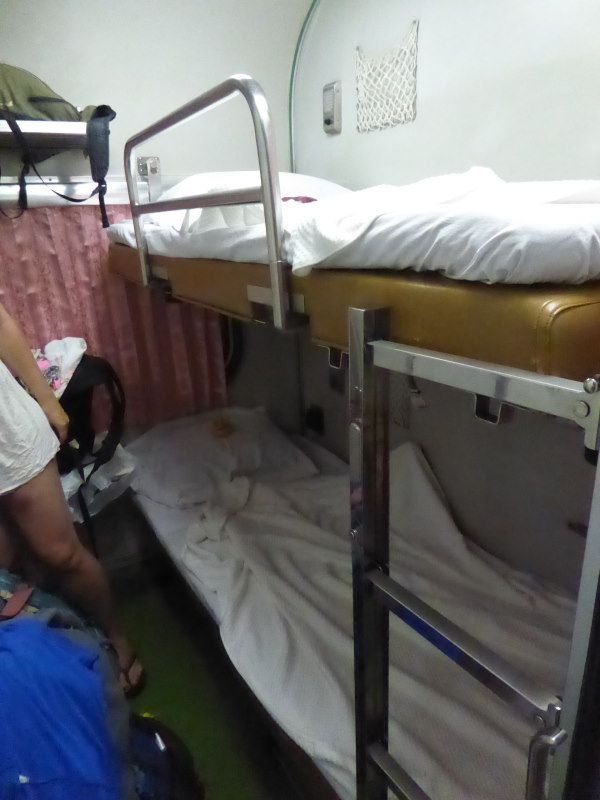 Companies across Europe
The hardest part of travelling by night train is finding the right company to take you. A train may pass through a country but may not be run by the company in that country. For example, the Paris-Venice night train cannot be found on the SNCF website because it is run by Thello.If you take the time to search the internet, you will always find what you are looking for. And, to save you some time, we have listed the main companies in Europe and the countries in which they are located.
CompanyCountrySNCFFranceRenfeSpain & PortugalTrenitaliaItalyItaloItalyThelloFrance et ItalyEuronightEastern Europe (Hungary, Czech Republic, Russia)ÖBBNorthern EuropeDeutsche BahnNorthern EuropeCaledonian SleeperScotland and neighbouring countriesRussian RailwaysRussia
Where to go by night train from Paris?
Often people turn to the car or plane because they don't know that some trains exist. There are more night train lines than you might think. To illustrate this, we wanted to show you the different night trains currently departing from Paris:
Briançon (Hautes-Alpes) with SNCF
Occitania (Cahors, Albi, Ax les Thermes, Argeles) with SNCF
Italy (Milan and Venice) with Thello
Moscow (via Berlin and Warsaw) with SNCF or Russian Railways
Brest (Brittany) euros with SNCF (Warning: TGV not labelled night train, no couchette, only reclining seats and only on Sunday evening)
Commitments for the future
At the end of 2020, four companies (the SNCF, the German Deutsche Bahn, the Swiss Federal Railways and the Austrian ÖBB) committed themselves to opening 26 night train lines by 2024. The first of these should open in December 2021, including the Paris-Munich-Vienna line. Their main objective is to develop a sustainable means of transport
sustainable
accessible to all budgets
allowing Europeans to discover the continent.
France is not to be outdone, since on 31 January 2021, the Minister of Transport, Jean-Baptiste Djebbari, presented a project for the development of night trains on French territory. The aim is to have a dozen lines in circulation by 2030. Two lines should see the light of day before 2022 from Paris. One to Nice, the second to Tarbes.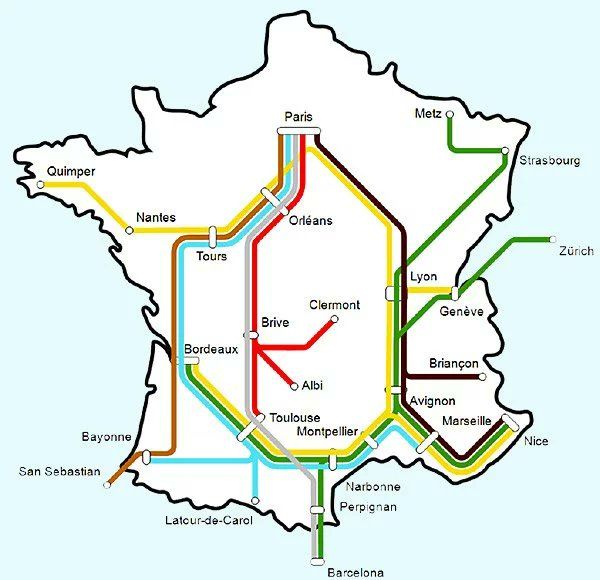 Where to buy train tickets for Europe?
Once you have decided where you want to go and how you want to get there, it is not always easy to find out where to book your ticket. When travelling abroad, the most difficult thing is to find the company that operates the route you want to travel on. For night trains you can refer to the list above. However, for day trains the list is long, so please check the European companies here. The easiest way is always to book directly with the company. On the Oui.Sncf website you will nevertheless have the opportunity to book your Eurostar (to go to London) or Thalys (Belgium, Netherlands) tickets.
The best ways to buy your train tickets
There are a few tricks to reduce the bill and/or save you time. Here they are:
Buy cheaper with the SNCF
Did you know that you can save money when you buy tickets with the SNCF?
It's not always possible, but when you can plan your holiday in advance, it can have a big impact on your travel budget. The SNCF opens its ticket sales 4 months before the date of travel. By booking at this time, it is possible to buy the ticket at up to 50% off the last minute sale price.
By being flexible on the time of day, and having the possibility to travel at off-peak times, it is also possible to make significant savings.
If you travel regularly, the SNCF offers a number of season tickets and discount cards that will quickly enable you to pay less for your journeys.
Interrail eurail
We don't always have the time to search for the different train companies to book the right tickets for our trip. Interrail eurail offers to take care of all this research.They are a company founded in 1972 offering ticket sales for travel to many countries across Europe. They have won the National Geographic Traveller 2019 Readers' Choice Award in the rail category.They offer several passes to choose from ranging from a single country pass to a full pass allowing unlimited travel across 33 countries. While this sounds like a great deal, it should be noted that there can sometimes be additional charges for high speed lines or night trains.They have a mobile app available to help travellers plan their journey more easily.While using Interrail eurail is a convenience for travellers as it saves time when booking, it is not necessarily the most economical way to travel. As mentioned above, there may be additional charges on some journeys. And there is a service charge for administrative costs of €2 per person per train.
To go further, discover our weekend ideas in Europe.
The future of the train in France, the opening to competition
In 2020, the French government took the decision to open up the rail market to players other than the public service.
Rail Coop was born
Rail Coop is a project that aims to develop rail mobility in France by bringing together citizens and professionals in the sector. Their aim is to develop an innovative transport offer adapted to all and especially to the needs of all territories.According to Rail Coop, 90% of French people live less than 10 km from a station, but in France, 30% of existing stations are not served. Apart from developing new lines, their primary aim is to exploit what already exists. They aim to run their first trains in 2022 on the Bordeaux-Lyon line.Without public subsidies, Rail Coop exists thanks to its members. There were 32 members at the time of its creation, and today there are more than 7,000. In addition to providing financial support for the projects, these members also have the opportunity to take part in discussion groups on Rail Coop projects.
Midnight Trains
In 2024, Midnight Trains will also swell the ranks of proposals for traveling by train. The idea here is to offer the same experience in a night train as in a hotel. That is, combining the comfort of a hotel room and the convenience of traveling while sleeping and respecting the environment.
The goal is to serve, from Paris, several European capitals: Rome, Porto, Berlin, Copenhagen
Neglected to the detriment of other means of transport in recent years, the train is now experiencing a revival. As a key element in ecological development, this means of transport is at the heart of projects for the future of many regions. Numerous possibilities are therefore being put in place to enable us to travel across Europe and these will be multiplied in the years to come.
Do you already travel regularly by train or can this article change your mind to limit your environmental impact?