Once you have decided to go to the Big Boot for the holidays, there is still a little work to be done to organize your stay. Whether you want to spend it in the same place or organize a road trip, you will have to think about your travels. And whether it is to go shopping or discover the surroundings, it is always necessary to anticipate the means of transport. So you will not escape the eternal question: How to get around Italy? We have drawn up for you an overview of the solutions available to you.
Traveling in Italy by car
Thanks to our article to prepare a road trip in Italy (or not!), you have completed your program. And it is decided it is by car that you will discover the dolce vita. Here is some information to know before you go.
Car rental in Italy
You arrive by train or plane and to get around you will have to rent a vehicle. We already recommend that you compare the offers of all rental companies at your destination on Carigami.
An important point to check is that you are in possession of a credit card and therefore deferred debit in the name of the driver. Renters only accept this type of card because it allows them to block a reserve of money for the deposit. If you have a debit card, and therefore immediate debit, the lessor may ask you to take out insurance. Keep this information in mind because it can drive up the bill.
Before leaving, as with any rental, take a tour of the vehicle. Indicate on the contract any damage already present on the car, if applicable. And to be on the safe side, take pictures.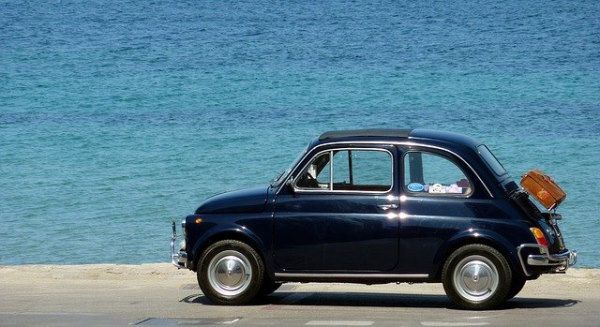 Italian road network
The Italian road network is good and dense. This makes it easy to reach your next step. In some areas, you may still come across potholes on secondary roads, so be careful.
Like everywhere in the world, I want to say, the outskirts of large cities can be very crowded.
To find your way, "Autostrade" means highways. They are marked with green signs. As in France they are paying but a little less expensive and you must bring a ticket at the entrance. The nationals are called Strade statale and indicated with blue signs.
Limited Traffic Zone
ZTL stands for "Zona a Traffico Limitato", in English "Limited Traffic Zone". Expect to come across them often during your trip, this is a particularity of large Italian cities. It is also one of the biggest sources of fines for travelers by car.
ZLTs are areas where traffic is controlled in city centers. Access to certain streets is therefore restricted. Only residents or deliveries are allowed to go there.
Do not try to defraud because cameras are installed at the entrance of each area and you will be fined. If you have a rental car, the rental company will forward the ticket to you. The amount of the latter varies between 80 and 300 € depending on the city.
GPS does not always report them. We therefore invite you to locate this sign and be careful not to enter the area.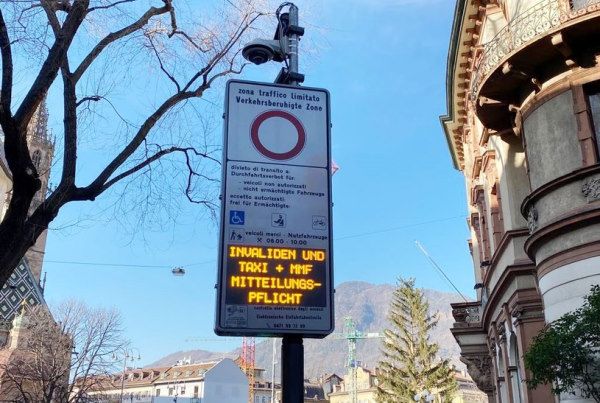 Main rules for driving in Italy
First of all, know that your French license is also valid in Italy. So there is no need to do any special administrative procedures. For the rest, here are the main rules to follow when driving on Italian roads.
Speed limit
Urban area: 50 km / h
Outside town: 90 to 110 km / h depending on the road
Motorway: 130 km / h
These limitations are given as a guide therefore signs may indicate lower limits. In addition, as in France there are additional restrictions in the event of rain: 90 km / h on the national roads and 100 km / h on the highways.
Parking
The parking spaces are delimited by colored lines which indicate their status:
Blue: paying
White: free
Yellow: reserved for residents, disabled or taxis
Alcohol level
The maximum blood alcohol level is 0.5 mg / ml. However for young drivers, less than 3 years of license, it is zero tolerance (0.0 mg / ml).
Legal obligation
Right-hand drive
Wearing seat belts for all passengers
You must switch on continuously, whatever the time of day or night , dipped beam headlights
Safety vest, triangle as well as the first aid kit are compulsory
How to get around Italy without a car
Take the train in Italy
The Italian train network is very comprehensive and makes it easy to reach the different regions and main cities. As in France, there are high-speed trains that can go up to 300 km / h and regional trains serving secondary cities, which are slower. Remember, except for e-tickets, to stamp your ticket before getting on. Otherwise you could be fined.
To consult and book your train tickets, go to the website of the Italian company Trenitalia.
To find out more, read our article on vacations by train. We give you an idea of a holiday in Italy accessible by train from France.
The Italian bus network
It is also very dense and allows you to reach the main cities and the northern and southern regions easily and at a limited cost. The bus also allows you to reach towns and villages not served by train.
There are 5 main bus companies in Italy: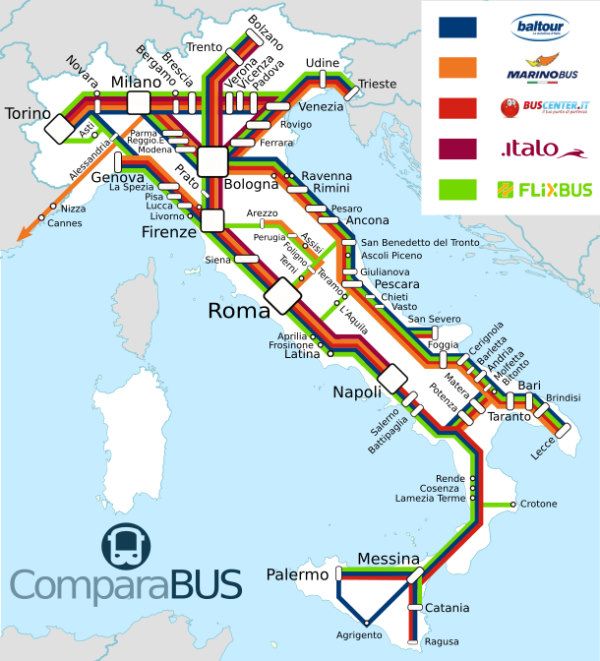 Italian domestic airlines
When the travel times are too long or the connections complex and interminable, it is sometimes much easier to fly. Italy has many international and national airports. This makes it possible to offer a wide range of domestic flights.
The national company is Alitalia which is part, as well as 'Air France and KLM, of the Skyteam network. There are also regional companies like Air Dolimiti , Blue Panorama … the easiest way is to use a flight comparator which will tell you the company that serves your route.
Getting around by bike in Italy
Car traffic being limited in cities, it is easy and common to get around by bicycle. Some trains accept the transport of bicycles, to find out more about timetables and prices, go to the dedicated page of the Trenitalia site .
Outside the cities it seems that the north is more conducive to cycling trips. You can for example follow the bike route of the Po valley and the Euro bike 8 – Mediterranean cycle route .
We are not cycling vacation professionals, if you want any information check out the Elk & amp; Cloudberry. They give a lot of advice including the list of essential equipment for traveling in bicycle.
2 wheels, the symbol of Italy
When you think of Italy, do you also think of Vespa in the narrow streets of Rome or hair in the wind on the Amalfi Coast? In any case, we are. And, despite the risk of falling into the cliché, some Italian regions lend themselves well to this type of trip.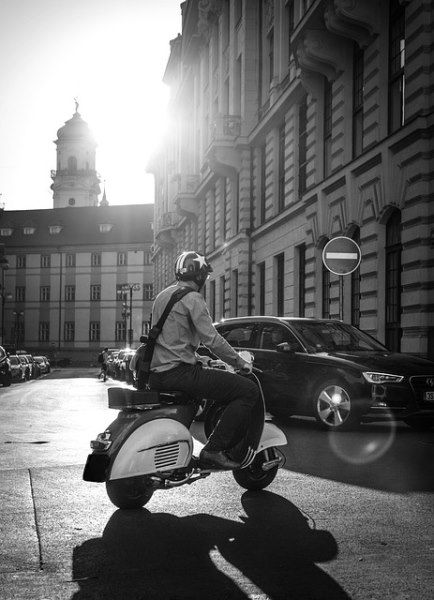 It is very easy to find a two-wheel rental company in cities and tourist areas. As with the car, be careful with the contract, insurance and the condition of the vehicle. As in France the helmet is compulsory, do not forget to rent one with your mount.
How to get from Italy to the islands?
There are many islands in Italy, such as wind turbines, Capri, Sardinia … We cannot name them all here. However, they are all particularly beautiful. They are ideal destinations for vacations.
The luck to be able to take advantage of it is that you will not have to take out the oars. They are all very well served by a network of ferries and boats. You have to inquire precisely according to the island you choose and find the corresponding provider. In the meantime here are some of the most important ferry companies:
Italian taxis
The official taxis are white with a plaque on the roof with the writing taxi. If when you get into the car you see that there is no meter, negotiate the price before departure. this will avoid unpleasant surprises on arrival.
Train stations, airports and places of interest often have taxi ranks nearby. In any case, drivers are not normally allowed to stop in the middle of the street if you call them. So remember to bring a taxi number from the city you are going to if you know you will need it.
Uber is also very developed in Italy if you prefer to use your mobile app.
Italian public transport
Apart from Venice where you will travel by Vaporetto, all Italian cities have a very good public transport system. Depending on the city, you will find a metro, a tram and / or buses.
Tickets must be purchased upstream and composted on the way up. Otherwise, once again, you may be liable for a fine. To buy the tickets, you can do it in:
a distributor or a counter in the train station or bus station in the city
metro stations
tobacco shops
Finally, if you plan to travel a lot or stay a long time, don't forget to check out the 24-hour or multi-day passes offered in your destination. This may be more financially advantageous.
To go further, see our article on the organization of an eco-responsible road trip .
We're done with this roundup. We hope we have provided you with the necessary information. Tell us now how do you plan to get around Italy during your next stay?