Do you dream of spending an eco-responsible vacation in France that's full of adventure and rejuvenation? But apart from visiting your grandparents in the countryside, you lack inspiration for greenwashing-free travel? Good news: you're in the right place! We have prepared a selection of 6 accommodations in France that combine sustainable tourism and unforgettable experiences. Your next eco-friendly stay in France is waiting for you!
Some keys to an ecological stay in France
Choose your mode of transportation carefully
With nearly 75% of tourism emissions linked to transport, the mode of travel is the first crucial criterion for an ecological holiday in France. Even if you stay in France for your vacations, the carbon footprint can quickly increase with the number of kilometers you travel. It is therefore important to choose your transportation carefully!
Let's take the example of a trip from Paris to Nice (source: Impact CO2):
By plane, you emit 158 kg of CO2e for a one-way trip to Nice from Paris;
By car, count 101 kg of CO2e per person (based on 2 travelers in the vehicle) to cover the 930 km of road that separate the 2 cities;
By bus, the carbon impact of your trip amounts to 27 kg of CO2e;
By train, you emit only 1.77 kg of CO2e for this trip.
So, for a low carbon footprint trip in France, prefer the bus and the train to get to your place of stay. If you have to take the car, try to fill it up as much as possible to limit the impact per person by offering carpooling to other travelers.
Read also: discover our guide to go on a car-free vacation.
Favoring low-carbon activities
Yes, for an eco-friendly vacation, it's best to avoid jet-skiing, motorboating or quad biking. Instead, opt for activities without motors and requiring little infrastructure. This will limit the carbon footprint and the excessive concrete development of certain tourist areas.
Don't worry: there are still plenty of activities you can do on your vacation. Hiking, biking, kayaking, sailing, surfing, paddling, yoga: there are plenty of examples!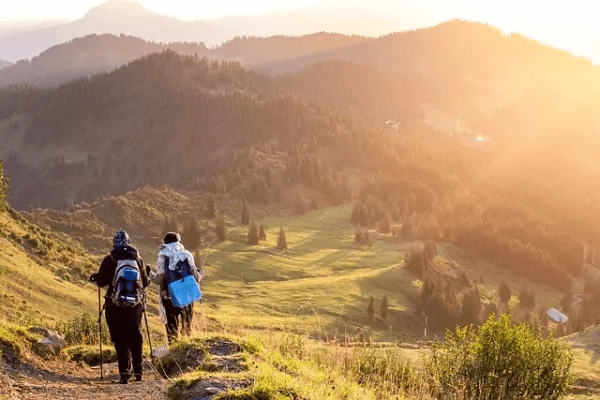 Discover our 25 eco-friendly activity ideas to keep you busy without polluting on your next trip.
Keep your good ecological habits of everyday life
If you are already used to reducing your meat consumption or limiting your amount of waste, then try to keep your good habits during your vacation.
The advantage of going to France is that you shouldn't have too much trouble keeping up the momentum. Don't put too much pressure on yourself if you can't find a store that offers bulk food or if the restaurant you choose doesn't have a vegetarian option: the important thing is to do your best!
Book an eco-responsible accommodation
When you're on vacation, you don't have much control over how you heat your home, how much food you eat or how much water you use. The solution to ensure that you don't contribute to the overconsumption of resources: book an eco-friendly accommodation for your trip!



  L'info en plus !




Ethik & Trips propose une base de plus de 200 hébergements engagés dans la limitation de l'impact carbone du tourisme et la préservation des ressources. Chaque établissement met en place son lot d'actions engagées : réduction des déchets, éco-conception des bâtiments, habitats légers, restaurant proposant des plats végétariens à base de produits locaux, etc.

In the following article, discover 6 addresses of ecological accommodations in the 4 corners of France, to prepare your next ecoresponsible vacations.
6 addresses of ecological accommodations in France
For all desires, all budgets and all over France, discover 6 examples of committed tourist establishments!
#1 Au 46, vegan and organic bed and breakfast in Finistère
Discover 3 charming rooms fitted out in an old renovated ballroom. Spacious and welcoming, they can accommodate up to 4 people. The beds are made to measure in Quimper, the linen is made in France and the cosmetics are organic and natural. The icing on the cake, a vegan table d'hôtes awaits you. Pierre and Carole prepare tasty dishes, partly with ingredients from their vegetable garden.
Live a beautiful ecological experience in Finistère, not far from Quimper and Concarneau.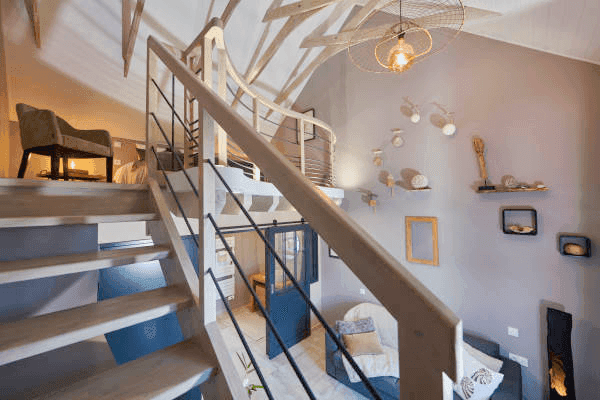 Book your stay at 46.
#2 Domaine Le Vaxergues, an ecolodge in Aveyron
Located in a 3 hectare wooded park and actively participating in the preservation of the fauna, the Domaine Le Vaxergues is not a lodge like the others. 12 ecolodges await you in Aveyron. Some of them have a private spa, for vacations dedicated to relaxation and rejuvenation.
Educational workshops on the preservation of biodiversity and initiation to market gardening are offered. Enjoy an ecological holiday and come and recharge your batteries in Aveyron!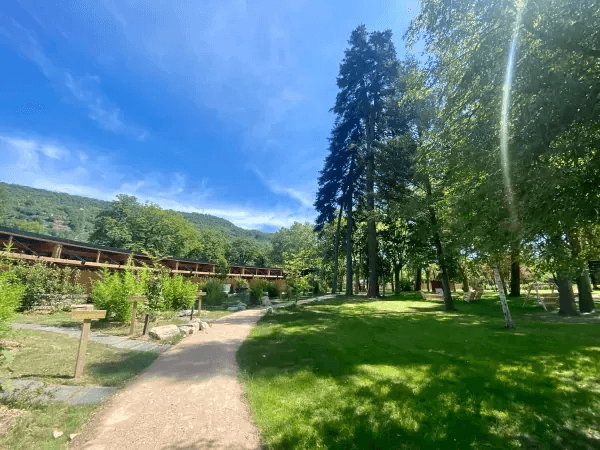 Book your stay at Domaine Le Vaxergues.
#3 Hôtel Littéraire Arthur Rimbaud, an ecological hotel in Paris
Close to the East and North train stations, the Hôtel Littéraire Arthur Rimbaud welcomes you in the 10th district of Paris. Perfect stopover for a long trip or base camp for a Parisian city trip, enjoy an ideal location in the City of Light.
Dedicated to the world of the famous poet Arthur Rimbaud, the hotel is decorated as a tribute to this talented man. Absinthe fountain at the bar, library with works of the author and original decoration: live a cultural and historical journey during your stopover in Paris. In the morning, a copious breakfast buffet is offered, with a selection of local and organic products.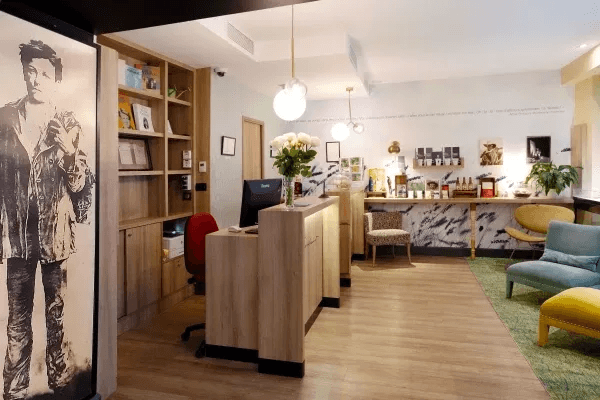 Book your stay at the Hôtel Littéraire Arthur Rimbaud.
#4 The Auberge Kallisté, a hotel in Porto Pollo, Corsica
Let's go to the Island of Beauty for this 4th ecological hotel address in France. The Auberge Kallisté is located in the bay of Propriano, in Porto Pollo. This small hotel with 16 rooms promises a friendly and relaxed atmosphere, with rooms "just like home".
The restaurant will delight you with a contemporary and tasty Corsican cuisine. The menu is adapted to the seasons and to the arrival of products, mostly from the island. To limit food waste, the Auberge Kallisté replaces the breakfast buffet with a table service.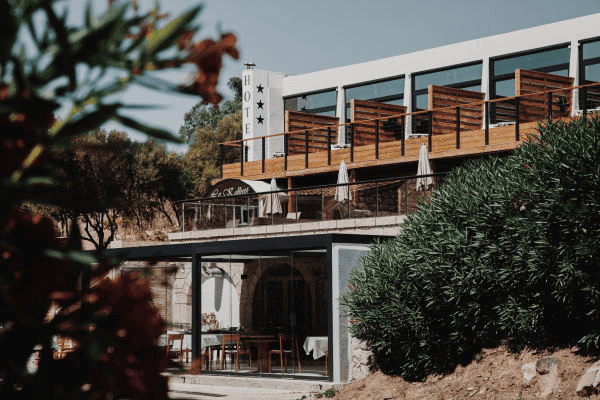 Book your stay at the Auberge Kallisté.
#5 Terre des Baronnies, an unusual accommodation in the Hautes-Alpes in the middle of nature
Welcome to Terre des Baronnies, between the Alps and Provence. It is at the crossroads of the Drôme, the Vercors and the Lubéron that this unusual accommodation welcomes you for a memorable getaway. Stay in a charming, comfortable and warm cabin, in the heart of a beautiful preserved nature.
Aline, the owner of the place, offers you a delicious table d'hôtes. The Provençal-inspired cuisine combines creativity, gourmandise and balance, for a unique taste experience.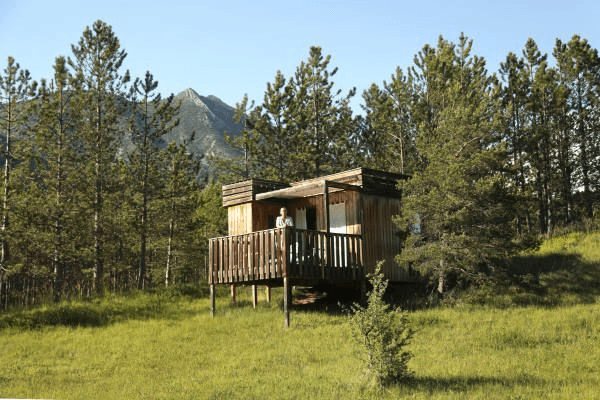 Book your stay at Terre des Baronnies.
#6 La Bessannaise, vacation village in Savoie
Ideally located to explore the Vanoise National Park, La Bessannaise welcomes you in the Alps. This vacation village in Savoie offers stays dedicated to hiking in summer and snow activities in winter (cross-country skiing, snowshoeing, Nordic hiking).
The place welcomes you in modern and comfortable rooms for 2 to 4 people. A balneo area awaits you to rest your aching muscles after an active day in the mountains. With full board, enjoy yourself without worrying about cooking.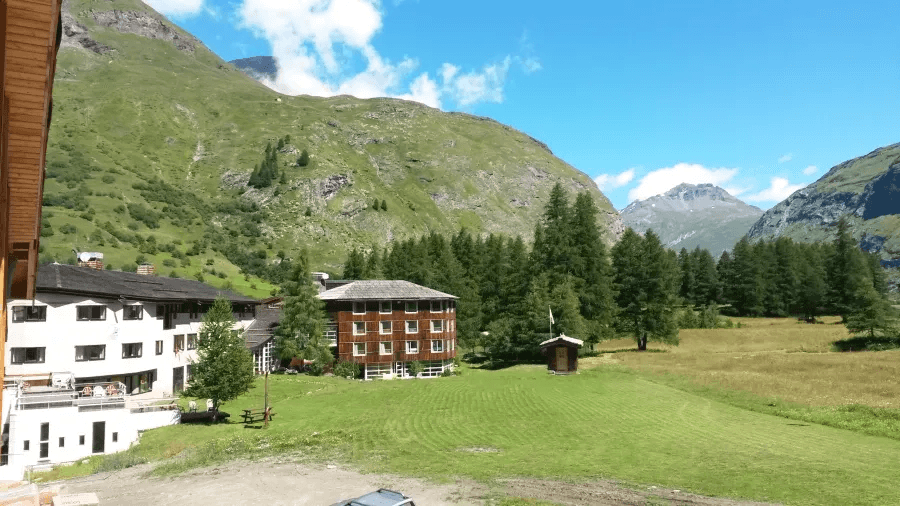 Book your stay at La Bessannaise.
Discover all the eco-responsible accommodations in France referenced on Ethik & Trips and organize your next ecological stay in France.
Image by Meredith from Pixabay
Image by Steven Weirather from Pixabay